Convicted 'Pharma Bro' Martin Shkreli's $2 Million Wu-Tang Clan Album Could Now Get Auctioned Off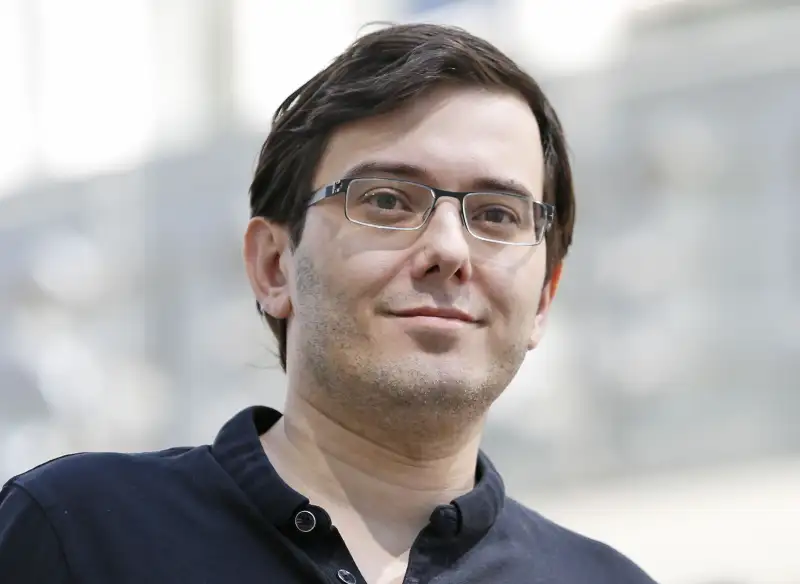 AP/REX/Shutterstock—AP/REX/Shutterstock
(NEW YORK) Two unreleased, collectible rap albums may go up for auction following the criminal conviction of the albums' owner, pharmaceutical company investor Martin Shkreli.
Shkreli was sentenced to seven years in prison for securities fraud on Friday. He owns an unreleased Wu-Tang Clan album and claims to own an unreleased Lil Wayne album. Both could be auctioned by the government since Shkreli has to forfeit more than $7.3 million in a brokerage account and personal assets.
The 34-year-old entrepreneur known as "Pharma Bro" boasted that he paid $2 million in 2015 for "Once Upon a Time in Shaolin," the 31-track double album the Wu-Tang Clan spent six years creating. Shkreli won an auction for the sole copy of the album in 2015. Group member RZA said he wanted the album — which was packaged in a hand-crafted silver and nickel case and includes a 174-page book wrapped in leather— to be viewed as a piece of contemporary art
Prosecutors said the forfeiture order requires Shkreli to say if he's still in possession of the album — or has proceeds from a sale of it — by Thursday. Until then, he "shall not, directly or indirectly, transfer, assign, license, waste, pledge, encumber, hypothecate, distribute, dissipate, dilute or remove" it from the court's jurisdiction, reads the order, which is still subject to appeal.
Along with the Wu-Tang Clan album, the government has listed a Picasso painting and Lil Wayne's "Tha Carter V" as substitute assets for Shkreli. In September 2017, Shkreli put the Wu-Tang Clan album up for sale on eBay. It's unknown if he sold it.
Jeff Gold, a longtime record executive and owner of Recordmecca, a music collectibles and memorabilia store, said the value of the albums have decreased since being in Shkreli's hands.
"Martin is not viewed by the general public in a necessarily positive way, so his association with (the albums) I don't think is a positive," he said in an interview with The Associated Press.
Gold called the rollout of Wu-Tang's album "brilliant" and said "there's never been anything like this." But he added, "These (albums) are problematic to sell."
"If there are cars or boats or brokerage accounts, all of that stuff is going to be a lot simpler to quantify. There are a lot of questions around these albums and what you can and can't do with them," he said.
Shkreli's attorney, Ben Brafman, said he had no comment on the albums.
Shkreli grew up in Brooklyn and said rock music was his preference as a kid, not rap.
"I told RZA to his face, 'I'm not your biggest fan,'" he told the popular New York radio show "The Breakfast Club" in 2016. "I can't name every track on every affiliated Wu album. That's not me."
He said he was introduced to Wu-Tang's music while in summer school, and he became a fan. He said when he learned about the rare Wu-Tang album, he had to have it.
"There's a lot of things rich dudes buy just ... to show off," he told "The Breakfast Club."
"The point is I wanted to show respect for art," he added, saying he didn't purchase the album as an investment. "Music means more to me than anything."
Shkreli became the face of pharmaceutical industry evil in 2015 when he increased by 5,000 percent the price of Daraprim, a previously cheap drug used to treat toxoplasmosis, a parasitic infection that can be fatal to people with the AIDS virus or other immune system disorders.
He also claims he owns Lil Wayne's highly anticipated "Tha Carter V." The rapper's "Tha Carter III" sold more than 1 million copies in its debut week in 2008, and helped launch Lil Wayne to superstar status. It featured multiple rap and pop hits, from "A Milli" to "Lollipop," made the rapper the most nominated act at the 2009 Grammys (he won four awards) and helped solidify his stance as one of hip-hop's elite performers.
"Tha Carter IV" sold 964,000 albums in its first week, adding anticipation to "Tha Carter V," an album Lil Wayne had been recording for years.
In 2015, Lil Wayne sued Cash Money Records for $51 million after claiming that it stiffed him for $8 million for creating "Tha Carter V."
The album has not been released and it's unknown whether or how Shkreli got it.
Gold, who is also the author behind several music books, said whoever purchases Wu-Tang and Lil Wayne's albums may not be the only person to have the albums.
"(Shkreli) bought something digital and there's nothing to prevent him from having kept a copy. ...We live in a digital world where almost everything eventually gets bootlegged," Gold said. "When the first person bought it, they knew they were getting the only copy besides maybe whatever the Wu-Tang Clan had. But whoever buys it now has no assurance of that.
Gold added that "it's possible that there are copies of this floating around" and if it leaks, "the world's most exclusive album becomes something that everyone has instantly."