How Wednesday's Supreme Court Case Could Change College Affirmative Action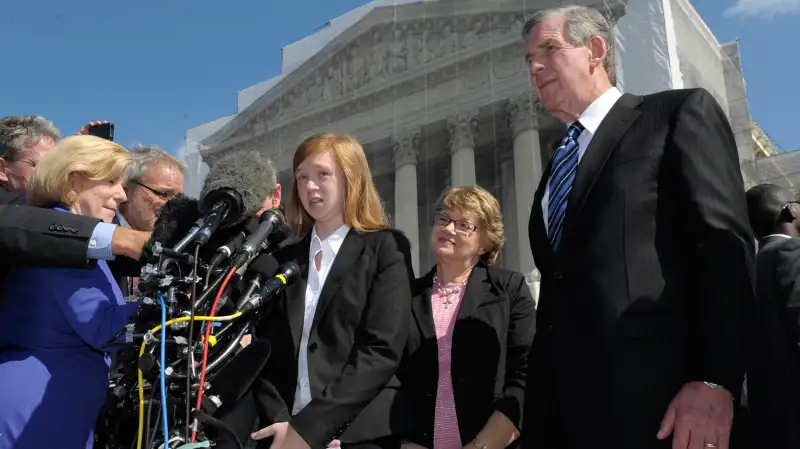 Seven years after she was rejected by the University of Texas-Austin, Abigail Fisher will be back before the U.S. Supreme Court this week arguing that the university's admissions process was unconstitutional.
Fisher maintains she was denied admission because she's white. The University of Texas-Austin says she was denied because she wasn't qualified.
Here's a rundown of what to know before arguments start Wednesday morning.
What's the case about?
Texas has a unique admissions policy known as the Top 10 Percent Plan, in which the highest-ranked students at every high school are automatically admitted into a public university. The plan was designed to increase representation of minorities and low-income students, made possible, in part, by the fact that the state's high schools remain largely segregated.
Fisher finished 82 out of 674 students in her high school, so she wasn't eligible for that automatic admission.
The University of Texas-Austin fills the majority of its class through the percentage plan, but for the last slice of the class, it uses a "holistic review" of individual applicants, which includes considering their race along with other achievements and experiences. Fisher didn't get in that way either, and she says it's because a less qualified minority student took her spot.

Not true, the university says. Texas turned away several thousand qualified applicants for the final spots in its 2008 class, according to the university. And Fisher's test scores (1180 out of 1600) and grade point average (3.59) weren't strong enough to secure her a spot.
This is the second time the Supreme Court is hearing Fisher's case. In 2013, the court sent it back to the lower court, telling that court to more closely examine whether Texas used race in a legally appropriate way and whether the university could have achieved the same diversity through race-neutral methods. The lower court sided with the university. Fisher appealed, and here we are.
Fisher is arguing that the University of Texas already has a race-neutral way of enrolling minority students through its percentage plan policy, so the university can't legally use race-based affirmative action.
But even with the percentage plan, more than 50% of UT-Austin's admits are white in a state where only 30% of K-12 students are white, says Michael Olivas, a law professor at the University of Houston who helped design Texas's percentage plan and supports affirmative action.
Where does affirmative action stand now?
The Supreme Court has previously supported the importance of diversity in educational settings, and it has approved of the limited use of race-conscious admissions. The idea is that a diverse classroom provides different perspectives and improves learning, says Rachel Rubin, co-founder of Spark Admissions in Boston, who has researched how selective universities admit students.
Right now, colleges in most states can consider race as one of several factors in evaluating a student. But admissions decisions can't use quotas, automatic points, or any separate process of reviewing candidates based on race or ethnicity.
Eight states have rules, often laws passed by voter referendum, which prohibit the consideration of race in admissions to public colleges. (They are Arizona, California, Florida, Michigan, Nebraska, New Hampshire, Oklahoma, and Washington.)

NEWSLETTER: COLLEGE_PLANNERSign up for COLLEGE_PLANNER and more View Sample
Almost 30% of four-year institutions consider race in admissions, and fully 60% of the most selective colleges do, according to a recent survey by the American Council on Education. The practice is slightly more common at private colleges than publics.
More than 80 briefs have been filed in the case, with roughly five dozen supporting the university. Many of those allies are colleges and higher education organizations, which argue that colleges should have the independence to build their classes to meet their own institutional missions and goals related to diversity. They contend that Texas used race in a legal way.
"Part of an institution's academic freedom is the ability to admit who they want to admit," says David Hawkins, executive director for educational content and policy at the National Association for College Admissions Counseling, one of the organizations that have taken that position.
What are the possible outcomes?
The University of Texas is trying to get the case thrown out. Not only was Fisher ineligible for admission at UT, but she enrolled in and graduated from another university, so she wasn't harmed by Texas's decision, according to the university.
On the other hand, the court could adopt a more narrow and restrictive view on when colleges can legally consider race in admissions. And even though the case presents an issue specific to Texas's uncommon admissions practice, that type of ruling could affect the use of race-conscious admissions elsewhere.
Just as important as the potential policy consequences is the symbolic value of the case, says Olivas. If the court rules against the university, that sends the message that "affirmative action is either wrong or ill-advised," he adds.
What's likely to happen?
Many observers think that colleges' ability to use race-conscious admissions could take a hit, based on the conservative Supreme Court justices' views on race in college admissions and the fact that the court accepted the case for a second time.
What would that mean for the future of affirmative action and future college applicants?
If the court decides in Fisher's favor, that could have dramatic ripple effects on how colleges recruit and admit students from racial minority groups.
Research has shown that affirmative action policies have increased the number of Hispanic and black students on college campuses. But the controversy around race-based affirmative action, as well as the legal uncertainty caused by the Fisher case and two pending admissions lawsuits against Harvard and the University of North Carolina-Chapel Hill, have led many colleges to begin shift their focus from race to other aspects of diversity, says Rubin, of Spark Admissions.
That's what's happened in states that have banned affirmative action, according to the ACE survey. In those states, colleges have increased their emphasis on factors such as overcoming adversity, geographic variety, and socioeconomic disadvantage. One of the most popular alternatives to replace race-based admissions is class-based admissions, or focusing on low-income students. But experts disagree about whether that will be sufficient to enroll enough underrepresented minorities.
The Supreme Court is expected to release its decision on the case by June.