How This 29-Year-Old Makes a Living as a Professional Bridesmaid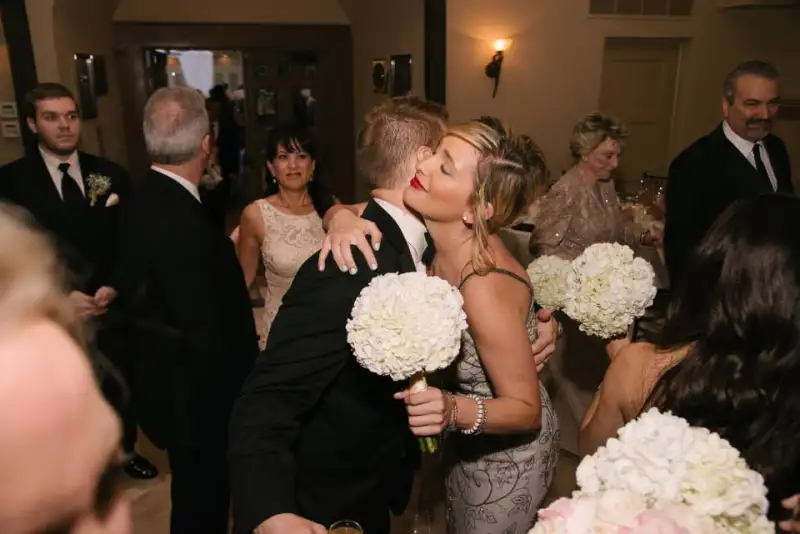 Dan Coya/Courtesy of Jen Glantz
You can't call up a professional bridesmaid, a.k.a. the world's first Bridesmaid For Hire™, a.k.a. Your Wedding Wingwoman, without digging for some dirt.
Jen Glantz, a 29-year-old Manhattanite with the militant positivity of a Dallas Cowboys cheerleader, has spent three years tagging out frazzled, distracted, and otherwise incapacitated bridesmaids. Naturally, she's got the best (worst) bridezilla stories.
"There was one August wedding where I found the bride downing a bottle of vodka," Glantz recalls. "She got blackout drunk and started screaming that it was the worst night of her life."
Glantz is just getting started. She's seen women ask their bridesmaids to dye their hair, to get a spray tan, to lose weight. She's seen brides ruin their own, would-be cookie cutter wedding because it wasn't a carbon copy of the Pinterest board they'd meticulously created. She's seen brides break down minutes before walking down the aisle because they realized the man they're about to marry is, in fact, the worst.
But she gets it. The pressure that comes with turning a dream wedding into a reality can crush the most even-keeled bride, she says. Glantz is the release valve.
"Friends don't know how to handle [brides] in stressful wedding situations," she says. "It becomes a bit of a nightmare. I'm that third party person who can say, 'you can chill about this, because you can trust me.' I bring them back to reality."
Dan Coya/Courtesy of Jen Glantz
The Moment She Said 'I Do' to Bridesmaiding
A Florida native who moved to New York after college, Glantz took six (unpaid!) trips down the aisle before realizing her perky, put together vibe—that bridal party je nais se quoi—could be easily monetized.
In 2014, she posted an ad in Craigslist's personals section (w4w) for brides who "need someone to take control," and got over 100 responses in two days.
Since then, Glantz has become something of a bridesmaid guru. She writes about weddings for Brides Magazine, Refinery29, and PopSugar, and has given bridal tips to numerous publications.
Fresh off a tour for her new book, Always a Bridesmaid (For Hire), Glantz's business is thriving. At the beginning of April, she had 20 clients lined up for the spring wedding season -- and the rest of her calendar was quickly filling up.
"Every month is wedding season for me," she says.
The Prenup
For $1,200 to $2,000, brides can hire Glantz as a "day-of coordinator," a wedding planner lite who makes sure everything from picking up the dry cleaning to tossing the bouquet runs smoothly.
Other brides pay Glantz to literally walk down the aisle and stand next to them at the altar, often as a replacement for a friend they've had a falling out with, or who has otherwise abandoned the sacred duties of bridesmaid-ing ("It happens more than you'd think," Glantz says). The starting price for that service is $2,000.
Some of Glantz's clients aren't brides at all. The "Help! I'm a Maid-of-Honor" package, which includes a Skype session with Glantz and a custom month by month to-do list, starts at $350. Speech writing is an extra $175.
The cheapest package? A set of tutorial videos on "How to Be a Bridesmaid" for $35.
You Complete Me
Glantz is in the business of managing expectations. Usually, that means oscillating between the bride's temporary best friend, therapist, and voice of reason. All of that she can handle, with ease.
The bigger challenge, she says, is keeping incognito. Most brides don't want anyone to know they've paid a stranger thousands of dollars to be in their wedding, so Glantz has to make up a backstory, with a fake name and vague connection to the bride, to explain how they know each other.
That can look suspicious, particularly when Glantz is called in to, say, replace a maid of honor. But Glantz says the other bridesmaids usually warm to her pretty quickly.
"They're happy I'm doing all the dirty work," she says. "Because every wedding has a ton of drama."