Meet the Professor Who's Teaching Future Pro Athletes How to Hang Onto Their Millions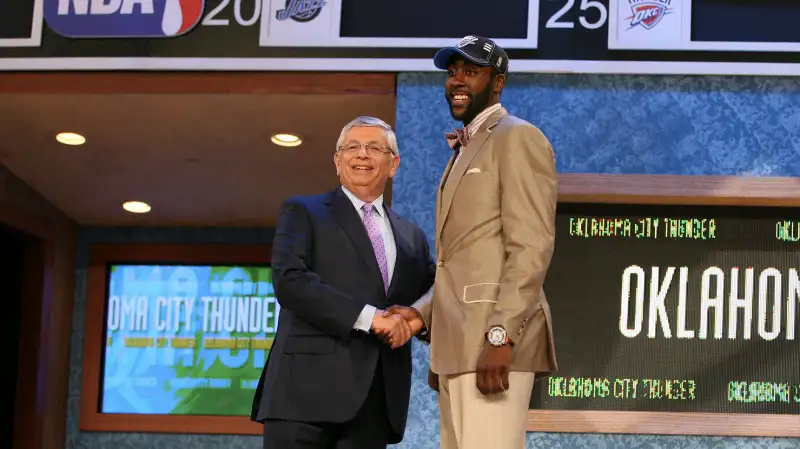 Nathaniel S. Butler—NBAE/Getty Images
Antoine Walker. Allen Iverson. Terrell Owens. Bernie Kosar. The list could go on and on, to form an all-star team of players whose athletic fame has been overshadowed by their financial flame-outs.
According to a 2009 Sports Illustrated article, 60% of former NBA players are broke within five years of retirement, and 78% of NFL players have gone bankrupt or faced financial stress within just two years of retirement. The stories follow a familiar pattern: Players are handicapped by minimal financial literacy, embrace the expensive high life, are suckered into poor investments, and often bled dry by friends and family.
A new course at Arizona State University wants to help change that storyline by teaching athletes likely to go pro about the legal and business issues that come alongside workout drills, game days, and championship bonuses. The course is a hybrid of personal finance, business, and law.

NEWSLETTER: COLLEGE_PLANNERSign up for COLLEGE_PLANNER and more View Sample
"Student athletes provide a great deal to universities, so this is a way to help prepare them for their relatively short careers as professional athletes," says Glenn Wong, the instructor teaching the new course. Wong is an expert on sports law, and he taught in the department of sports management at the University of Massachusetts-Amherst for more than three decades before coming to Sandra Day O'Connor College of Law at ASU last year.
Money talked with him about what makes professional athletes so prone to financial challenges—and what the rest of us can learn from them. This interview has been edited for clarity and length.
Money: Why did you want to teach this course?
Glenn Wong: I've been teaching for 35 years, and in dealings with high-level student athletes I've had in class, most are not prepared for the legal and business issues they might face if they have a professional sports career. That's true of all college students—in general they're not prepared for legal and business issues. The difference is that certain student athletes are going to be instant millionaires, so the issues they face are much different than the typical student coming out of college.
The average career of a football player, for example, is around 4.3 years, so they have four years of very, very high earnings or earnings potential, and then that for the most part drops off. One of the issues for players is, how do you live during those four years? Do you live as if you're making that amount for many years, or is there a way to live so that you can plan for when the money is not going to be as significant?
M: How's the course designed?
GW: I'm doing it from the perspective of the athlete. We started off the semester dealing with current legal issues involving college athletics. Then we moved to selecting agents and the role of the players unions in dealing with agents. The next part of the class deals with collective bargaining agreements for entry level or rookie players. Later we'll move to financial issues and collective bargaining agreements for veteran players. So we'll track the career from the perspective of the student athlete who then becomes a young professional athlete to hopefully one who will get their second contract.
M: You're planning to use examples of pro athletes who've done well with their fortunes and others who've struggled. Can you give some examples?
GW: Rob Gronkowski is one of the successful ones. Another would be Peyton Manning or Tom Brady. Or in terms of some athletes who haven't done as well, we'll probably watch the (ESPN) "30 for 30" video on Antoine Walker. We will talk about DeSean Jackson, and we'll actually look at some of the litigation in his ongoing case. We'll also look at the case involving Tim Duncan with the San Antonio Spurs.
M: What are the most common financial mistakes professional athletes make?
GW: One of them is living at the right level, because of the significant bump in money for a short period of time. I think that'd be a challenge for anyone. The mindset of most athletes is that they're going to play longer than statistics say they will. They also, for the most part, don't know what they're going to be doing afterward. And more importantly for financial reasons, they don't know what level of income they'll be at. That's the No. 1 mistake. Another significant issue is the large expenditures on themselves and their family. Antoine Walker is an example of that. The third area where I've seen some problems—and this has ended up in litigation—is the investments. You hear the stories about the business opportunities players are offered, whether it's a real estate deal or restaurants. Many have invested in relatively high-risk ventures that have not worked out.
M: Most major leagues offer a workshop for rookie players about contracts and finances. Why aren't those successful at teaching these topics?
GW: There's a rookie orientation program where many of these issues are covered. But for the most part, those are short-term, and there's a lot to learn and understand about this area. Hopefully there's more than one learning opportunity, and hopefully there's some guidance along the way when these issues come up. And frankly, some players aren't ever going to listen. I'm not suggesting that my course will be able to convince all players to be more judicious in their finances. But I think it'd be helpful for these individuals to learn about this earlier. Some of the important decisions have already been made by the time they hear about this from the players association or the leagues. In most cases, they've already selected their agents and financial managers.
M: What should players consider when hiring an agent?
GW: We're not in a position to say, "take agent X over agent Y," but we're trying to give them an idea of the types of questions they should ask and the types of services they should request from agents. Some will use an agent just to negotiate contracts and go somewhere else for financial management services and somewhere else for marketing deals. Those are important considerations. Some questions would be: What do you charge? What kind of services to you provide? Who else have you represented? Have you had any issues with any of your former clients in terms of litigation or through the players' association system to resolve disputes between players and agents? You want to get references from the agent. And then you have to follow up on those references to see if those clients have been satisfied. Agents also recruit and have people call prospective clients. You need to understand that happens and not to be swayed by those phone calls.

M: There are only so many pro athletes that come from any one college. Are there plans to scale this curriculum so that athletes at other schools can have access to it?
GW: I can't go into details, but yes I've had discussions about putting most, if not all, of this course in an online basis that would make it accessible to student athletes at other institutions. I think it's a good time for this course. Student-athlete welfare is a significant issue the NCAA is interested in, and that's generated a number of courses. I've seen six to 10 schools start offering some kind of additional learning or academic support for their student athletes. I think the program we're offering is unique, though, because we're offering it for credit.
M: Are there any lessons that apply to all soon-to-be grads, regardless of whether you'll play professional sports?
GW: What kinds of things can anyone get from this class? Of the major issues I cover, one is the contracts. We're looking at a very specialized contract with the standard contract in one of the professional leagues. But all students are going to be dealing with contracts throughout their lives, so the principles we're looking at are going to apply whether you're buying a home, renting an apartment, or making a major purchase. You should get comfortable reading contracts and understanding them, at least to the point that you can ask questions so that you understand.
That principle of general knowledge also applies to agent representation. Those who don't go into professional sports may also hire an outside person, whether it's a real estate agent or an attorney to help with an issue. That requires a similar process of doing your due diligence and asking the right questions.
Another example would be financial management and understanding basic issues about budgeting, planning, and taxes. We did an exercise in which the students did some basic financial planning for the top athletes coming to the sport—so the first-round draft pick—for different sports. The numbers were very different, obviously, comparing a professional football player with a major league soccer player. But it's interesting to get students to see where the money goes, how quickly it can go.