These Are the Best Tools for Making Jack-o'-Lanterns, According to a Pro Pumpkin Carver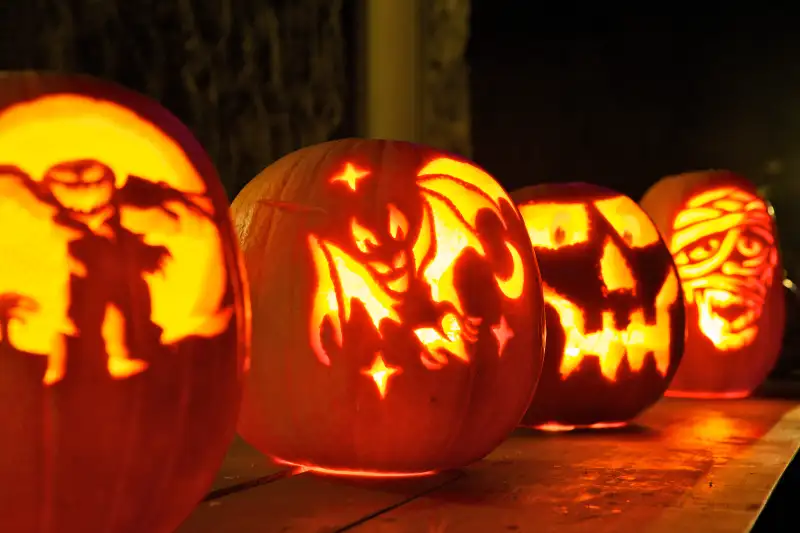 Maurizio Cigognetti—Getty Images
Come October and Halloween season, there's nothing as festive as a glowing carved pumpkin or jack-o'-lantern on your front steps or in the window. But creating art out of a giant gourd — especially if you're not artistically inclined — can seem daunting. You must not only have some great pumpkin carving ideas, but the best knives and tools to have a chance at making your vision a reality.
Naturally, you might be tempted to run out and buy one of the many orange-handled pumpkin carving kits on the market. But if you are trying to figure out how to carve a pumpkin like an expert, you are probably be better off saving your money (or at least putting it towards more candy for the hordes of trick-or-treaters).
In our quest to find the best pumpkin carving tools out there, Money hit up a professional pumpkin-carver — yes, that is a real job — named Marc Evan, whose Brooklyn-based company Maniac Pumpkin Carvers cranks out pumpkin-based art for Halloween celebrations at venues as diverse as Dollywood and Coney Island.
"Our focus is to elevate pumpkin carving as an art form," Evan says. "We use a wide variety of tools." No wonder, given that he and his team executive pumpkin carving ideas that are alternately cool, funny, and scary, creating jack-o'-lantern designs for everything from spooky goblins to renderings of famous paintings.
While you probably have a simple pumpkin carving idea compared to Maniac's intricate creations, you'll do better if you have the right tools on hand. "You don't necessarily need to go get pumpkin carving kits," Evan says. "The problem with a lot of the kits is they're so flimsy that the blades snap and bend quite easily."
To cut through the top of your pumpkin, and through the sides if you're making a traditional jack-o'-lantern, you'll want a small saw with a thin blade or knife. Evan prefers serrated blades, but if the only one in your knife block is a bread knife, you might want to just go for a paring knife. "A bread knife is probably going to be a little too big, depending on the size of the pumpkin," he cautions. "We use a lot of paring knives." (The one below, from Victorinox, is less than $7 at Amazon.)
If you already own a pumpkin-carving kit, though, don't toss it. Evan singles out one tool that's in all of those kits that you'll probably find indispensable.
"Those little orange scoopers that come with the carving kits do a really good job of cleaning out the pumpkin," he says. If your pumpkin is on the plump side, a serving spoon will work instead, but you might have a tough time maneuvering a long-handled spoon in the corners of a small pumpkin. And to keep your jack-o'-lantern fresh as long as possible, Evan says it's important to use a scoop with a smooth edge as opposed to one with serrated teeth. "You want to get it as clean and smooth as possible and the ones with the teeth almost create more shredding sometimes, it seems, and those little strands start to ferment and spoil," he says.
Some people like to use power tools to make their pumpkin carving designs a reality, like this Dremel rotary kit with interchangeable heads suggested by Popular Mechanics.
Dremel even has a pumpkin-carving tool, but Evan says he prefers hand tools for a more precise approach. If you already have a craft-type hobby and the gear that goes along with it, you're a step ahead of the game. "Some of our favorite tools we use in our studio are clay loops, a ribbon loop that's normally used for clay or pottery, which we use for removing parts of the pumpkin skin to be more sculptural," Evan says. Woodworking or linoleum-cutting tools used by rubber-stamp hobbyist also work well for creating pumpkin art.
"Those are amazing for doing all kinds of detailed designs where you don't want to cut all the way through the pumpkin but you want light to get through," Evan says.
And don't forget about more basic equipment. "We use tons of Exacto knives. Any of those types of craft knives can be used," he says. "You can do a great pumpkin carving with just an Exacto knife." (Popular Mechanics liked this kit with interchangeable blades, which is only around $20.)
As it turns out, repurposing tools to create your pumpkin art can be almost as creative as the artistic process itself. "You can find a lot of items in the kitchen, in your tool box and in the garage that will all work great," Evan says. "It's kind of fun to work with what you have."
We've included affiliate links into this article. Click here to learn what those are.