Procrastinators: Here's How to Get Cheap Last-Minute Halloween Costumes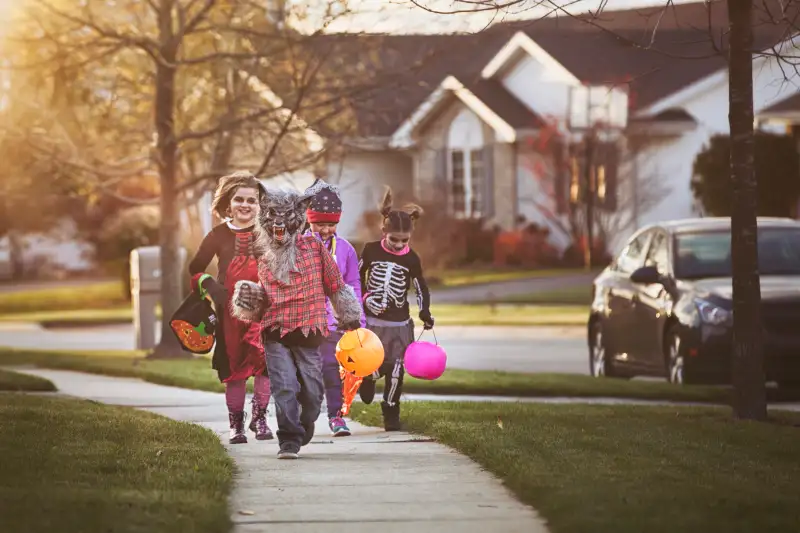 Rebecca Nelson—Getty Images
Each product we feature has been independently selected and reviewed by our editorial team. If you make a purchase using the links included, we may earn commission.
Halloween procrastinators, you're in luck: Many of the big Halloween costume and decoration retailers have last-minute sales going on right now. Sure, you could wait until November 1 to scoop up whatever cheap Halloween costumes and decor are left over at a steep discount and use them next year, but do you really want to store a literal (plastic) skeleton in your closet for a year? Or take a gamble that the superhero your 8-year-old is currently obsessed with will still be cool by next year (if that Halloween costume still fits, that is)?
Here's one easy way to get a cheap last-minute Halloween costume: Right now at Spirit Halloween, you can take 25% off any one item with the coupon code DONTGO18 at checkout (in-store shoppers can print out a coupon to bring with them). If you need the goods delivered by Wednesday, October 31, the deadline is noon Eastern Time on Monday to place your order.
Courtesy of Spirit Halloween
If you're struggling with Halloween costume ideas, Spirit Halloween will overwhelm you with possibilities. It has almost every Halloween costume imaginable — Black Panther outfits and Unicorn costumes for kids, multiple Batman costumes for grownups, Sassy Sally from A Nightmare Before Christmas, a UPS costume for dogs, and much, much more.
Courtesy of Spirit Halloween
Spirit Halloween is good for more than just a quick and easy Halloween costume idea, mind you. If you're looking for some sweet deals on spooky decor, the Halloween specialty store has you covered: Spring for an animatronic Jack Skellington to greet trick-or-treaters or a 400-watt fog machine to give your yard that "haunted cemetery" vibe.
Courtesy of Spirit Halloween
Or you could give your front door the Addams Family treatment with this almost-charming "Beware" wreath, where skulls are nestled in between black flowers and a cute checkered bow, or deck out the doorframe with string lights of Michael Myers of horror-movie infamy. (Bonus: Thanks to the new remake of Halloween, even visitors who weren't alive when the original debuted in 1978 will still get the reference.)
Courtesy of Spirit Halloween
Again, you can get a 25% off discount on any one item ordered online from Spirit Halloween by entering the code DONTGO18 at checkout.
Another place you can snag scary-cheap Halloween atmosphere is at Wayfair, which is featuring deals of up to 65% off a wide variety of seasonal decor. And for everything from costumes to candy, Target has you covered with thousands of Halloween deals and a $5 discount off purchases of costumes and decor, including lights, of $25 or more.
Finally, although the scariest thing for investors right now about Amazon could be its plunging stock price, the ecommerce giant has a huge virtual storefront for Halloween goods ranging from fake cobwebs (and spiders, naturally) to glittery goth cutouts and a suitably spooky wall-decal kit.
We've included affiliate links into this article. Click here to learn what those are.