'Queer Eye' Star Says Getting Dumped Helped Launch His Career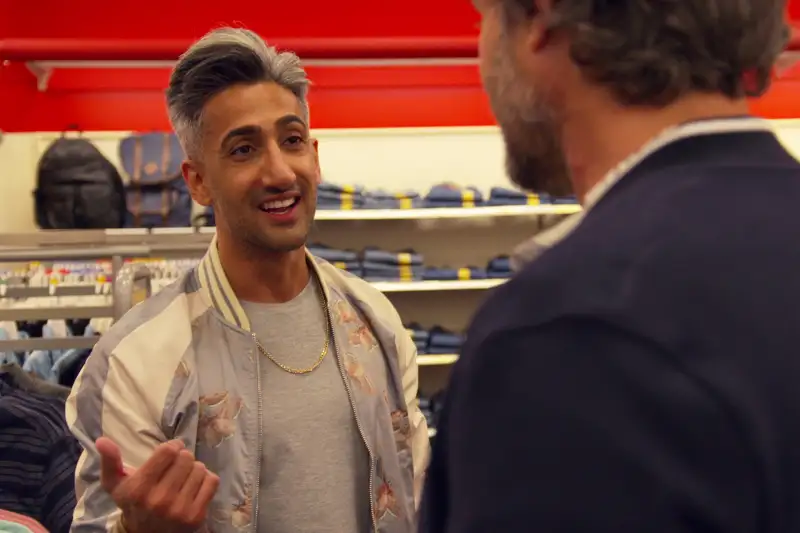 There's a scene in Netflix's Queer Eye for the Straight Guy reboot where Tan France talks about his very first relationship, and how it ended because he stopped taking care of himself.
It's a tough image to conjure. France is the resident fashion expert of the next iteration of the '00s reality makeover show and he definitely looks the part. He wears a lot of tight white shirts under a lot of tailored black blazers, and his salt and pepper hair always looks like he's just been to the barber. But France insists he wasn't always this put together.
"It's a true story," he says. "My boyfriend dumped me because I let myself go. And not just with my clothing, in every facet of life."
A fashion designer from Doncaster, England, France says he fell into the same lazy routine as many of the men he's helped transform into unlikely Prince Charmings — a routine that involved sweatpants, nights in, and a general disregard for his partner's perception of him.
It's a story that helps France connect with the well-intentioned, but hapless men Queer Eye follows throughout its first season, teaching them how to eat, dress, and behave like the self-respecting adults they are.
France is a gay man (so is the rest of the "Fab Five" makeover team, that's kind of the point), but he speaks candidly about the double standard that pressures straight women to look good for their husbands, while their spouses have free reign to dress however they want.
"I think that men need to take as much ownership of that as women do," he says.
France is warmer than your typical TV fashion guru, and he's cognizant of the circumstances that have brought the men on Queer Eye into his care. Unlike the show's first iteration, most come from low income backgrounds, and some have lots of little mouths to feed. Style is dead last on their list of priorities.
He gets that. In another departure from the original series, which took men to designer stores like Prada and Gucci, this new batch of proteges learn to look for quality clothes in consignment shops and discount stores like Target.
It doesn't take a lot of money to look good, France says, and the effort is well worth the cost.
"A lot of times we forget it is our partners who we need to make the biggest effort for," he says. "If you can't take care of yourself, how the heck are you going to take care of everyone around you?"