12 Iconic Stores and Restaurants That Are Rapidly Disappearing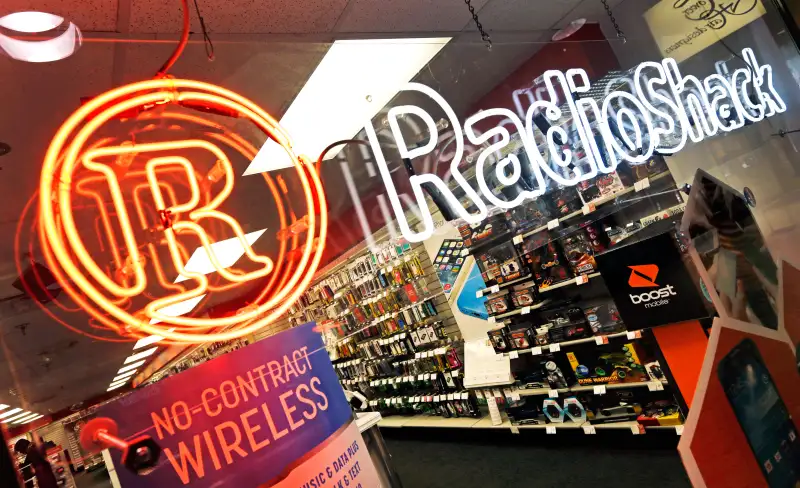 Moody's Investors Service said in a report this week that RadioShack is in danger of running out of cash by autumn of 2015, according to Bloomberg News. It's the latest indication that the struggling chain is doomed, following news in the spring that it planned to close up to 1,100 stores. (Those plans were scaled back to around 200 store closures, but still...) The electronics chain's difficulties probably shouldn't come as much of a surprise given the times we live in today. After all, the word "radio" is in the name. Who buys radios anymore?
RadioShack is hardly the only well-known national chain that is flummoxed by the ultra-competitive, rapidly changing modern-day marketplace and shutting locations, among other steps, as a survival tactic. Here are 11 others.
Albertsons
Amid toughening competition in the grocery space—low-cost upstarts, dollar stores, big box all-purpose stores, and online sellers have all stepped up their game—the Albertsons supermarket chain announced earlier this year it would be closing 26 stores, most of them in California. In late July, Albertsons bought Safeway, and the merger is expected to bring about more store closures, most likely ones operating under the Albertsons or Vons brand.
Staples
Quite a lot is riding on the current back-to-school shopping season for Staples. After a subpar fourth quarter last year, it announced it would close as many as 225 stores in 2014, after closing 42 throughout North American in 2013. Declining sales have continued into the first half of 2014, largely due to the widespread consumer "shift to e-retailers, mass merchants and drugstores to buy their office supplies," as Reuters put it. More closures are inevitable if sales during the all-important back-to-school period aren't up to snuff—and maybe even if they're decent, as Staples seems increasingly focused on online sales.
Family Dollar
In April, after yet another report of declining store sales, Family Dollar said it would be shutting 370 locations. Now that rival Dollar Tree is buying Family Dollar, it's likely that more stores—from one or both of these brands, which often have locations in very close proximity to each other—will disappear.
Quiznos
The toasted sandwich chain peaked sometime in the early '00s, when it boasted some 5,000 stores around the U.S. Quiznos closed around 2,000 locations during the Great Recession years, not only because household spending budgets shrunk, but also because of increased competition from highly successful Subway and all manner of trendy fast-casual restaurants. The more positive economic climate of recent years hasn't brought Quiznos back from the brink. The company filed for bankruptcy earlier this year. While Quiznos wants to put this all in the past, a trickling of closures continues, such as one planned to take place in Austin in August.
Aeropostale
24/7 Wall Street put Aeropostale on its list of "10 Brands That Will Disappear in 2015," and some 125 of its stores are set to disappear by the end of the current fiscal year. The company's sales and stock price have been cratering due to what's described as a "seismic shift" in teens' fashion taste.
Abercrombie & Fitch
Similar to Aeropostale, the much-higher priced Abercrombie & Fitch has cited a "challenging retail environment," especially among teens, as a prime reason for declining sales—and why it is being forced to close dozens of stores. The overpriced merchandise and the fat-shaming comments of its CEO probably haven't helped either.
Toys R Us
The continued shift to online shopping, combined with a shift among consumers away from toys and more toward gadgets, has had the toy store giant in a funk for years. To cope with declining sales, there have been thousands of layoffs at the retail and administrative levels, and some expect store closures at any moment. Overall, things look grim. "There is a 50-50 chance the company can survive," Howard Davidowitz, chairman of the retail consulting firm Davidowitz & Associates, told the The Record in New Jersey, home of Toys R Us's headquarters. "I'm not saying they are finished. I would not say that. But there is a limited time, given the debt level they have, for this business to get fixed."
TCBY
Once 1,500 franchises strong, TCBY has closed two-thirds of its locations over the years. TCBY has tried many things to kickstart the business—Greek fro-yo, sharing space with sister brand Mrs. Fields Cookies—but some think that TCBY is likely to suffer the same fate as Crumbs, the trendy cupcake chain that recently shut down.
Barnes & Noble, J.C. Penney, Sears
The decline, and perhaps impending death, of these three iconic, old-timey retailers has been discussed for so long that it's almost surprising they're still around. Barnes & Noble has closed 10% of its stores over the last five years, despite the fact that its long-time book-selling rival, Borders, is no longer in the picture, and despite relentless pressure from Amazon.com. J.C. Penney is routinely described as being in a "death spiral" and "at death's door." As for Sears, when CEO Edward Lampert was speaking to investors this past spring, he offered a brutally honest vision of what's to come. "Closing stores is going to be part of our future," he said.
Read More:
10 Things Americans Have Suddenly Stopped Buying
10 Things Millennials Won't Spend Money On