This Free Website Helps High School Students Line Up College Scholarships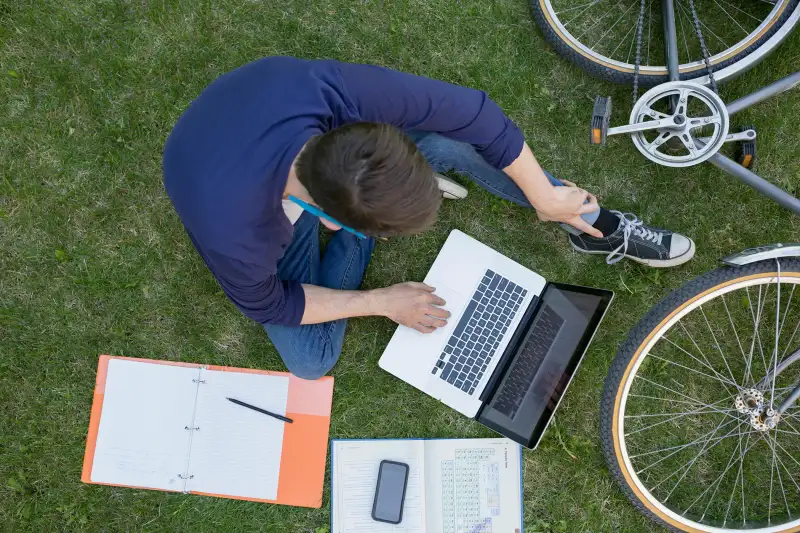 Diolanda Caballero's ears perked up when a guidance counselor mentioned a new website where students could earn scholarship money just for completing routine high school activities.
She was a sophomore at Foothill High School in Nevada at the time, dreaming of going to college out of state but worried about the costs. "I was like, 'I can get a scholarship for getting an A? Heck yeah,'" Caballero says.
She signed up for Raise.me the very next day.
Raised by a single mother, Caballero will be the first in her family to go to college. She is the exact type of student Raise.me is looking for.
Launched in 2014, the website allows students to start earning small scholarship offers as early as ninth grade. Students create a portfolio, add their grades and activities, then instantly view scholarships from some of the 250 colleges that are members of the service—a list that includes New York University, Carnegie Mellon University, University of Arizona, and Michigan State University. While they can start racking up a college's scholarship money right away, they don't actually get any of it unless they are accepted by that school and enroll there.
In the almost three years since the service launched, 700,000 high schoolers have signed up. The company says 45% of its users are the first in their family to go to college, and 40% come from a low-income background. These students often don't have the same access as their wealthier peers to guidance about the variety of colleges and financial aid opportunities— but both Raise.me and its college partners say the service is trying to close that gap.
"It's a good way to show students that college is affordable, it is accessible," says Jody Glassman, director of undergraduate admissions at Florida International University, where roughly half of students qualify for federal Pell grants reserved for needy students.
Here's what college-bound teens—and their parents—should understand before signing up for the service.
There are several ways to earn awards—and the number is growing.
Students using the service can earn scholarship money in five different categories of achievement: academic performance, course rigor, extracurricular activities, exams, and college engagement. You can line up scholarship cash for an getting an A, for instance, or for participating in a team sport, doing well on standardized exams, or taking a college tour.
Last fall, Raise.me expanded the "extracurricular activities" category to include helping at home with family responsibilities or working at a part-time job, along with more traditional community service or school club activities. (About 30 colleges now award money for such activities.)
That addition was a deliberate attempt to expand the service's applicability for lower-income students, says Raise.me co-founder George Kirkland. "Those low-income students don't have as much time to participate in extracurricular activities, but they need an opportunity to show what they're spending time on," he says.
You can actually rack up a decent amount of money.
While they're known as "micro" scholarships, Kirkland says the awards actually can be quite big. Each college decides how much it will award for certain accomplishments. They start as small as $10 for a good grade and go up to $68,000 for outstanding test scores.
Overall, Raise.me says the average student earns $22,500 in scholarships.
Raise.me isn't the only way to get that money.
Raise.me isn't increasing the total amount of scholarship money available. In fact, many of the colleges that are Raise.me members—particularly the private ones—already give out sizable merit scholarships. The formula that goes into awarding that money isn't very transparent, but colleges tend to have a set amount of financial aid to give out, whether they award it through Raise.me or another process.
That means that, in some cases, students would likely receive a similar scholarship offer if they attended one of these colleges and had similar high school achievements, regardless of whether they use the website.
A vocal critic of the Raise.me setup is Steve Nelson, principal at the elite Calhoun School in New York City. While he says he hasn't used the site personally, he argues that it's confusing to suggest these students are earning scholarships through Raise.me when there's no evidence that colleges are giving out money they otherwise wouldn't be.
Of about 175 Raise.me college members, 67 give merit scholarships to a quarter or more of incoming freshmen, based on data from Peterson's—handing out an average $11,000 for the first year. Among private colleges, that number rises to $14,500. So while Raise.me is known as a scholarship website, it's helpful to think of it more as a place where you can see early in your high school years the kinds of tuition discounts available.
You can use the tool to discover new colleges, but colleges will use it to discover you, too.
The latest Raise.me members are a crop of wealthy, selective colleges, and many such colleges are under increased pressure to enroll more diverse student bodies. Just 12% of students at the University of Chicago come from families earning less than $40,000, according to federal College Scorecard data. At Washington University-St. Louis and the University of Pennsylvania, two brand-new Raise.me members, it's 10% and 14%, respectively.
That makes the site a recruiting tool for colleges as much as a financial aid tool for students. "We know that through Raise.me, we'll be able to connect with low-income students and their families," says Deputy Dean of Admissions Veronica Hauad of the University of Chicago, which is only offering Raise.me awards to students who attend high schools where the majority of students qualify for free or reduced-price lunch.
Colleges pay a fee to become a member, and can use information from the website to target students who show interest in their campus or who can contribute to a community the college is looking to build; students must opt in to allow colleges access to their information. Tulane University, for example, values community service, so it will award up to $3,000 for volunteer activities. A college looking to beef up its orchestra, on the other hand, may pay more heavily for playing an instrument to attract students with musical talent.
Critics fret that it could stress you out.
Nelson, who wrote about his concerns in the Huffington Post, says there's another problem with a site like Raise.me: The website is capitalizing on the way society is "stirring up the frenzy of college admissions" earlier in the high school years. That's something Nelson thinks is out of control in the U.S.
Yet University of Chicago's Hauad disagrees. She says she's sensitive to the worry that ninth-graders ringing up scholarship dollars may be needlessly drawing out what is already a long, stressful college application process. But she also maintains that the activities students earn money for are tied to tasks they should be doing anyway to prepare for college—such as taking rigorous coursework, writing research papers, and filling free time with meaningful activities.
It may largely work to open doors for those who need it most.
With students for whom affordability is the top concern, Hauad argues, an early indicator of colleges' true price is vital. "Knowing what's coming early rather than later is a good thing," Hauad says. "But for a student who doesn't know this process, it's a necessity."
Lining up scholarships in advance may also help students stay in school once classes have started. At FIU, one-third of this year's freshman class last fall came in with money earned through Raise.me—and between the fall and spring semester, 99% of them remained enrolled, with an average GPA of 3.0. The university often sees upperclassmen drop to part-time status because they have to work to earn money. Glassman hopes that, if they know instead that they can count on up to $2,500 in addition to other financial aid, they can afford to stay full-time and graduate faster.
But the jury is still out. Since Raise.me has only been around for a couple years, there aren't many measures of its users' long-term outcomes. It's not clear, for example, whether students who use the website will be able to avoid the financial struggles that force them to drop out of college, or whether they'll end up borrowing less than their peers.
Meanwhile, the service has effectively exposed some students to a new set of college options. When Caballero started using Raise.me, many of the colleges that she could earn money from were completely foreign to her. She racked up a total of $95,000 in offers, however, by taking seven Advanced Placement classes, playing the cello, and serving as president of the debate team.
Clark University, in Worcester, Mass., caught her eye early on. It was a liberal arts college, and she wants to study political science—and it was promising her significant cash.
She ended up getting $10,000 from Clark for her freshman year, via an award that's renewable for four years. She plans to defer her entry for one year—but after that, she says, she'll fulfill her dream of going away for college.
This story has been updated to update the names of some Raise.me partners and to clarify how the site works.