How This Rental Property Manager Created a Multimillion-Dollar Business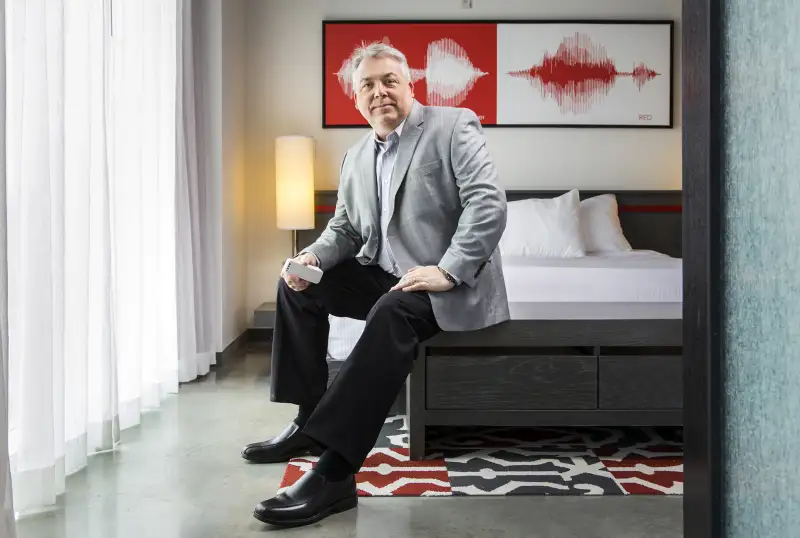 Ryan Donnell; wardrobe styling and grooming by Jai Schmidt. Location courtesy of HotelRed
Six years of working at a nonprofit offering rental housing to low-income families taught John Bialk just how precious quiet can be. He frequently fielded noise complaints from tenants—from late-night parties to loud TVs. And these issues often led to nasty feuds between neighbors. "I'd see cars keyed, tires flattened, physical threats," says the Neshkoro, Wis., resident. "As a property manager, you sit at your desk waiting for bad things to happen." In the meantime, he came up with a solution: a noise-monitoring system that works on a wireless network to alert landlords to problems.
In hopes of finding a partner with technical expertise to help create the product, Bialk attended a local startup conference in 2012; there he met computer programmer Jonathan Narwold. Soon after, the duo were accepted into a three-month business accelerator, which included a $20,000 investment and help making a prototype. Afterward they raised $300,000 from affiliated investors to take the device, Quietyme, to market.
In January 2013, Bialk left his job to focus on Quietyme. "My wife wasn't thrilled I was starting a business so late in my career," says Bialk. "But I believed in this product." And with their three kids grown, their living costs were modest, allowing him to take a chance.
Bialk and Narwold hit the ground running. Via cold calls, they built a solid customer base of landlords and hotel managers. And along the way, they found another market: hospitals. Seeing a chance to expand and having proved they could build the technology, Bialk and Narwold were able to raise $980,000 more last summer, allowing them to hire 19 people and bring R&D in-house.
In 2014 revenues hit $300,000. The business isn't yet in the black, but it could be by next summer, says Bialk, who has already found his new path personally profitable: "I left property management to solve a problem, and that's what we're doing. It's a good feeling to have when I go to sleep at night."
By the Numbers
6 Months
How long he went without a salary: To supplement his half of the accelerator grant, Bialk cashed in a $40,000 401(k)—his whole nest egg—to cover his and his wife's living expenses. "We needed to scale the business and couldn't if we were taking money out," he says.
$60,000
What he will earn in 2015: After the first six months, Bialk and Narwold each began taking a $40,000 annual salary. Following the second round of funding, they both upped their pay. Bialk is now making as much as he did prior to starting the company.
40%
Equity in the business Bialk retains: A 10% stake in the company went to Narwold, 20% went to the accelerator, and another 30% was given to investors. While Bialk sacrificed all of his retirement savings for startup costs, he says his shares in Quietyme are now worth $4.2 million based on a recent valuation.