How a Father of 3 Built a Million-Dollar Business Around Craft Supplies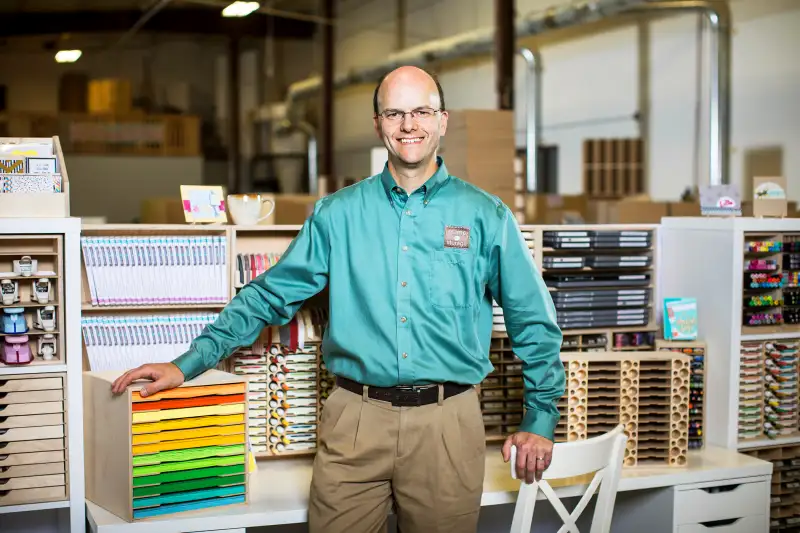 Ackerman + Gruber for Money—Ackerman + Gruber 2016
Brett Haugen's million-dollar business idea hatched eight years ago when his wife, Mary, asked for a favor. She wanted him to use his design and woodworking skills to build storage units that could hold all of her crafting materials—ink pads, markers, paper punches—in one place.
Mary loved the custom cabinets he made for her, and her friends did too. Haugen, a mechanical engineer and manager at a computer-parts manufacturing company, sensed a business opportunity. "The only thing being sold in stores were generic storage units," he says.
To test the market, Haugen built a few dozen products in his garage and posted them on eBay in early 2009. It was a good proving ground. Units that hold 48 ink pads, for instance, took 15 minutes to assemble, cost $5 in materials, and quickly sold out at $35 apiece, he says. But a display shelf was a dud. "It was generic," he says in hindsight.
Over the next few months he tweaked designs and refined the products to fit demand. With eBay fees taking a 15% bite out of every sale, he spent $500 to create an e-commerce website. As the family's sole breadwinner, he wasn't able to quit his day job, where he earned a six-figure salary. But he soon was putting 30 to 40 hours a week into the side business, now dubbed Stamp-n-Storage.
That cut into family time, he admits—but "I was working in the garage, so I was at least home."
Ackerman + Gruber for Money
Haugen set aside $500 a month to buy Google ads and promotions on a stamping and scrapbooking forum, but he relied largely on word of mouth to build sales. Over the next three years he moved Stamp-n-Storage from his garage to a production and shipping facility in Hutchinson, Minn.—using a $20,000 Small Business Administration loan—and added new products, including specialized units for tape and ribbon and all-in-one kits for $209 to $514.
By 2012 the father of three (all teens at the time) was finally making enough to leave his job and still cover his family's mortgage and living expenses. "Mary and I were fairly confident that the business would be profitable enough for us to continue to make ends meet," says Haugen. He tapped a home-equity line of credit—since paid off—to cover expenses but didn't touch personal or retirement savings. His engineering background gave him a safety net, he says: "If the business went belly-up, I knew I could go back to doing How what I was doing."
Read: How Two Friends Teamed Up to Sell Robots to Kids
Haugen hired his first employee that November, bringing on more people as sales grew. Revenue hit $1.1 million in 2014, he says, then grew to $1.6 million in 2015 amid a crafting boom. Sales of coloring and art supplies rose about 7% last year and are now a $1.1 billion market, according to research firm NPD Group.
Stamp-n-Storage still sells on eBay—"It's mainly just a way to get eyeballs at this point," says Haugen—but does most of its business via direct online orders, with a few sales at crafting expos. As sole owner, Haugen makes about double his previous pay, enough to cover at least part of college costs for his two older kids.
"My family hasn't had a drop in our standard of living since I went full-time," he says. "I'm happy with where I am."