Picturing the Way to a New Career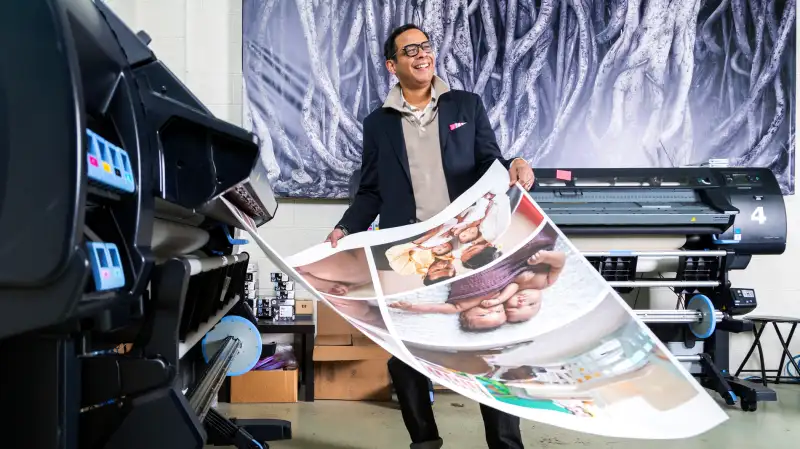 James Oliver can thank HGTV for his business idea. In June 2011 his wife, Ayana, called him upstairs to watch a couple decorating their living room. "They were hanging wallpaper that had a collage of their family photos," recalls Oliver, a father of twins. "They said anyone could do it, but I couldn't find how to do it anywhere."
Oliver, a self-employed small-business strategist, saw an opportunity. Without giving up his consulting work, Oliver found printing and distribution companies and created WeMontage's sample product: a photo collage printed on removable wallpaper. A friend introduced him to a web strategist who mapped out an online game plan in return for an equity stake.
But building the website—supposedly a three-month project—took a full year and cost $35,000. "We were creating customized software that dealt with photo manipulation and generating high-resolution images that we could print," says Oliver, who depleted his liquid savings to cover the launch.
Calculator: What is my current cash flow?
The delays strained the operation. Oliver didn't touch his retirement funds but took on $5,000 in credit card debt and a side job: "I was working at a department store for $10 an hour to make ends meet." Meanwhile, his co-founder was weighing a full-time job and needed an exit.
Oliver persisted, though. In early 2013, after buying out his partner for $26,000—and with support from Ayana, who works in marketing—Oliver quit his other gigs and enrolled in a startup accelerator to attract funding. At the end of the program, he raised $330,000 from its affiliated investors and redesigned the site to make ordering easier. WeMontage.com finally went live in August 2013.
To target families, he took a booth at a conference for female bloggers. Sales hit $70,000 in 2014 and $95,000 in 2015, on products selling for $60 to $120. Because the printing itself is outsourced, ongoing costs are low—Oliver's time plus web hosting—but he paid $17,000 to revamp the site for mobile after realizing that users were uploading photos from phones.
WeMontage isn't profitable yet, but Oliver has taken a salary the past two years and plans to hire one person this year. "As the business expands, it will help to have an extra pair of hands," he says.