New Numbers: Republican Health Care Plan Is Unaffordable for Many Older Americans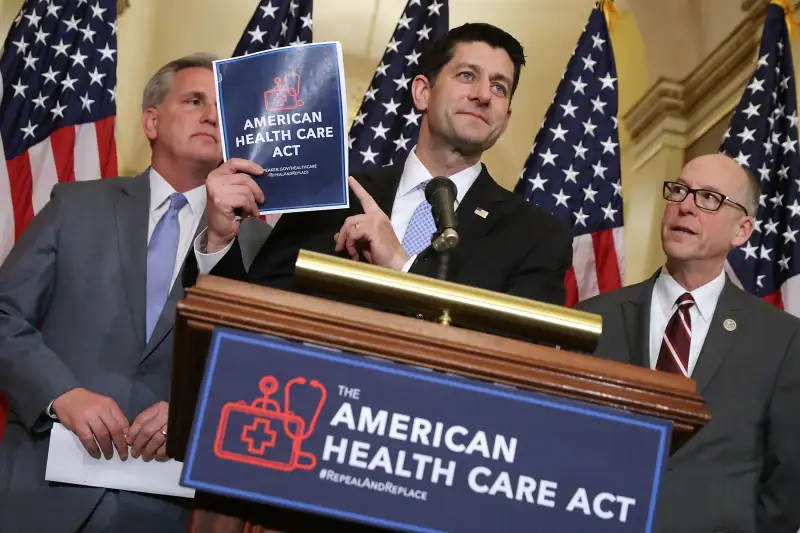 Chip Somodevilla—Getty Images
Consumers ages 50 and over would get slammed with higher premiums and lower subsidies under the Republicans' plan to replace Obamacare, according to cost estimates released Monday afternoon by the Congressional Budget Office (CBO).
The American Health Care Act, as House Speaker Paul Ryan's proposed replacement is called, would increase the number of uninsured people overall by 24 million by 2026, according to the widely anticipated estimates. Older, lower-income people would make up a large share of those losing coverage, particularly those between ages 50 and 64 who make less than 200% of the federal poverty level, or $24,120 for 2017. Uninsured people in this group would grow to about 30% of the total uninsured population in 2026 under the GOP proposal, versus about 12% of the uncovered under current law, according to the estimates.
The proposed legislation hits older consumers with a double whammy. Starting in 2018, it allows insurers to charge them five times what the youngest ones pay, unless their individual state sets a different level, versus three times now. Also, starting in 2020, it would replace today's premium tax credits—which are based on income, geography and age—with a flat amount based on age that begins to phase out at $75,000 for an individual.
The new subsidy would not go as far as current subsidies in covering older consumers' premium costs. In 2026, a 64-year-old making $26,500 would owe a sizable $19,500 in annual premiums under Ryan's plan, versus $15,300 under Obamacare. Meanwhile, the difference in subsidies would mean that the consumer pays just $1,700 out-of-pocket for premiums under Obamacare, versus $14,600 under the American Health Care Act.
"This would force people off their insurance," says Mary Johnson, a Social Security policy analyst and researcher for the Senior Citizens League, a nonpartisan lobbying organization. "They wouldn't be able to afford it."
At 27% of overall enrollees, consumers ages 55 to 64 represent the biggest share of the roughly 11.5 million enrolled on the state Obamacare marketplaces today, according to a report by the Centers for Medicare & Medicaid Services. By contrast, young people between the ages of 18 to 25 represent just 10% of enrollees.
Before the proposed legislation goes before the full House for a vote, lawmakers may make changes based on the CBO report. If it clears the House, then the legislation will progress to the Senate where, by many accounts, it will face rigorous scrutiny. If it passes the Senate then President Donald Trump is expected to sign the legislation into law.