The 8 Biggest Bitcoin Players Who Could Make a Fortune Off the Cryptocurrency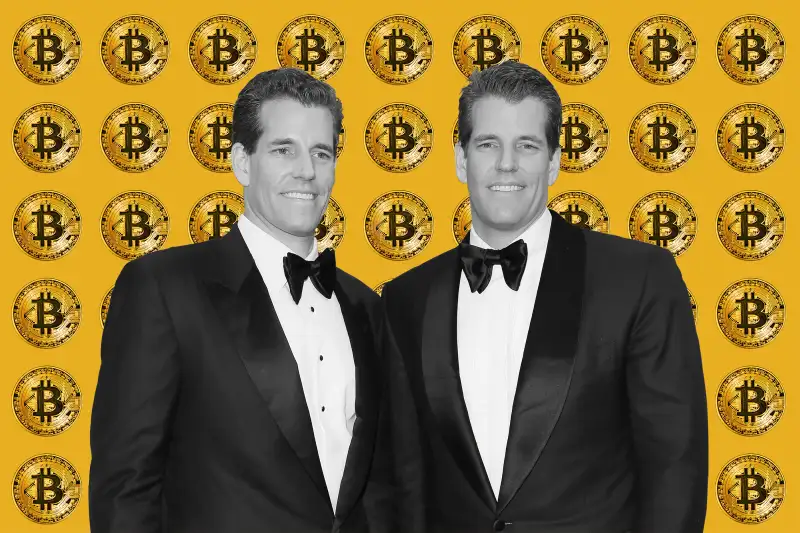 Photo illustration by Sarina Finkelstein for Money; Getty Images (2)
There are plenty of well-known critics of Bitcoin in the banking and business worlds. Recently, Jamie Dimon, chief executive of JPMorgan Chase & Co., called the cryptocurrency a "fraud" and said it would blow up. He even went so far as to say he would fire anyone who traded Bitcoin because "they are stupid."
But not everyone's so dismissive. Bitcoin has had a bullish run in 2017, rising from $966 at the start of the year to a record high of more than $6,000 this month, and some major holders of the currency are no doubt looking to cash in on its value. The names might surprise you. While Bitcoins allows for anonymity, using strings of letters and numbers to identify sources of transactions, certain people have publicly revealed that they're enthusiastic users. Here are the people with the biggest known stakes in Bitcoin.
The Winklevoss Twins
You likely know Tyler and Cameron Winklevoss, who tried and failed to gain control of Facebook after alleging that it had been appropriated from them, thanks to Armie Hammer's satirical portrayal of both siblings in The Social Network. But the Winklevii have a second act in their enormous Bitcoin investment. While they were shut out of creating a Bitcoin exchange traded fund (ETF), their 2013 investment in $11 million worth of Bitcoin (which reportedly amounted to one percent of all the currency in circulation) looks pretty rosy now. That same amount is worth approximately 21 times as much now, putting their total at about $231 million.
Barry Silbert (cryptocurrency maven)
Silbert, a venture capitalist and founder of Digital Currency Group, was an early proponent of Bitcoin. He reportedly nabbed 48,000 Bitcoins in an auction held by the U.S. Marshals Service in 2014 (the government had seized much of the currency from Silk Road, an online marketplace it said was used for illegal drugs). Bitcoin was then worth $350, which means Silbert's haul has climbed about 16 times, from approximately 16.8 million to $268.8 million.
Tim Draper (billionaire venture capitalist)
Draper, a venture capitalist worth billions thanks in part to his early investment in Skype, made headlines for his purchase of 30,000 Bitcoins in 2014 from that same government auction. Then worth about $19 million, that stash would be up to $171 million now. Draper is clearly feeling optimistic about the digital currency market, as he's gone on to back Tezos, a new cryptocurrency.
Charlie Shrem (Bitcoin early adopter)
Shrem is more infamous than famous. The entrepreneur got in on the early days of Bitcoin and was a member of the Bitcoin Foundation, which was supposed to protect the use of Bitcoin but has seen several of its leaders under criminal investigation. Shrem himself received a two-year prison sentence for charges related to money laundering. But he's now back with a crypto-investment startup, and while he hasn't disclosed exactly how much he owns in Bitcoins, he reportedly bought a few thousand back when they worth were little, and those would be worth several millions now.
Tony Gallippi (cryptocurrency executive)
Gallippi is the cofounder and chairman of Bitpay, currently the leading Bitcoin processor, and is said to be among the largest holders of the currency. While he hasn't disclosed the exact value of his Bitcoin investments, estimates have put it around $20 million.
Satoshi Nakamoto (Bitcoin mastermind)
Nakamoto is the shadowy figure sitting at the heart of Bitcoin, which itself still confounds so many. After inventing Bitcoin with a 2008 white paper describing a software tied to digital currency, Nakamoto retreated from public life. People aren't even sure if that is his (or her) real name. While one man came forward to say he was Nakamoto, online sleuths disputed the evidence. Theories abound as to who Nakamoto really is, but it's clear they have a whole lot of Bitcoins at their disposal. A Bitcoin developer estimated in 2013 that Nakamoto had around 1 million Bitcoins. At a valuation of about $6,133 as of this writing, that would be theoretically worth an astounding $6.1 billion. A huge caveat here, though: If Nakamoto were to start selling off their entire supply of Bitcoin, it would rapidly drive down demand for the currency, and therefore the value of the holding.
Uncle Sam
Perhaps the biggest surprise of all is that Bitcoin, a software-based currency that's supposed to be free of traditional currency restrictions, has already provided a lucrative payout for the federal government. As noted above, the FBI seized 144,000 Bitcoins while shutting down the Silk Road marketplace in 2013, which back then made it the owner of the biggest Bitcoin wallet (though not necessarily the entity with the most Bitcoins, as they can be spread across many wallets). The government then auctioned off the Bitcoins. collecting $48 million. It could've made a lot more money if it had waited on the sale, but Uncle Sam is still trying to get a piece of the Bitcoin action. The IRS has declared that digital currencies are taxable property, and is waging a legal battle to unmask Bitcoin users who haven't been properly disclosing their capital gains and losses. Reports suggest that the vast majority of Bitcoin transactions go under the radar. That could mean potentially millions more for the feds to take as their own.