11 Celebrities Who Love Cryptocurrency
Money is not a client of any investment adviser featured on this page. The information provided on this page is for educational purposes only and is not intended as investment advice. Money does not offer advisory services.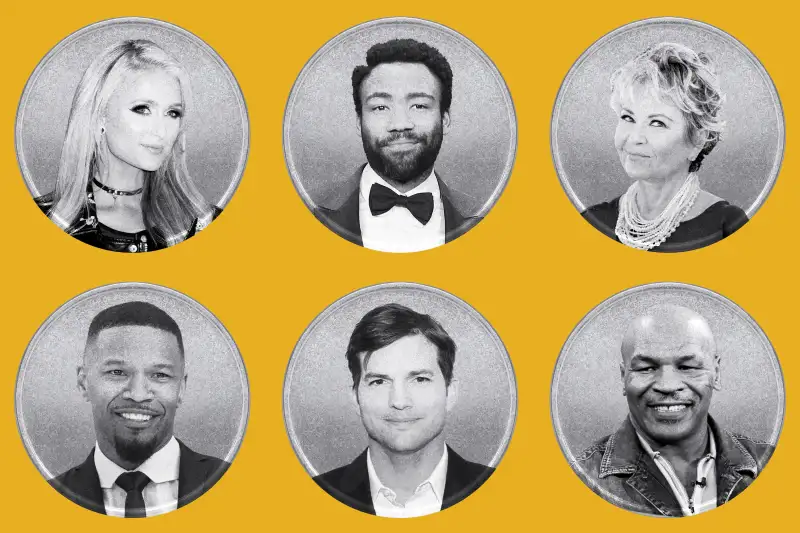 Photo illustration by Sarina Finkelstein for Money; Getty Images (3); AP (3)
Bitcoin's meteoritic rise over 2017 has put the cryptocurrency into the spotlight for the last several months. People are buying houses with it. Experts are warning that a crash is inevitable. Hackers are trying to steal it — and in some cases, becoming very successful. And of course, celebrities are getting on the Bitcoin bandwagon.
Here are 11 of the biggest celebrities who have expressed interest in Bitcoin or other cryptocurrencies over the years.
Ashton Kutcher
Kutcher has already made his mark as an actor in everything from That '70s Show to Netflix's The Ranch, but he's also become a formidable technology investor with his venture capital firm A-Grade Investments, which has funded Uber and Airbnb, among others. At a TechCrunch conference several years ago, Kutcher spoke glowingly of the "decentralized technology" that makes Bitcoin possible. "The notion that we could civically monitor each other in an anonymous way actually keeps the anonymity of the Internet. We don't have to worry about Big Brother," he said. "And that same infrastructure that built out Bitcoin could be used in the security industry for mass good."
Nas
Rapper Nas has also transitioned into a career as a high-rolling VC investor with his firm QueensBridge Venture Partners. He's invested in numerous startups including the Bitcoin-related Coinbase, a digital wallet company.
Jamie Foxx
The Oscar-winning Ray actor jumped into the cryptocurrency game earlier this year. In a tweet, he promoted Cobinhood, a cryptocurrency trading exchange that promises investors zero trading fees. Experts pushed back against the tweet, saying it represented a bubble for cryptocurrency.
DJ Khaled
Khaled, the producer and musician behind hits like "Wild Thoughts," joined the celebrity-fueled frenzy over ICOs, or "initially coin offerings." Like IPOs, they are fundraising efforts for digital tokens, except they lack the same regulations. In October, he posted a picture of himself on Instagram, in which he's posing in a white armchair while holding a bottle of Cîroc vodka and a silver payment card. It was a ploy to promote Centra, a digital wallet app that allows users to store digital currency. Unfortunately, Centra has been bogged down with a number of issues. Khaled's post has since been removed.
Floyd Mayweather Jr.
Mayweather, the polarizing boxing champion who has been accused of domestic violence, was also intertwined with Centra. He urged his millions of Facebook followers to invest in the initial sale of Centra Token, a new cryptocurrency, in September. The sale is now the subject of a class-action lawsuit, which alleges that Centra violated U.S. security laws.
Mike Tyson
ABC via Getty Images. Mike Tyson on
Tyson, a fellow boxing star with his own demons (he was once convicted of rape), has been trying to cash in on Bitcoin lately. His company Mike Tyson Bitcoin (yes, that's what it's called) offers a Bitcoin ATM and, more recently, wallets to store and trade the cryptocurrency. "In a few years from now Bitcoin and other digital currency are going to be a normal part of our monetary systems," Tyson said in a statement for the app.
Roseanne Barr
The star and creative force behind the sitcom Roseanne, which is being revived, has become just as famous in recent years for her provocative political comments, especially on Twitter. In a tweet from a few years ago, she suggested that Bitcoin may help "end satanic ritual rule," an apparent dig at the federal government.
Donald Glover
The rapper known as Childish Gambino, as well as star of Atlanta, Community, and the upcoming Star Wars spinoff Solo confessed that he had admiration for Bitcoin in a 2013 interview. "I know a lot of people are skeptical, but I feel like if everything's going to live online, why not Bitcoins?" he said. "Being backed by gold seems very old and nostalgic to me." He added that the cryptocurrency path "makes more sense."
Paris Hilton
Liliana Ampudia Mendez/REX/Shutt—AP
Heiress of the Hilton empire and a former reality TV star, Paris earlier this year backed the ICO of LydianCoin, a cryptocurrency that happens to be run by a company whose CEO pleaded guilty to assaulting his girlfriend. "Looking forward to participating in the new @LydianCoinLtd Token!" Hilton wrote in a tweet, which also claimed that it was not an ad. The tweet has since been removed.
Ghostface Killah
The Wu-Tang Clan rapper has invested in Cream Capital, which is building what it claims is the largest network of cryptocurrency ATMs. It also offers a digital token called Cream Cash. Cream Capital CEO Brett Westbrook told CBS that Ghostface Killah is a partner, not an endorser, of the company.
The Game
The hip-hop musician jumped in on an ICO for the tech company Paragon in August. He joined Jess VerSteeg, an entrepreneur and former Miss Iowa, in a video on Twitter to promote the token, saying he hopes to start "a cannabis revolution with blockchain," referring to the software behind digital assets. (The Game is also a marijuana entrepreneur.)