You Can Buy This Stunning Southern California Lake House for 32 Bitcoins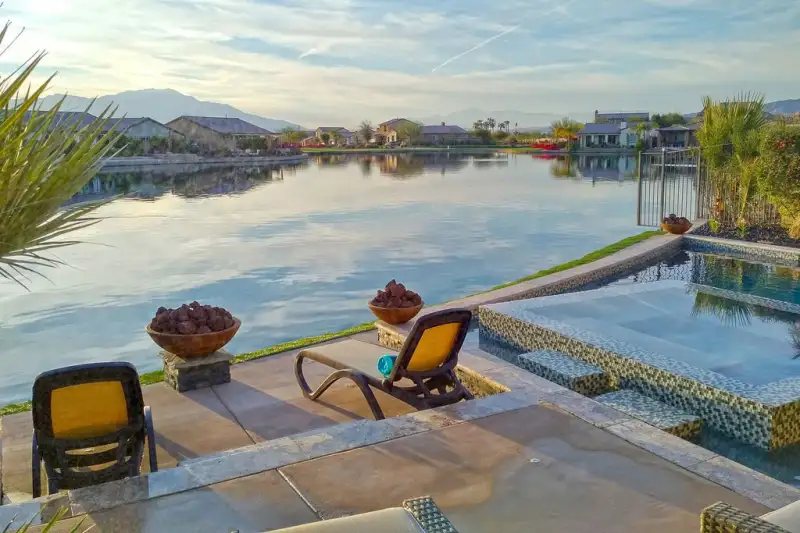 The lake house at the very edge of California's Joshua Tree National Park has an in-ground pool, sprawling mountain views and a steady vacation rental history. And for just under 32 bitcoins, it could be all yours.
The past few months have been a wild ride for the cryptocurrency once used largely in the digital black market. Valued at less than a dime in the years following its invention in 2008, Bitcoin's worth skyrocketed to over $19,000 in recent months after slowly rising for the better part of a decade. To put the currency's dramatic rise into perspective, consider that 10,000 bitcoins -- the amount needed to buy a couple pizzas in 2010 -- are currently more than enough to buy a couple pizza franchises. Now that Bitcoin owners can buy laptops, space flights and pretty much anything from Overstock.com with the cryptocurrency, some homeowners want in, too.
"It's just crazy what's going on," Michael McCrae says, who hopes the listing for 42871 Beato Drive, his Indio, Calif., lake house, will attract buyers with some of the newfound digital wealth. His asking price is $599,000 -- or the equivalent in bitcoin.
He's not alone. From a $219,888 Las Vegas townhouse to a nearly $5 million Miami beach house, there are plenty of properties you can purchase with Bitcoin. Some sales have already taken place: In 2014, a Lake Tahoe, Calif. estate sold for 2,739 bitcoins -- the equivalent of $1.6 million at the time, and similar listings have been reported in Florida and Texas, though the details of these are scarcer.
Should a Bitcoin buyer appear, McCrae faces some obstacles. The homeowner says he is researching the tax implications of selling for bitcoins and seeking an escrow service that has handled Bitcoin home sales before. He adds that he will probably charge a 5% premium on the sale to cover extra costs. Then there is the matter translating the price of a $599,000 house to a digital currency with a value almost constantly in flux.
Bitcoin's volatility does not naturally lend itself to a purchase where the average mortgage closing, according to Ellie Mae, takes around 42 days. In the past 42 days, the price of one bitcoin increased by just over 171%.
Using bitcoins to buy a house is legal, but it isn't easy, says Josias N. Dewey, a Miami real estate lawyer who has authored several publications on blockchain currencies.
"The bottom line is there's nothing illegal or improper about effectively trading your home for a certain amount of Bitcoin," Dewey says. "There are practical obstacles that make that challenging, but not impossible."
Many title companies and other real estate service providers, Dewey says, are unfamiliar with Bitcoin best practices and do not want to be liable for custody of bitcoins. "It's going to be awhile before title companies are comfortable handling virtual currency," Dewey says. "Until then, you might find it is difficult to find title insurance."
Some real estate agents have resorted to converting bitcoin to cash, then back again to close sales. In September, a Kuper Sotheby's press release credited Austin-based agent Sheryl Lowe with facilitating the first Bitcoin home sale in Texas. Since then, Lowe says she has worked as the buyer's agent in three more sales.
Lowe says her contracts specify the price of the home in a dollar amount, and her buyers liquidate their cryptocurrency before entering into a deal. This guarantees the seller will receive the U.S. currency detailed in the contract, no matter how Bitcoin's value may change. If the seller wants that wealth in bitcoins, they must convert the money back to the digital currency following the sale, Lowe says.
Lowe adds her clients are mostly young homebuyers who want to convert their newly-gained Bitcoin wealth to real estate. "They're millennials who started in Bitcoin in the very early years," Lowe says. "It's very obvious when you say that their fortune has been from Bitcoin."
According to The Wall Street Journal, the home in Lake Tahoe that was sold for Bitcoin was handled by BitPay, a payment processor similar to PayPal. If the buyer and seller agree on trading Bitcoin for the house, the seller starts the process by issuing an invoice. The buyer must then complete the exchange within a 15 minute window, during which time BitPay guarantees the bitcoin-to-dollar exchange rate set at the start, the Journal said.
Lowe's takeaway from her transactions? Everyone involved in a Bitcoin transaction needs to understand the process.
"I think they need to really educate themselves," Lowe says. "I'm not talking just 15 minutes on the internet, I'm saying talking with people on their team, the title companies, the lawyers, whoever closes their escrow."
"You can't just slap on an ad saying, 'ask me about bitcoin,'" Lowe adds.