Half of America's Robot Workforce Is Located in Just 10 States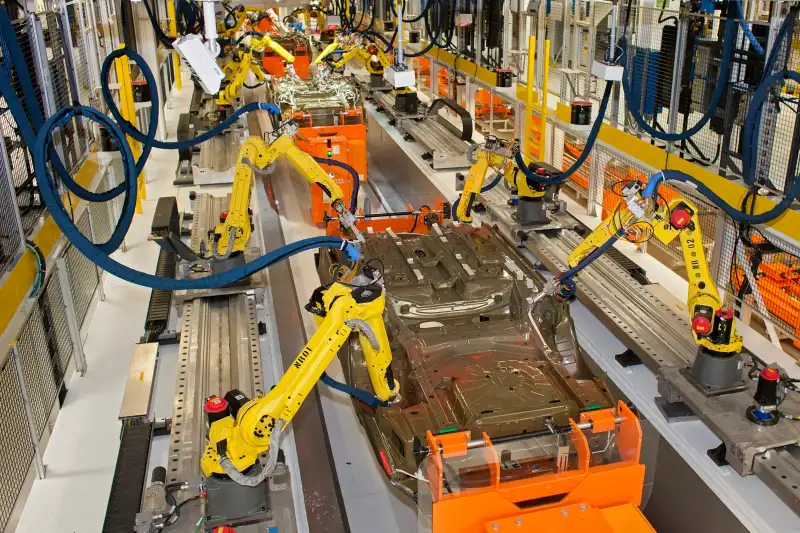 Jim West—Getty Images/imageBROKER RM
If you believe the great robot takeover has begun, then Michigan appears to be ground zero. Michigan has the nation's highest rate of industrial robots as a percentage of workers, and the state's factories are now using nearly as many robots as the entire West Coast of the United States.
The revelations come courtesy of a new study from the Brookings Institution, the nonprofit public policy organization.
Researchers found that 10 states in the Midwest and South are home to more than half of the industrial robots in use right now, with Michigan leading the bunch. Michigan's auto-heavy economy "employs" nearly 28,000 robots, or roughly 12% of the 233,305 bots used for manufacturing and industry in the U.S. as of 2015.
"By contrast, the entire West accounts for just 13 percent of the nation's industrial bots," the report states. Here are the 20 states with the most robots:
Michigan: 27,632
Ohio: 20,415
Indiana: 19,451
California: 17,844
Texas: 13,224
Tennessee: 10,944
Illinois: 10,519
Kentucky: 9,523
Alabama: 7,692
North Carolina: 7,485
Pennsylvania: 7,371
Wisconsin: 6,537
New York: 6,124
Georgia: 5,621
South Carolina: 5,615
Missouri: 5,352
Minnesota: 3,949
Florida: 3,897
Iowa: 3,738
Virginia: 3,520
As you can see, America's robots are "highly concentrated in the Midwest and upper South," the Brookings report explains. This makes sense: These regions are where the auto industry has a huge presence, and auto manufacturing accounts for nearly half of the robots used in factories today.
Michigan not only has the most robots in the country, it also has the highest rate of industrial robots per worker. The Wolverine State has 7.4 robots for every 1,000 workers, followed by Indiana (7.2), Kentucky (5.6), Alabama (4.7), and Ohio (4.3), and Tennessee (4.3).
California may be fourth on the list of industrial robots overall, but because the population is so huge it has a fairly low rate of "robot exposure," as the Brookings study puts it. For every 1,000 workers in California, there are just 1.2 robots.
Certain metro areas have particularly high rates of robots. In Indiana, the Elkhart-Goshen and Kokomo metro areas each have roughly 35 robots for every 1,000 workers. Among large metro areas, Toledo, Ohio, has the most robots as a portion of the working population, with 9.0 per 1,000 human employees, followed by two urban areas in Michigan: Detroit-Warren-Dearborn (8.5) and Grand Rapids-Wyoming (5.1).
Finally, Brookings researchers point out that red states that voted for Donald Trump in the 2016 election have a much higher concentration of robots than blue states that backed Hillary Clinton. As of 2015, there were 2.5 robots per 1,000 workers in red states, compared to just 1.1 robots per 1,000 workers in blue states.