Roger Stone Says Mueller's Russia Investigation Has Made Him Broke. Here's What We Know About His Money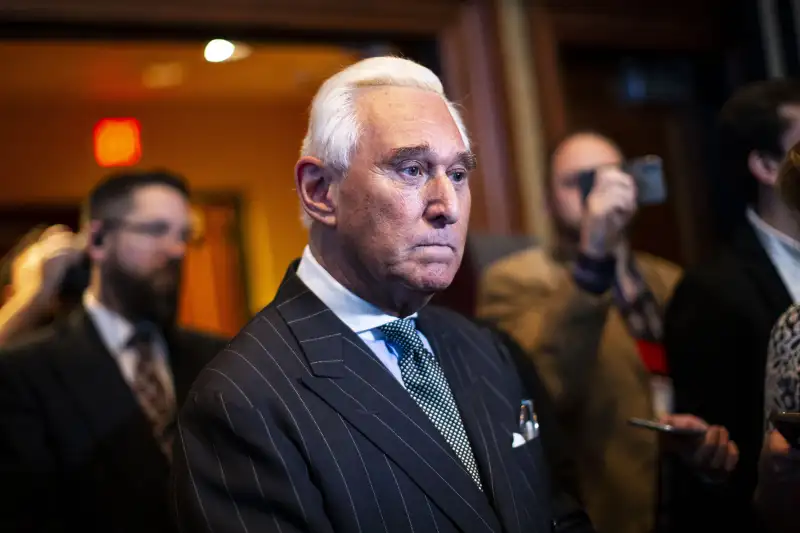 Al Drago—Bloomberg/Getty Images
For months, former Trump adviser Roger Stone has been raising money online to fund what he calls a battle that's "threatening to destroy him and his family."
On Friday, the battle came to his front door. Stone was arrested early in the morning by FBI agents and indicted on charges related to Robert Mueller's investigation into Russian interference with the 2016 presidential election.
The indictments come a few short weeks after Stone settled a separate lawsuit and avoided paying $100 million in damages. But the political operative says he is running out of money anyway, claiming that his legal bills related to the Mueller investigation and other lawsuits could top $2 million, according to his fundraising website.
In December, Stone launched an example of one of his more colorful and galling ploys to raise money for his legal bills: He began selling rocks — or rather, "Roger Stone paperweights" that were supposedly each "an exact historical replica of the stone little David used to take down Goliath!"
The rocks, which were "signed by the New York Times Bestselling author, legendary political operative and Trump intimate himself," according to Stone's website, were priced at $10 each, plus $4 for shipping.
Stone left the courthouse on Friday without posting bail or putting up any money. Instead, he was released on a signature bond of $250,000, meaning he would only have to pay this amount if he failed to show up in future federal court proceedings related to the charges.
What We Know About Roger Stone's Net Worth and Career
Roger Stone, now 66, has spent most of his career working in the underbelly of politics dating back to Richard Nixon and the Watergate era, and much is unclear about how he makes his money—or what his core beliefs are. Throughout his career as a political consultant and lobbyist, he's been alternately portrayed as a kingmaker or merely a self-aggrandizing bit player. He has routinely been characterized as a "dirty trickster" and even a "cockroach."
Stone's bag of tricks has certainly included a proclivity for being less than truthful. A few weeks before Stone was indicted on charges of witness tampering, obstruction, and making false statements related to the WikiLeaks release of hacked documents, he settled a defamation lawsuit and admitted he spread lies about a Chinese businessman named Guo Wengui on the far-right website InfoWars.com.
By admitting to making false statements and publicly apologizing to Guo, Stone avoided having to pay $100 million in damages sought in the lawsuit.
After being released from a federal court in Fort Lauderdale on Friday, Stone said that the Mueller investigation was politically motivated and that he would beat the charges. "I look forward to being fully and completely vindicated," Stone said, according to the New York Times, before flashing V-for-Victory signals with both hands similarly to Richard Nixon, one of his political heroes.
The indictment of Roger Stone filed by the Mueller investigation describes Stone as "a political consultant who worked for decades in U.S. politics and on U.S. political campaigns," and who was "an official on the U.S. presidential campaign of Donald J. Trump ("Trump Campaign") until in or around August 2015, and maintained regular contact with and publicly supported the Trump Campaign through the 2016 election."
The longtime political operative began working for the Republican Party as a teenager when Richard Nixon was president, and was reportedly involved in the Watergate scandal and subsequent coverup. Stone remained a vehement Nixon supporter long after he resigned as president. He owns few Nixon-theme bongs and even has a tattoo of Richard Nixon on his back, of which he says, "Women love it." After President Donald Trump fired James Comey as FBI director, Stone sent out a tweet that said, "Somewhere Dick Nixon is smiling."
One way Stone has always generated attention is his over-the-top sense of style and fashion, which lately has featured pin-striped three-piece suits and fat-rimmed circular glasses. Stone "dresses like a mix between Tom Wolfe and the Penguin," the New Republic quipped.
How much money Roger Stone has is a matter that's as opaque as his politics. The website CelebrityNetWorth.com estimates Roger Stone's net worth at $5 million. Stone has said that he's proud of the political lobbying work in the 1980s he did with Paul Manafort, the former Trump campaign manager convicted of fraud in charges related to the Mueller investigation, "because I made a lot of money."
Roger Stone and Donald Trump
Roger Stone met Donald Trump in the 1980s thanks to an introduction from Roger Cohn, then known as "New York's most feared lawyer," who aggressively represented clients ranging from mob bosses to the notorious Red-baiting U.S. Senator Joseph McCarthy. In the early 1980s, not long before Cohn was disbarred for ethics violations, the lawyer became a mentor and advisor to the young Donald Trump.
Stone worked for Donald Trump as a consultant during various flirtations with running for president, serving as the director of Trump's presidential exploratory committee for the 2000 election. During the run-up to the 2016 presidential election, Stone served as an advisor to Donald Trump until August 2015.
The exact circumstances of Roger Stone's removal from the Trump campaign are unclear — Stone says he resigned, while Trump says he was fired — but Stone says he remained in close contact with Donald Trump, his campaign, and the administration long afterward.
Roger Stone and Donald Trump have swapped insults and compliments many times over the years, and sometimes appear to have been at odds. "Roger is a stone-cold loser," Trump told New Yorker writer Jeffrey Toobin in a 2008 profile of Stone. "He always tries taking credit for things he never did."
Trump has also said of Stone, "I've known him for a long time — he's actually a good guy, a quality guy."
In December 2018, Donald Trump praised Roger Stone on Twitter after the political operative said he would never testify against the president.
More recently, the Trump administration has distanced the president from Stone. "This has nothing to do with the president, nothing to do with the White House," Trump spokeswoman Sarah Sanders said in a statement on the day Roger Stone was indicted.