9 Over-the-Top, High-End RVs You Can Rent on Airbnb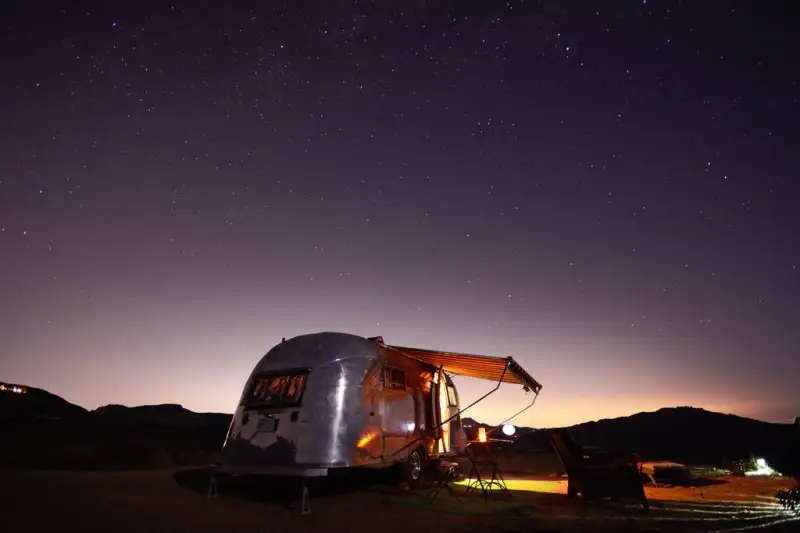 Pack your hiking boots, but skip the sleeping bag: It's time to go glamping.
Glamping is for travelers who want to camp in luxury, exploring nature in secluded natural environments but staying in renovated Airstreams or furnished tents with electric ports. It's one reason that recreational vehicles are seeing a resurgence. Sales have been soaring, due to both retiring baby boomers and a new millennial fan base, according to the Wall Street Journal.
But for plenty of people, an RV in the driveway isn't quite as appealing as an occasional weekend in a tricked-out, secluded Airstream. Check out these nine extreme glamping sites, all available on Airbnb.
---
Los Angeles, California
Cost per night: $236, airbnb.com
This vintage 1969 Airstream Globetrotter, which sits at 1,400 feet above ground//SUB sea level? in the San Gabriel Mountains, boasts sleek hardwood finishing and famed L.A. views. Take in the panorama—which includes the city skyline, the Hollywood sign and the surrounding hills and canyons—from the roomy patio.
---
Mill Valley, California
Cost per night: $85, airbnb.com
Get ready for a blast from the past in this groovy 1969 Airstream just north of San Francisco. The vintage RV has an iconic aluminum exterior, kitchen appliances entirely in retro red, and various 1970s paraphernalia like lava lamps and dream catchers.
The rental is perfectly situated right between San Francisco's trendy restaurants and Napa and Sonoma valleys' scenic wineries; there are also various trails nearby for hiking and biking.
---
Wimberley, Texas
Cost per night: $130, airbnb.com
Get close to Texas' natural beauty in this RV, located right in the heart of Hill Country. This highly rated Airstream—nicknamed the "Dixie Daisy"—includes a hot tub, outdoor shower, fire pit and patio grill, set within 10 acres of trails and creeks. Use the day to sample the region's own rural attractions, or drive into San Antonio and Austin for some city amenities, then unwind at night by snuggling up with your partner to watch something of the (included) impressive selection of Western movies.
---
Salt Lake City, Utah
Cost per night: $75, airbnb.com
This 1976 Airstream, situated within walking distance of downtown Salt Lake City, features modern decor, with laminate countertops and hardwood floors and walls. The rental is also more spacious than some of the others on this list: It comes with both a double bed and a single bed, is family- and kid-friendly and can be used for events.
---
Cosby, Tennessee
Cost per night: $70, airbnb.com
Camp in the Smoky Mountains in style. This snug, 6- by 12-foot red 1959 Shasta camper is nestled in the woods of Tennessee and has a bonfire right outside. As a bonus, the host family includes complimentary breakfast fixings: homemade bread, eggs and goat's milk from their own farm.
---
Temecula, California
Cost per night: $145, airbnb.com
Experience Temecula Valley Wine Country by staying in this spacious 31-foot 1974 Airstream. The RV sits on 2.5 acres, overlooking both mountains and vineyards. The trailer's luxe amenities include an 800-square-foot private deck, an outdoor pool, gas barbecue, and a cocktail bar.
And when you finally want to leave your groovy Airstream, you'll enjoy its convenience: It's located within walking distance of a whopping seven wineries.
---
Ellijay, Georgia
Cost per night: $128, airbnb.com
For some incredible fall foliage views, stay in this rustic RV, surrounded by lush Appalachian forest. The property includes a roomy patio with leather couches, as well as a fire pit. Go hiking along the many nearby trails and streams, or take a short drive to Carters Lake for a boating trip.
---
Rogue River, Oregon
Cost per night: $79, airbnb.com
This 1970 Airstream is an eco-friendly glamping dream. The RV is completely off the power grid and situated on a solar-powered family farm. Truly be one with nature as you milk goats, hike with the herd, and even do yoga among the mountains. Stay more than two nights, and you'll also get a complementary bottle of local wine.
---
Malibu, California
Cost per night: $155, airbnb.com
Staying in this 1957 Airstream gets you panoramic views of the Pacific Ocean, Catalina Island, Santa Barbara Island, and the Santa Monica Mountains. Two lawn chairs are situated right outside, perfect for late-night stargazing. Visit one of the nearby vineyards or the Backbone Trail hiking paths.
We've included affiliate links in this article. Click here to learn what those are.