Walmart Shocked Employees By Closing Dozens of Sam's Club Stores. Here's What We Know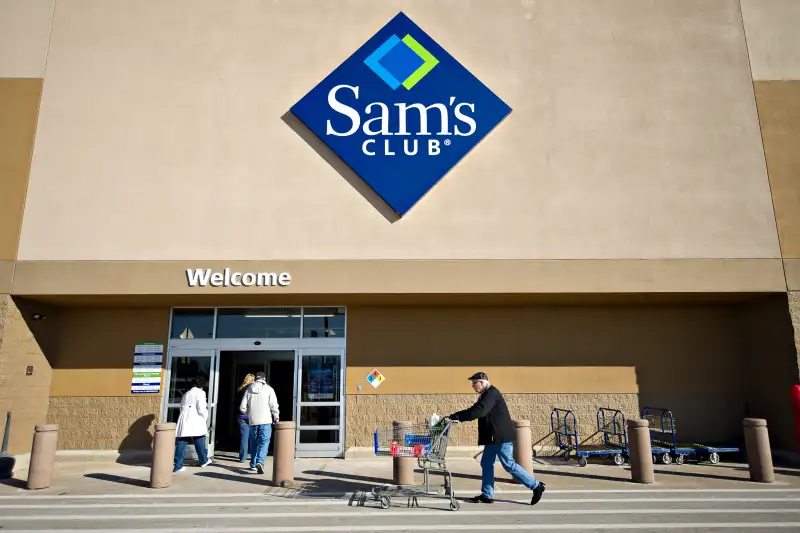 Bloomberg—Bloomberg via Getty Images
On Thursday—the same day that Walmart heralded its newly increased minimum wage—the company dealt a surprising blow to to the popular Costco-like warehouse club it owns.
Employees and shoppers at dozens of Walmart-owned Sam's Clubs around the country were shocked to see that the warehouse stores were closed—and will be closed permanently in the near future.
Walmart made no mention of the Sam's Club closures in its Thursday press release touting its wage increases and other new benefits. Employees appear to have been given no advance warning, and confusion reigned for most of the day. Reports of the warehouse club closures surfaced piecemeal, with five closing in Illinois and at least three store closures in Houston. At one point, word spread that upwards of 260 Sam's Clubs would be shuttered, including all locations in Alaska.
We've reached out to Walmart representatives for comment and more specifics, but messages have not been returned. Here's what we know.
63 Sam's Clubs Stores Are Reportedly Closing
Most reports now say that the total number of Sam's Club closures nationwide is 63. Business Insider created a master list of stores set to be closed—with information gathered from Sam's Club employees, not Sam's Club corporate representatives—and it includes four locations in Arizona, three in Florida, four in New York, and four in Texas.
Over 10,000 Workers Could Be Affected
Some of these locations will be reconfigured into e-commerce distribution centers, but altogether over 10,000 Sam's Club workers could be impacted by the closures.
In an internal email to Sam's Club employees, CEO John Furner said:
There was also at least one Sam's Club response to a request for comment on Twitter:
You Can Cancel or Refund Your Sam's Club Membership
Sam's Club membership costs $45 per year. Anyone who wants to cancel and request a refund because of a store closure or any other reason must call Sam's Club customer service (888-746-7726), Business Insider reported. The refund can be issued in the form of a check or a Walmart gift card.
On the Same Day, Walmart Raised Wages and Extended New Benefits
On Thursday, Walmart announced it was increasing the minimum wage of all workers to $11 an hour, and giving employees bonuses up to $1,000. It was big news because Walmart is the country's largest private employer, and because the company said worker raises came directly as a result of the corporate tax cut passed by the GOP and the Trump administration.
Prominent Republicans like Treasury Secretary Steve Mnuchin and Speaker of the House Paul Ryan quickly applauded Walmart, while also patting themselves on the back for passing the new tax law. Ryan said on Twitter that the tax law "is helping improve people's lives."
Almost right away after Walmart's announcement, however, critics pointed out that the tax law may not be the real—or only—reason for the worker raises.
The Tax Cut Is Hardly the Only Reason for Worker Raises
As my colleague Ian Salisbury pointed out yesterday, Walmart had planned to increase employee wages in many parts of the country before the tax bill passed. Unemployment has been low for years, and big box store rival Target raised its own minimum wage to $11 a few months ago. So in many ways Walmart has been forced to increase pay simply to be able to attract—and keep—workers given the economic reality lately.
The Wage Hikes Are Tiny Compared to Walmart's Tax Savings
Walmart said on Thursday that its increase in worker wages would cost the company an extra $300 million next year, and that the announced worker bonuses will run roughly $400 million.
That sounds pretty significant. Yet a Bloomberg story noted that the world's largest retailer rings up roughly $300 million in sales every five hours. "The company is on track for about $12 billion in net income this year, so it will take about nine days of profit to recoup the extra spending," the report stated.
And how much richer will Walmart be in light of the new tax law the company is crediting as the big reason for raises and bonuses for workers? Matt Gardner, a senior fellow at the Institute on Taxation and Economic Policy, told the New York Times that based on Walmart's earnings over the past five years, the corporate tax cut would save the company an estimated $2.2 billion annually.
"The figure could be higher or lower depending on tax breaks the company might be losing, or new advantages in the treatment of capital investments and other provisions," the Times reported.