5 Ways to Cope With January's Record Cold Temperatures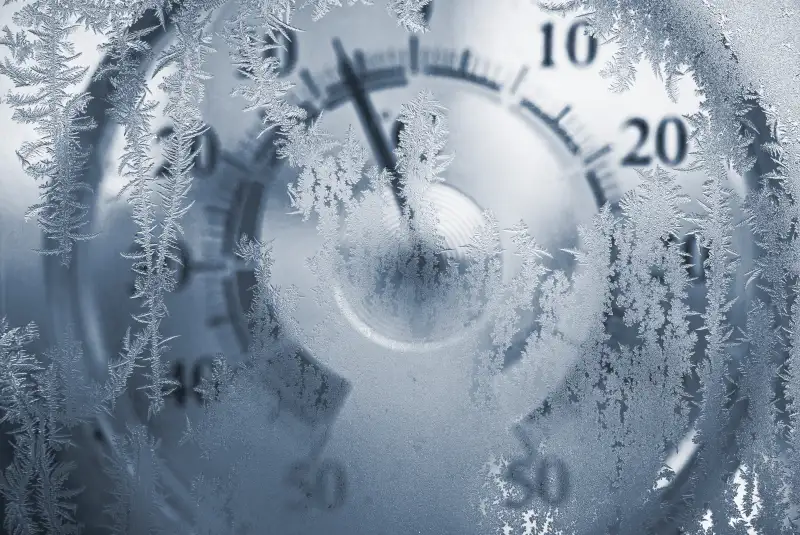 The year has barely started, and many parts of the country are already in a deep freeze. The National Weather Service on Wednesday warned of "bitter cold" from the Midwest to the Mid-Atlantic and Northeast, where subzero temperatures are forecast, with wind chills as low as -25 to -45 degrees in some places. That kind of cold can be a hit to your wallet. Here are five ways to stay warm this winter without spending a bundle.
1. Seal the cracks. In most homes, $200 to $400 worth of energy escapes via leaks, says the Energy Department.
Try this: Experts estimate that caulking leaks could cut your heating bills by up to 10%. Windows and doors are usually the big culprits, but don't forget to check pipes that pass through a wall, closet interiors, and outlets on exterior walls. Heating and cooling ducts can leak up to 30%. To seal them, use metal tape or mastic sealant (or call in a pro, who will most likely charge you a minimum of $500).
2. Spring for snow tires. A recent study found that winter tires cut cars' stopping distance by 25% on snow.
Try this: Edmunds.com editor Bill Visnic suggests comparing prices at TireRack.com, which typically runs deals in fall (expect to spend $500 to $700). You may also score a manufacturer rebate, offered year-round. To make your new snow tires last, be sure they're inflated to the maker's specifications, which may differ from those of summer tires.
3. Jet away. Craving a warm-weather getaway? Bargain flights aren't easy to find: By mid-2014, the cost of the average domestic ticket had climbed 16% since 2010, according to the DOT.
Try this: Book 57 days in advance for the best price on a domestic ticket or 171 days to go abroad. Missed the window? Pick an affordable destination. As of early December, the average fare for February and March travel to Trinidad and Tobago was down 14% vs. 2014, according to Travelocity. Also cheaper this winter: Maui (down 6%), the Dominican Republic, and the Bahamas (both down 3%).
4. Bundle up. When do you buy cold-weather gear? If your answer is late fall, you're doing it wrong.
Try this: Hold off until January, when the average winter coat discount hits 45%, according to clothing sale site ShopItToMe​.com. "Winter clothes go on sale then because most people have their coat by January," says Mark Di Vincenzo, author of Buy Ketchup in May and Fly at Noon, a book about the best time to make purchases. Looking ahead to next year? You'll find even better deals if you wait until July or August, though the summer selection is typically pretty picked over.
5. Increase your efficiency. Heating accounts for a full 45% of Americans' utility bills. Chances are, you could be using your energy more strategically.
Try this: Use a programmable thermostat to keep the house at 68° while you're home and as low as 55° when you're out or asleep to save up to 15% a year. Adjust the hot water too: Setting it at 120° will trim your costs by up to 11%. Even little things help, like turning off bath and kitchen exhaust fans promptly, before they suck up warm air.
Read next:
7 Simple Ways to Winterproof Your Car