I've Saved $18,000 By Adopting a Zero Waste Lifestyle. Here's How You Can, Too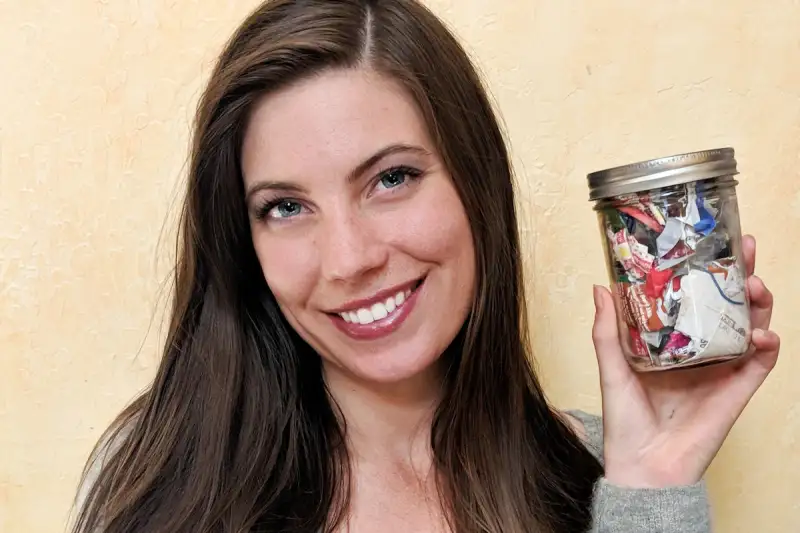 Courtesy of Kathryn Kellogg
When making a budget, not many people think about cutting down on plastic and other waste products to save money. But for Kathryn Kellogg, switching to a more sustainable lifestyle has saved her thousands.
"The number one thing that saved me the most money was that I just stopped buying stuff,"says Kellogg, who blogs about reducing waste consumption and is the author of 101 Ways to Go Zero Waste.
When Kellogg set out to eliminate waste from her life, the inspiration wasn't to save money. It was for her health. Around 2010 she was experiencing chronic pain and had a breast cancer scare that made her rethink what she was putting near her body — specifically plastics.
"I was trying to cut out all endocrine disruptors," she says, which interfere with hormones in the body and has been linked to cancer. One example, BPA, is found in many plastics such as water bottles.
By 2014 she had not only stopped using plastic but had eliminated almost all waste products, from single-use paper and plastics to new clothes (she shops mostly second hand). Now, she can fit two years of trash into a single 16-ounce Mason jar and estimates that she has saved at least $18,000 in the process.
Want to reduce your consumption and save money at the same time? Here's where to start.
Investing in reusables
Some of Kellogg's biggest savings come from swapping out items like water bottles, paper towels, dish sponges and toilet paper.
"Those are products that we throw away all the time and it's throwing away money," Kellogg says.
Instead, she opts for dish rags ($4 at Target), bamboo dish scrubs (you can buy a 3-piece set for $29.99 at Bed Bath & Beyond) and reusable water bottles ($24.99 for a glass BPA-free bottle at Walmart). One of her favorite swaps is an attachable bidet (from $25-$70 on Amazon). It has cut her and her husband's toilet paper usage down to just 24 rolls a year -- which she purchases wrapped in recycled paper.
Kellogg admits that all of these swaps are an investment. You will pay more upfront to purchase more expensive, reusable items, but the savings will pay off in the long run. And you'll be spending that money on something that will last years rather than something you dispose of after a single use.
Courtesy of Kathryn Kellogg
Ditch packaged food
Swapping for reusables isn't the only way to save money. Other ways to slash your budget are to eliminate processed foods from your shopping list. Kellogg stopped buying unhealthy snacks that tended to creep into her shopping cart like Oreos, Pop-Tarts and other junk food — which she found are more expensive than non-prepackaged food.
She also avoids convenience items like pre-chopped vegetables or premade salads. Now, she only buys what she describes as "real, whole food." She also frequents her local farmer's market which she says has cheaper options than the store.
"My grocery bill went down by at least $100 every single month," she says.
DIY the unexpected
For zero-wasters like Kellogg making your own products significantly cuts down on waste consumption, but it can save money as well.
For Kellogg, a big zero-waste DIY money saver is making her own cleaning products. She cleans her home with a mixture of vinegar and water that she says takes minutes to make and saves her a lot of money. She stressed that making your own products doesn't have to be a difficult or time-consuming process and that buying pre-made cleaners aren't worth the time saved.
Kellogg and others blog about fun and unique ways to make your own products including toothpaste, beeswax wrap (so you can stop buying Saran Wrap) and dog treats.
In the end, she emphasizes buying less and being more frugal about what you purchase and that small savings here and there will add up over time.
Now, Kellogg is using the money she's saved from zero waste living to go towards a down payment on a house.