7 High-Paying Jobs You Can Get Without a 4-Year College Degree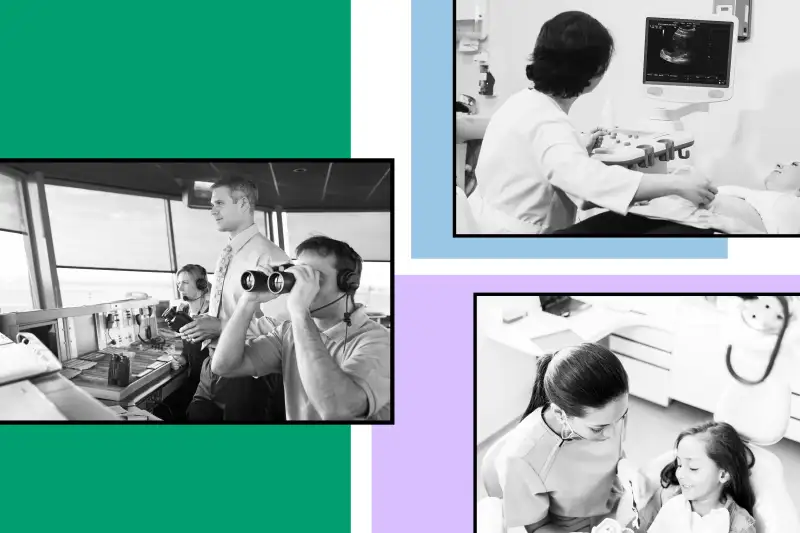 Illustration by Lixia Guo; Getty Images
Want a six-figure salary without having to shell out for a bachelor's degree? It's not out of the realm of possibility.
With the cost of higher education skyrocketing, people are starting to wonder whether it's genuinely worth it. While it may be for some, for others there are still plenty of paths to the middle- and even upper-middle class with a two-year associate degree, rather than a full, four-year bachelor's.

What careers pay the most? Air traffic controllers made a median annual salary of $124,540 in 2017, according to the Bureau of Labor Statistics, the highest among occupations that generally require an associate degree. Radiation therapists earned $80,570, and dental hygienists took home $74,070. (Plenty of jobs that only require a high-school diploma pay well too, sometimes rivaling or exceeding those for an associate degree. You can find a list of those here.)

The main difference between an associate degree and a bachelor's degree is the time it takes to takes to complete your education. Bachelor's degrees typically take four or more years to complete. Associate degrees, on the other hand, are designed to be completed in two -- as long as you are enrolled as a full-time student. This is because the number of credits required to complete the degree is drastically different. Bachelor's degrees require 120 credits to graduate whereas you only need to complete 60 credits to obtain an associate degree.
Because you are taking fewer credits, and time, to complete your degree, the costs are typically lower. Besides saving money on annual tuition, students pursuing associate degrees can also save in other areas like housing, books, supplies and transportation by completing their degree more quickly than their bachelor's degree candidate counterparts.
While the cost of college fluctuates drastically depending on where you decide to go to school, you can finish your associate degree at a two-year institution for about $21,000, on average, whereas a degree from a four-year institution will typically cost you more than $100,000, based on figures from the U.S Department of Education. Of course, choosing a public school over a private school will help curb the cost to complete your degree.
And it looks like the number of people pursuing associate degrees is rising. According to a study from the Community College Research Center released in June, associate degrees in humanities and the liberal arts have increased by 88 percent from 218,000 degrees awarded in 2000 to 410,000 degrees in 2015.
For air traffic controllers, the pay may be high, but the pressure is high too. What matters is temperament, says Ken Scheele, 38, air traffic controller at Orlando Terminal Radar Approach Control (TRACON). His team handles over 2,000 flights a day, on average. It's "the ability to handle a stressful situation and resolve it quickly," says Scheele.
Scheele's base salary is $142,000, and with his bonus and overtime pay, he says he took home over 200,000 in the last year.
While having an associate degree is a common route to becoming an air traffic controller. It isn't strictly necessary, according to Scheele. There are other ways to enter the field such as having a mix of work experience and post-secondary education that adds up to three years.
Of all professions that typically require an associate degree, dental hygienists are in the highest demand with 13,500 projected annual average job openings between 2016 and 2026. The profession is expected to grow by 20 percent during this time, according to the Bureau of Labor Statistics. Some reasons for the spike in growth are the aging population and increasing evidence that oral health affects individuals' overall health.
Typical requirements for the position are an associate degree or diploma from an accredited school of dental hygiene in addition to your registered dental hygienist license, based on Glassdoor job postings.
(An earlier version of this story misstated average figures for two- and four-year degrees.)