'I Have No Hope.' Sears Workers Are Worried About Their Jobs After Eddie Lampert's Takeover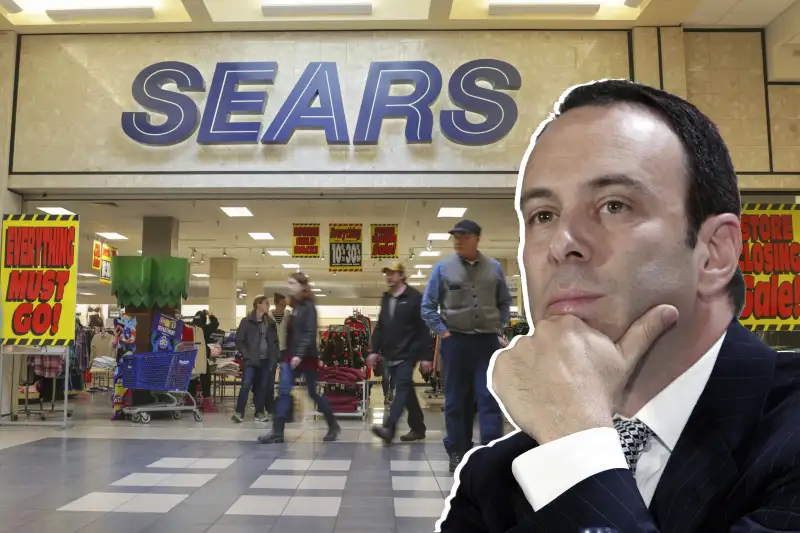 (Lampert) Gregory Bull—AP/REX/Shutterstock; (Sears) John Roark—The Post-Register/AP
It's the dawn of a new era for Sears and Kmart — but employees are proceeding with caution.
Sears Holdings Chairman Eddie Lampert came out on top with his $5.2 billion bid to rescue around 45,000 jobs and more than 400 stores from liquidation Wednesday morning, the company and ESL Investments later confirmed.
Lampert's takeover is a temporary sigh of relief for tens of thousands of employees who fretted over the likely loss of their jobs when the company filed for bankruptcy in October 2018. But some workers are now worried about what the company will look like under the billionaire investor's ownership.
"I have no hope. I really don't," says Carole Brown, who has worked at a Kmart in New York City since 1997 and hopes to retire in 2020. "I can't see nothing changing, unless (Lampert) decides to make a 360-degree turn. That's the only way I see any hope for the company. If it survives by next year, it will be by the grace of God."
'Liquidating the store since he took over'
Current employees and laid-off workers tell Money they hope Lampert operates the company with their interests in mind — namely, with better protection for laid-off workers, stronger efforts to skirt store closures and layoffs, and improved benefits for current employees. "We're treated unfairly," says Brown, who has seen her benefits and hours change drastically with Kmart and Sears' decline over the years. "It's just not right."
Gabe Maguire, a Kmart employee whose store in North Carolina is slated to close in March, feels relieved for the remaining employees who won't have to worry about liquidation, but doesn't have "high hopes for the company."
"Some of these workers are telling us that they feel Lampert has been liquidating the store since he took over," adds Lily Wang, an organizer with Rise Up Retail, a labor group that has been working with employees at Sears and Kmart throughout the company's bankruptcy proceedings.
Lampert formed Sears Holdings in 2005 and instigated a slew of cost-cutting initiatives that ultimately resulted in sales declines, store closures, inventory reductions, and brand sales amid an ever-changing retail environment. Under Lampert's watch, more than 200,000 jobs have disappeared and more than 1,700 Sears and Kmart stores have shuttered, according to the Wall Street Journal. The company has not been profitable since 2010.
The businessman was CEO of Sears Holdings from 2013 to late 2018, when he stepped down from the role but remained chairman of the company's board during its bankruptcy filing.
Sears' largest shareholder and creditor is ESL Investments Inc, Lampert's hedge fund. Lampert's bid, which he made through his hedge fund, will keep Sears open for business so long as it receives a final stamp of approval from a U.S. bankruptcy court in a hearing scheduled in early February, Sears Holdings says.
"The decisions are being made by Eddie Lampert and his hedge fund. They're being made in the interest of his wealthy investment fund. And Sears has been a cash machine for them," says economist Eileen Appelbaum, co-director of the left-leaning Center for Economic and Policy Research. "They've taken money and they've put almost nothing in."
"You hardly ever see anything quite as blatant as what has come to happen at Sears," Applebaum adds.
Lampert's hopes for Sears
In a December statement regarding his hedge fund's potential ownership of the retailer, Lampert wrote that he will "continue to believe in the company's immense potential to evolve and operate profitability."
"Our proposed business plan envisages significant strategic initiatives and investments in a right-sized network of large format and small retail stores, digital assets and interdependent operating businesses," he continued.
The retailer's struggle to adjust to a changing landscape shows in recent years in particular. Hundreds of Sears and Kmart stores were closed in 2018, and 10,016 employees were laid off as a result, according to Challenger, Gray & Christmas, a Chicago-based career transitioning firm. More than 4,880 of those layoffs occurred after Sears filed for bankruptcy in the fall, and dozens of other stores will close by March 2019.
In late December, the company announced the closures of those 80 Sears and Kmart stores. Days before, the bankruptcy court granted Sears approval to award executives and senior-level employees with more than $25 million in bonuses in an effort to keep them at the company — a move that deepened the wound for recently laid-off workers, some of which had their severance pay cut short.
The fight for severance pay
Severance pay policies at Sears have changed over the years and, according to workers, it differs depending on a person's role and is not awarded to part-time retail employees. One former corporate employee who was laid off last fall says she received her full severance pay despite the company's bankruptcy. Some retail employees who were laid off in recent months said their severance pay was cut short or eliminated entirely as a result of the company's bankruptcy filing. Sheila Brewer, who worked at an Illinois Kmart for 17 years and was laid off last year, said her eight weeks of severance pay checks were cut off after the company filed for bankruptcy in October.
"We wake up and we live and breathe Kmart and do what we can for the company and give it our all," Brewer told Money last month. "And in the end, they give us nothing."
In November, employees worked with the labor group Rise Up Retail to send Lampert a letter, demanding he guarantees severance pay and creates a financial hardship fund for laid-off workers. While the group says Lampert did not respond to the letter, he included a $40 million severance pay fund in his revised bid to take over the retailer.
It's unclear what will become of that fund, how much severance pay laid-off employees will receive, and when exactly they will get it. But ESL Investments said Thursday the fund will cover "certain severance costs incurred by Sears during bankruptcy and reinstate severance benefits for eligible employees in a new company." The hedge fund did not respond when asked for clarification.
The efforts from these workers impacted by the unpredictable nature of bankruptcy proceedings that have rocked some of the nation's most iconic retailers in recent years echo those from more than 30,000 Toys 'R' Us and Babies 'R' Us employees, who lost their jobs last year when the company liquidated. As a result of their efforts, two of the private equity firms that once owned the retailer created a $20 million severance pay fund for laid-off workers. They received anywhere from $200 to $12,000, each, depending on how much they were owed according to the company's severance plan before it filed for bankruptcy.
"When you go to stores, the employees are the first person you encounter. You don't encounter the vice president," says Lakisha Williams, a former Kmart employee who was recently laid off and still financially supports three of her children. "You don't encounter a regional vice president. You don't even encounter a district manager. You encounter a sales associate. Those are the people who make the store run. I just feel like those are the people who should be looked out for — instead of the people at the top."
Rise Up Retail, the labor group organizing these employees and laid-off workers, hopes the creation of these funds could set a new precedent and pave the way for lawmakers to create more protections for workers who often are last in line in bankruptcy proceedings.
"It was about demanding the respect that their job matters," says Carrie Gleason, an organizer with Rise Up Retail. "This is part of a much bigger fight."
This story has been updated.