How This Former Techie Gave Her Career a Jolt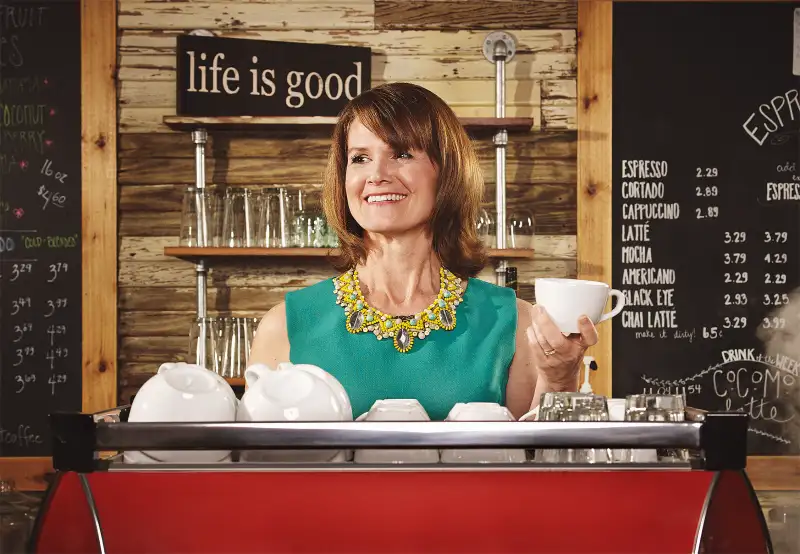 Jay B. Sauceda; Wardrobe Styling by Lauren Smith Ford; Hair and Makeup by Lisa Gleeson
Vicky Lewis, 49, didn't just wake up and smell the café one day. Her desire to open a coffeehouse grew over a few years, following her family's move from Seattle to the far suburbs of Austin in 2005. Tired of "being wet all the time," she and husband Bruce had given up their jobs to relocate their two kids to an area with affordable housing and abundant sunshine. The only oversight: "We were coffee addicts living in a place without a coffee shop," says Lewis.
Within a year of arriving, Lewis found a job similar to the one she'd had, as a program manager at a semiconductor firm. But after surviving several rounds of layoffs, she became unhappy: "The more disgruntled I got, the more I thought about the fact that somebody was going to make a killing opening a coffee shop. I began to think maybe I should do it." While she didn't have hospitality experience, Lewis knew she'd be able to draw on skills developed over 20 years in the chip industry to perform functions like tracking inventory and schedules: "My strengths are around organizing systems," she says, "and successful businesses are system-based."
By the time she told her boss she was quitting in August 2012, she'd taken a three-day class at Texas Coffee School in Dallas and leased a storefront in down­town Dripping Springs. To write a business plan, she pored over data on population growth and traffic patterns. Plus, she often drove the 50 miles roundtrip to Austin to sit in coffeehouses and analyze custo­mer behavior. Meanwhile, her husband, a real estate broker, helped with the build-out of the space.
Named after a town in the Cascade Mountains where her family used to vacation, Mazama Coffee Company opened its doors in November 2012. With strong ties to the community—the café sells drink local T-shirts and uses a nearby roaster—the shop stirred up sales of $200,000 in its first year. "It's a little weird being known around town as the 'coffee lady,' " says Lewis. "But I'm thankful; it's a sign that we are beginning to flourish."
BY THE NUMBERS
$135,000: Cost to start up the café
The funds came from her 401(k), which contained $150,000. She rolled over the balance into a retirement plan she set up for Mazama, then spent $135,000 of it to buy all the stock of the new C corp., which turned the funds into tax-free startup capital.
5: Number of employees the café has
That doesn't include Lewis's three family members, who all pull shifts. Her kids, both in college, put their pay toward tuition. With reduced income and savings, the Lewises are unable to subsidize their children's education as much as they'd hoped.
66%: Increase in pay Lewis expects this year
While she took home $30,000 last year, she figures she'll make about $50,000 in 2014, as she now has a license to sell alcohol. With plans to add mobile espresso carts for weddings, Lewis thinks she'll close in on her previous salary of $121,000 by 2019: "And I know for sure I'll be happy with what I'm doing."