Watch Seinfeld Rip the Ad World While Getting Advertising Award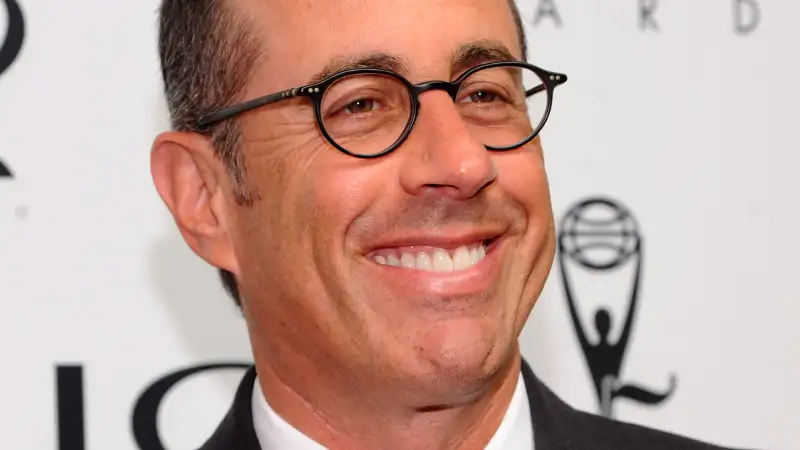 On Wednesday night, Jerry Seinfeld accepted an honorary CLIO Award at a ceremony in New York City held annually during Advertising Week. The event, described as the "world's most recognized international awards competition for advertising, design, digital and communications," celebrates the year's best and most creative advertising efforts. Seinfeld was honored because of his work as a longtime spokesman for American Express.
Naturally enough, he began his acceptance speech by thanking American Express and Ogilvy & Mather, the advertising firm behind his string of commercials, as well as his family and his manager. At that point, the famous comic could have gone on to "yada yada" the rest of the way, thanking others and perhaps offering a few of his classic humorous-but-hardly-controversial "what's the deal with …" observations. Not that there's anything wrong with that, of course.
Instead, Seinfeld launched into an epic mock celebration that brutally roasted the entire concept of advertising—and this in a room full of advertising people. He started with the blunt line, "I love advertising because I love lying."
Laughter followed, and then the giggles fizzled a bit as Seinfeld calmly discussed how advertising is a sham, even as it can bring brief moments of joy to consumers. "In between seeing the commercial and owning the thing, I'm happy. And that's all I want," he said.
"We know the product is going to stink. We know that because we live in the world, and we know that everything stinks. We all believe, 'Hey, maybe this one won't stink.' We are a hopeful species. Stupid, but hopeful. But we're happy in that moment between the commercial and the purchase."
And then, addressing everyone in the room, Seinfeld dropped the bomb:
Amazingly, the room burst into applause.
"I also think that just focusing on making money and buying stupid things is a good way of life," Seinfeld continued. "I believe materialism gets a bad rap… If your things don't make you happy, you're not getting the right things. This will all be in my new book, Soulful Materialism, which is in the planning stages at this moment."
A post at the CLIO website described Seinfeld's speech as one filled with "harsh (but oddly uplifting) truths."
Watch the speech in its entirety here: