Shark TV Fest Hilariously Admits It's a Blatant Shark Week Rip-Off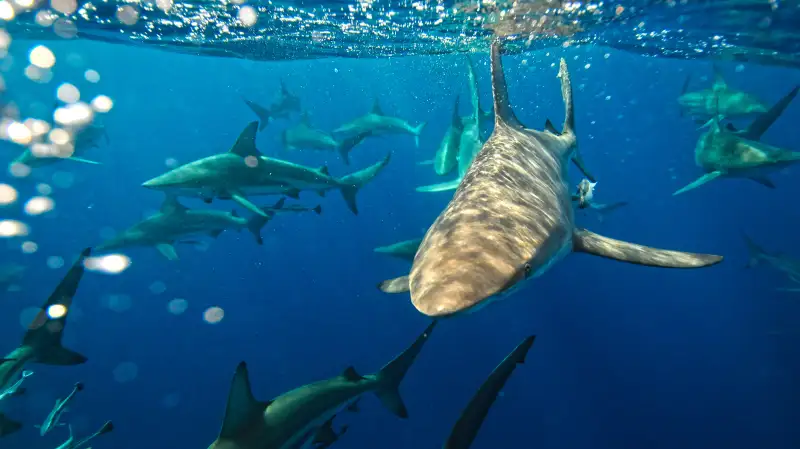 Aquavision TV Productions—National Geographic Channels
The Discovery Channel's annual "Shark Week" has become a colossal event, not only in terms of being a ratings and marketing bonanza, but also in its role as the inspiration for a larger frenzy, so to speak, of shark-related merchandise, attractions, and entertainment.
Naturally, Discover Channel's cable TV competitors have tried to get in on the sharktastic action with shark-related programming of their own. But no "Shark Week" imitator has done it quite as blatantly, or hilariously, as the Nat Geo Wild channel's event dubbed "SharkFest," which just so happens to kick off on Sunday, July 5, the same day as "Shark Week" begins.
AdWeek called attention to the new "SharkFest" promo, which features comedian Rory Scovel owning up to the way Nat Geo Wild is overtly trying to muddy the waters and steal "Shark Week's" thunder. "We want you to confuse the two. And you will. And we don't care—because it gets us ratings," Scovel says. "We're going to continue to do it" in the hopes that you "accidentally watch us."
Most importantly, Scovel points out, viewers shouldn't care whether they're watching the sharks chomping seals and menacingly bumping up against shark cages on the Discovery Channel or Nat Geo Wild. "It's the same friggin' sharks anyways," he says. "Sharks cannot sign an exclusive contract with a network ... we're pretty certain on that."
Scovel then tosses out a couple awesomely lazy and honest slogans:
Watch the whole promo here:
The ad isn't just funny, though. It's quite possibly brilliant. "The idea came up of being more transparent about viewer confusion during Shark Week. We thought it would be funny to own that and be playful with it," Tyler Korba, Nat Geo Wild's creative director for on-air marketing, explained at the PromaxBDA Brief blog. "If you can't have fun doing TV, you shouldn't be doing it."
Viewers are going to know the channel is ripping off "Shark Week," so the thinking is it's best to get that out of the way—and even poke fun at themselves. "It's a little bit of aikido," said Korba. "Once you've called it what it is, once you've owned it, you've turned a potentially awkward thing into a strength."