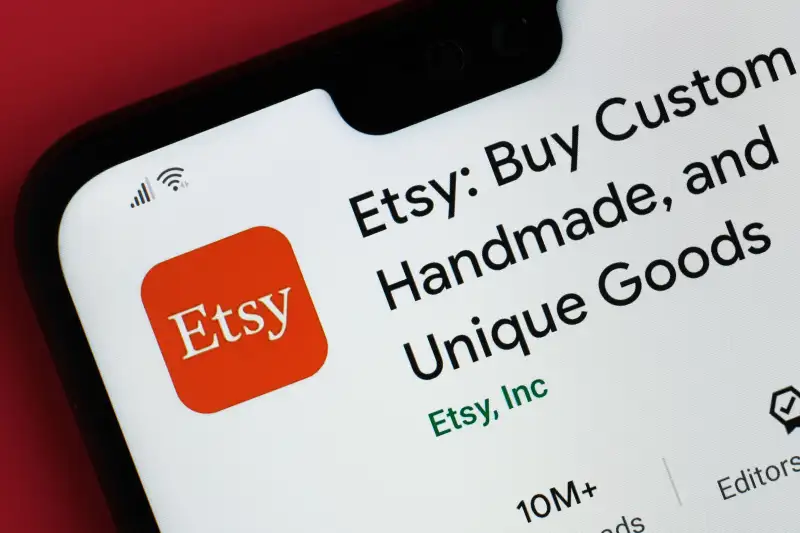 If you're interested in selling online and learning how to start a business, one crucial step is choosing the right digital platform for your online storefront. Most small business owners have one of two options: creating a stand-alone website with e-commerce functionality or selling through an established marketplace.
Two popular platforms for entrepreneurs are Shopify and Etsy. Shopify is a one-stop shop e-commerce platform where business owners can build their website and fully operate their online storefront. On the other hand, Etsy is an online marketplace where business owners can create a profile, list and sell their goods.
This guide walks you through each platform's pros, cons, features and pricing so you can determine which best fits your business.
What is Shopify and how does it work?
Shopify is an e-commerce platform that provides business owners with the necessary tools — internal or via third-party integrations — to build and operate a stand-alone online store. You own the domain name, which can be purchased directly from Shopify or a third-party domain seller.
The platform includes a toolkit that allows you to design the look of your store, market your products and process customer payments. Customers can browse the listings, add items to a shopping cart and check out just as they would on any other retail site.
Key features
Shopify's features help you build, manage, market and scale your online store. Some notable ones include the ability to:
Customize the look and feel of your website, from the logo and colors to the layout
Organize pages, products, site menus and navigation with a Shopify theme and modify it to meet your needs and match your brand
Use an existing domain or purchase one through Shopify
Securely accept card payments with Shopify Payments or use one of over 100 third-party payment processors including Square and PayPal
Purchase discounted postage for shipments
Add additional functionality with more than 8,000+ third-party services available in the Shopify App store that can help you manage, promote and grow your business
Pros
Enables you to own a site with your unique domain name but doesn't require coding experience
Allows you to manage all aspects of your business, from inventory to sales to shipping, on one platform
Provides easy integration of third-party providers to expand your site's functionality as you scale your business
Cons
Doesn't offer a free plan for those with little sales volume
Charges transaction processing fees on top of the monthly subscription cost
Doesn't come with a pool of potential new customers as a marketplace does
What is Etsy and how does it work?
Etsy is an online marketplace for creative people to monetize their craft. Users can sell handmade, vintage and digital items, craft supplies and other approved products on its platform to the thousands of buyers who visit daily.
You can sign up for a free Etsy account and only pay per listing and transaction, allowing you to start selling with little cash outlay for an e-commerce solution. When a buyer makes a purchase, payment is processed by Etsy Payments, and applicable fees are deducted. You receive the remaining proceeds based on your chosen payout schedule.
Key features
Etsy provides plenty of functionality for new sellers who have yet to build a substantial customer base or those who want a side gig or part-time business. These are the features beginning sellers will find most useful:
Etsy Payments (the platform's payment processing service) accepts all major forms of payment, including cards, Apple Pay, Google Pay, PayPal and ACH payments.
Users can buy and print shipping postage, at a discount, directly from Etsy.
You can use Etsy's marketing tools or integrate third-party Etsy-specific apps (ReferralCandy, Putler, Marmalead and more) to attract more buyers and boost sales. You can also pay for Etsy Ads to drive sales.
You can refer to the Etsy Seller Handbook to get answers to almost any questions you have about the platform. You can also contact Etsy support via chat or a scheduled phone call.
As your business grows, you can add on Etsy Pattern and create your own website that works in conjunction with your Etsy marketplace storefront. A Pattern website is free for 30 days, and then you will be charged $15 per month.
Pros
Has a relatively simple learning curve
Comes with an established customer base
Offers a significant discount on postage for shipping — up to 30% from USPS, FedEx and Canada Post
Provides a dedicated support hub for sellers and buyers, with 24/7 chat support
Cons
Has limited store design customization
Can become fee-heavy as your sales volume increases
Comparing Shopify and Etsy
Comparing Shopify and Etsy is not necessarily an apples-to-apples comparison since one platform is a stand-alone solution and the other a marketplace. However, Shopify and Etsy are the most popular options for online sellers.
Here is how the two platforms compare in five key common areas: pricing plans, fees, shop design, marketing tools and payouts.
Pricing plans
Shopify and Etsy have different pricing structures. Shopify offers monthly and annual subscription-based plans, and Etsy provides a free and paid plan.
Shopify
Shopify pricing is built on a subscription model that allows you to sell unlimited products for one price. Shopify's three plans cost $29, $79 and $299 per month, and you can receive a 25% discount if you pay annually.
Basic plan ($29) - Includes two staff accounts and basic reports
Shopify plan ($79) - Includes five staff accounts and professional reports
Advanced plan ($299) - Includes 15 staff accounts and custom report builder
Your subscription doesn't cover credit card processing costs and costs associated with Shopify Apps. However, as you upgrade to a more expensive plan, your credit card processing fees decrease, you receive a bigger shipping discount, and you gain access to additional reporting functionality.
Etsy
Etsy has two plan options: the free Etsy Standard plan and the monthly Etsy Plus plan.
Etsy Standard, you have no monthly fee but pay per listing and transaction.
Etsy Plus plan is $10 per month and gives you 15 listing credits and a $5 ad credit each month. The Etsy Plus plan includes additional marketing tools and shop customization features.
Etsy also has a few paid add-on services not included in the Etsy Standard or Etsy Plus plans.
Transaction and listing fees
Shopify
Depending on your monthly subscription plan, Shopify Payments charges 2.4% to 2.9% of the sale price plus 30 cents per transaction for credit card transactions. If using a third-party payment processor, you pay between 0.5% to 2.0% per transaction.
Plan
Shopify Payment
Third-party payment processor

Basic

2.9% + 30¢ USD online;

2.7% + 0¢ USD in person

2.0%

Shopify

2.6% + 30¢ USD online;

2.5% + 0¢ USD in person

1.0%

Advanced

2.4% + 30¢ USD online;

2.4% + 0¢ USD in person

0.5%
Etsy
With Etsy, the listing fee per product upload is 20 cents. Listings expire every four months, and you pay the 20-cent fee each time you relist. When an item sells, you pay a transaction fee of 6.5% of the listing's displayed price and the amount charged for shipping and gift wrapping, if applicable.
You'll also have a payment processing fee of 3% plus 25 cents. Those on the Etsy Plus plan get 15 listing credits but still pay transaction and processing fees.
| | | | |
| --- | --- | --- | --- |
| | Transaction fee | Payment processing fee | Listing fee |
| Etsy | 6.5% plus shipping and any gift wrapping | 3% plus 25 cents | 20-cent fee (including relistings) |
| Etsy Plus | 6.5% plus shipping and any gift wrapping | 3% plus 25 cents | 15 listing credits |
Shop design
Shopify has more than 100 customizable website templates in the Shopify Theme Store. You can customize several elements according to your brand — the colors, logo, fonts, navigation, menu options and more. The platform has simple-to-use drag-and-drop design tools that do not require any coding.
An Etsy store allows you to update specific sections of your storefront, much like a social media profile page, such as your shop title, logo, store cover photo, profile photo and banner. There is also a shop announcement section and a section for adding links to your social media pages, blog or website.
Marketing tools
Shopify's marketing tools include content marketing, search engine optimization and advertising tools which you can use to:
Optimize your product pages to perform better in search
Create Facebook and Instagram ad campaigns where customers can buy without leaving either social media platform
Collect customer email addresses to market sales, offer coupons and share new blog content.
Etsy's marketing tools, such as Etsy SEO, Etsy Ad Campaigns and Etsy Off-site Ads, can help with brand-building and driving traffic and sales. With these, you can:
Attract followers and promote your products on Facebook, Instagram, Pinterest and Twitter
Take advantage of advertising tools to drive traffic from within Etsy and outside of the platform
Send coupons and sales announcements to buyers' inboxes
Customer service tools
Good customer service plays a role in marketing, especially when starting a business. Offering phone support can also add legitimacy to your site and your business. Find out how to get a free business phone number and give customers multiple ways to contact you.
Being a newly established Shopify store can affect how visitors see your business because it's unfamiliar. Enabling the chat feature on your website to answer questions or address issues quickly will assure visitors they're dealing with a legitimate site that provides excellent customer service.
Etsy is a well-established platform that many customers trust since they can communicate with sellers directly or contact an Etsy customer representative if they have an issue with a seller.
Payouts
Both Shopify and Etsy require a payment processing service to handle customer payments. The proceeds, minus any applicable fees, are then paid to you.
You can set your payment schedule on Shopify as daily, weekly or monthly when using Shopify Payments. You'll receive payouts based on the processor's schedule if you use a payment processor other than Shopify Payments.
Etsy sends funds via direct deposit to your linked bank account, and you can choose to receive deposits monthly, bi-weekly, weekly or daily. The daily deposit minimum for U.S.-based sellers is $25.
What Shopify is best for
Shopify is best for sellers:
With an established customer base
Who project initial monthly sales to justify Shopify's monthly subscription fee
Who want their own website and have the sales volume to support it
Shopify's lowest subscription plan is only $29, but you'll also have payment processing fees to consider, so do the math to determine if it makes sense for your business.
What Etsy is best for
Etsy is best for those who:
Sell handmade creations or digital items
Resell vintage clothing, crafting supplies and other unique items
Don't yet sell enough to support the costs of operating a stand-alone online store
Don't want to deal with managing a website
If you're crafty and considering how to make money from home with a side gig, Etsy can allow you to test whether you have a profitable product without paying for a pricey sales platform.
Which e-commerce platform is more profitable?
Your products, pricing, sales volume and sales cycles will all play a role in platform profitability. Make some sales projections to determine which platform might be more profitable for you.
For instance, a Shopify subscription may be the best option if you sell a high volume of low-priced digital items each month. However, if you specialize in high-dollar, hand-crafted items with customizations and only sell a few each week, Etsy might be the better choice.
Which platform is best for beginners?
If you're getting started selling goods and don't yet have a customer base, Etsy is probably the best platform for you. You'll only pay for what you list and sell rather than committing to the cost of Shopify's monthly subscription.
Learning how to sell on Etsy is easy, and you can quickly get set up on the platform, allowing you to focus on promoting your products rather than figuring out how to use a platform with features you don't yet need. As you grow your business and it makes sense to have a stand-alone website, you can add on Etsy Pattern or move to a platform like Shopify.
Considering starting an online business?
Choosing an e-commerce platform such as Shopify or Etsy is just one (albeit important) step in starting a product-based online business. You want to carefully explore your options to ensure your chosen platform is well-suited for the volume and types of products you hope to sell.
You'll also need to decide if you should form an LLC or another business entity or operate as a freelancer.
Use accounting software to help you keep accurate records for tax purposes, small business loans or lines of credit with vendors.
Also, consider setting up a business checking account to keep your business finances separate from your personal. Research the best business checking accounts to find one that will suit your needs now and as you build your business. A business credit card can make it easier to track your expenses and possibly allow you to earn rewards on your purchases.