Here Are 3 Things That Can Help You Sleep Better in 2018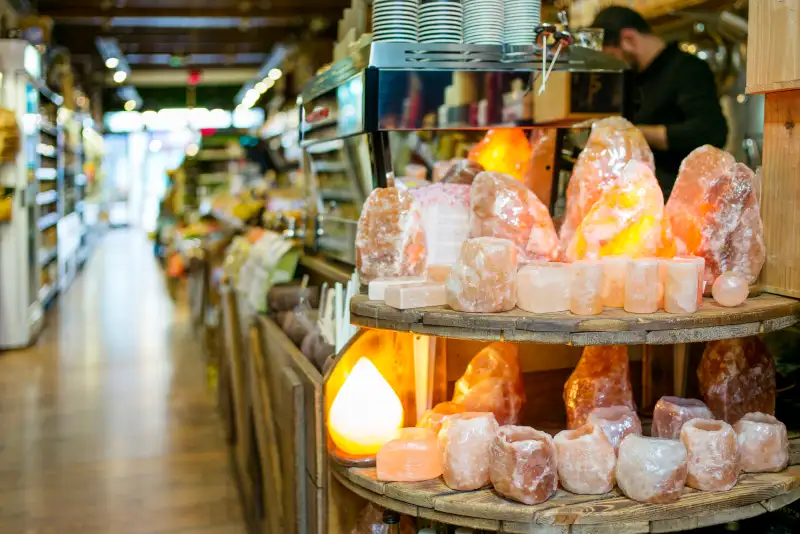 One of the top New Year's resolutions people make is to sleep better. This year, for example, Ivanka Trump tweeted that her New Year's resolution is to "sleep more," linking to a news article about how sleep deprivation "will eventually kill you." But if this is your second (or third, or fourth) time making this same resolution, may we make a suggestion? Before the new year, order a few tools that can help you achieve that goal — even if you don't have a Trump-sized budget.
Himalayan salt crystal lamps have surged in popularity because of adherents' claims that they purify the air and promote a bedroom atmosphere more conducive to better sleep. While experts say the science isn't settled on that, the warm hue emitted by a Himalayan salt lamp may help you relax and put your brain in a better mindset for sleep. They have a certain funky charm that will work with a variety of decor styles, so you can buy a big one and make it a focal point in your bedroom, or get pair of teeny, low-key night lights to give the room a luminous glow.
There are a host of plants that help you sleep, according to studies, include fragrant jasmine and spiky aloe, but if you're not up for having a virtual greenhouse on your bedroom windowsill, get a lavender plant. The aroma has been proven to increase slow-wave deep sleep, and cheery purple blooms are just about guaranteed to improve your mood in the dead of winter.
If you can't swing shrubbery on your nightstand, no worries: Try calming essential oils made from some of these plants. In its post-Christmas roundup, Amazon said one of its top-selling personal care items was the Radha Beauty Aromatherapy Essential Oils Gift Set, a starter kit of eight essential oils, including lavender, which Amazon reviewers especially praise for giving their families a better night's sleep. (Tea tree and eucalyptus oils get shout-outs for improving nighttime congestion during cold season, too.)
In terms of where to buy essential oils, there are a lot of options — in my entirely unscientific opinion, I've found products from Aura Cacia and Plant Guru good for aromatherapy uses.
If you're not familiar, this contraption was called "a grown-up blanket fort" and "a simple idea with a big impact" when it debuted a year ago. The idea behind using the Bed Tent for better sleep is pretty logical: It's a pop-up tent that blocks out light, activity and other sleep-robbing distractions. Just like an ordinary tent, it has zip-up doors that let you decide exactly how much privacy you need to get enough shut-eye. If the reviews on Amazon — where it has a 4.4-star ranking — are any indication, this bedtime bubble is a hit.
The one drawback, as you've probably noticed, is that The Bed Tent isn't cheap, ranging from roughly $130 to $200 depending on bed size. Some would argue that's a small price to pay to sleep better, but if you're not of that opinion (or don't want a tent in your bedroom), here's the more low-key strategy I use to ward off nighttime distractions: The Bedtime Bliss contoured eye mask doesn't squish down on your eyelids — the manufacturer says this helps with REM sleep, and I find it more comfortable than flat sleep masks — and it's the best one I've found for blocking out light. Pair that with SleepPhones, flat headphones in a soft fleece headband, and put on a soothing podcast or meditation playlist. Combined, that's just over 50 bucks (or around $110 if you spring for the wireless version of the headset) for a cozy sensory cocoon.
We've included affiliate links in this article. Click here to learn what those are.