How to Give Smarter in an ALS Ice Bucket World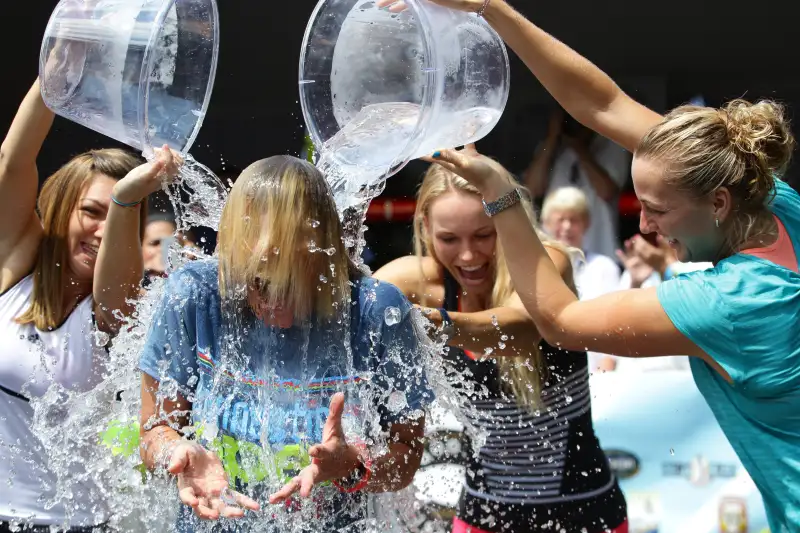 As is inevitable with something as wildly successful as the ALS Ice Bucket Challenge—a stunning $62.5 million has been raised for the ALS Association from July 29 through August 23, vs. just $2.4 million for the same period last year—a bit of backlash is developing, and thoughtful voices are starting to raise concerns about the charitable giving campaign's message and impact.
Among them: Money reporter Jake Davidson, who wrote an opinion piece for Time.com in which he pointed out problems with the way the campaign is crafted: Folks are asked to donate money to help battle ALS or pour a bucket of ice water on their heads; if taken literally, all those funny videos of celebs and Facebook friends would be of people who prefer being cold, wet, and uncomfortable to helping to fight the disease.
Davidson, whose father died of ALS, also questions how much the campaign has actually educated people about the disease since many of the videos don't mention ALS or treat it as an afterthought to the main event, a point that Slate's Will Oremus also made. And Will Macaskill, a research fellow in moral philosophy at Emmanuel College, charges on Quartz.com that such trendy fundraising drives ultimately end up cannibalizing giving to other causes.
Well, here's the good news for those of you who have donated to ALS charities in the wake of the Ice Bucket Challenge: According to CharityNavigator.com, which evaluates nonprofits, at least some of your fellow new donors are taking the time to learn more about the disease and the organizations that help fight it. Page views on its site for the ALS Association, the main charity behind the campaign, were up to 16,000 through the first 17 days of August, an 8,500% increase compared to the same period last year, reports Charity Navigator's Sandra Miniutti.
You can also feel good about the organization you're donating to: The ALS Association receives Charity Navigator's highest four-star rating, and devotes about 72% of the money it raises to the programs and services it provides (the rest goes to administrative expenses and fundraising costs). (Check out the group's page on Charity Navigator here.)
What about the charge that the money raised by the Ice Bucket Challenge for a relatively rare disease (30,000 affected in the U.S. by the ALS Association's estimate) takes money away from groups working to fight more prevalent illnesses, such as Alzheimer's (which affects 5.2 million patients in the U.S.) or diabetes (25.8 million)? Well, there's a reasonably easy fix: Make a donation to charities that help battle those diseases as well. The Alzheimer's Association, for instance, also receives a four-star rating from Charity Navigator.
Or give money to other worthy causes you're passionate about. Among those groups that consistently earn a four-star rating or other top-notch marks from Charity Navigator: The Children's Aid Society, Doctors Without Borders, the Navy Seal Foundation, Project C.U.R.E., and the United Nations Foundation, among dozens and dozens of others.
To make sure you donate to an organization that will use your money wisely, conventional wisdom is to look up your preferred group's financials on CharityNavigator.org or Guidestar.org and stick with ones that limit their overhead expenses to less than 20% of their budget. Bear in mind, though, that expense ratios don't tell the whole story since some nonprofits have higher administrative costs because of the nature of their work.
You also want to look at how well the charity works to support its mission. Two sites that can help you suss that out: MyPhilanthropedia.com pulls together experts to recommend and evaluate charities in 35 different causes, and GreatNonprofits.org offers crowd-sourced reviews of the work charities are doing, as told by volunteers, donors, and beneficiaries—sort of like the Yelp of the nonprofit world.
This story was updated on August 24 to reflect more recent donation totals.