How Does Your School Really Match Up to Its Rival?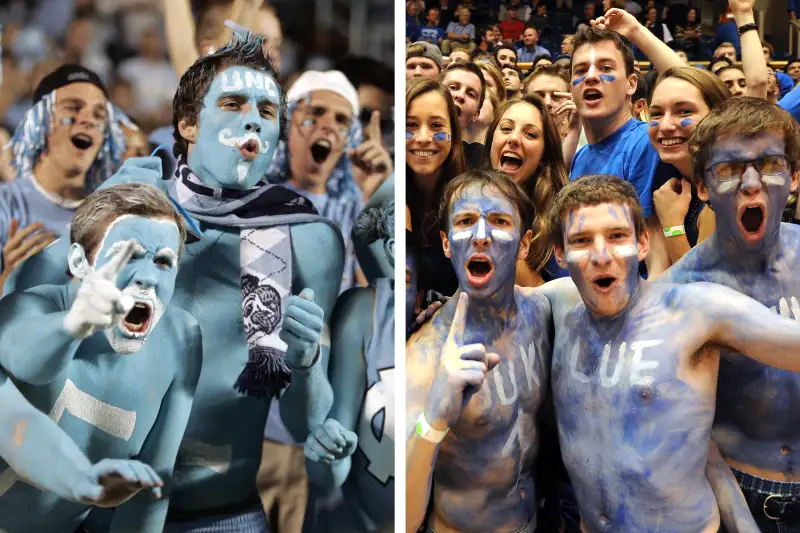 (left) Margaret Bowles/Southcreek Global/ZUMApress.com—Alamy; (right) Lance King—Getty Images
College rivalries are usually played out on the football field or the basketball court—or, in some cases, the research lab. In the game of life, though, winners and losers are sometimes counted in dollars and cents, rather than points on a scoreboard. Money's Best Colleges rankings evaluated some 665 schools on 18 separate measures of educational quality, affordability, and alumni career earnings. Here's how 10 pairs of classic rivals did in head-to-head matchups.
The Match-Up: Alabama vs. Auburn
The University of Alabama holds the lead in what some have called the greatest football rivalry in college sports, with 42 Iron Bowl wins vs. 35 for Auburn University. But the Tigers crush the Crimson Tide on a variety of financial measures. The average net price of a degree at Auburn (ranked No. 183 on our list) is around $100,000, or about $13,000 less than the price of Alabama (No. 409). (Our net price calculation represents the estimated total cost of attendance from freshman year through graduation—including tuition, room, board, books, fees, and other incidentals—taking into account all scholarships and grants from the school, inflation, and the average time it takes students to graduate.) Meanwhile, the Crimson Tide lives up to its name, with graduates leaving the school substantially more in the red. Alabama students graduate owing about $25,000 (including private loans), compared with less than $10,000 for the typical Tiger. Yet Alabama's higher debt doesn't pay off in higher salaries, as Auburn grads report pull in about $4,000 more a year on average than the typical Alabama alum.
The Winner: AUBURN
The Match-Up: Berkeley vs. Stanford
In Big Game match-ups between these longtime Bay Area rivals, No. 5 Stanford has a clear edge (59-46-11). But when assessing which university offers students the best educational value, the winner is less clear-cut. As a state school, the University of California at Berkeley (No. 13 in the overall rankings and No. 2 among public schools) is substantially cheaper to attend, with an estimated net price of a degree ($126,800) that's more than $40,000 below what the typical student pays to attend Stanford. Yet generous financial aid policies allow Stanford grads to emerge with less than half as much debt as Berkeley students. And while Stanford grads report earning a few thousand more a year over the course of their careers, alumni of both schools make substantially more than average—and more than would be predicted given the economic and academic profile of students who go there. Berkeley's "value added" grade is a stellar A-minus, while Stanford gets a B-plus.
The Winner: IT'S A TIE
The Match-Up: Caltech vs. MIT
The simmering rivalry between these two top science and engineering schools is traditionally played out in pranks rather than on a sports field. The latest: At an event for prospective students earlier this year, Caltechies handed out mugs that featured the MIT logo when cold but, when filled with hot liquid, changed to read, "Caltech: The Hotter Institute of Technology." As for which school is the better value, MIT (No. 3 in our rankings) costs the typical student about $20,000 less than Caltech (No. 10) after factoring in aid. Still, alums from both schools go on to earn an average salary of more than $68,000 annually within five years of graduation—among the highest salaries reported by students of any of the colleges in our rankings.
The Winner: MIT, by a nose
The Match-Up: Duke vs. UNC
These same-state private-public school rivals end up in close proximity on our rankings list as well, with Duke at No. 32 and the University of North Carolina-Chapel Hill landing at No. 40. As a state school, UNC is considerably cheaper to attend, with an estimated average net price of a degree of just $84,000, almost half what it costs to attend Duke (net price of a degree: $192,800). But Duke students tend to earn considerably more, with a gap that widens from early to mid-career, according to the salary figures that alums of both schools report to Payscale.com, our earnings data supplier. Meanwhile, both schools get an impressive grade of A-minus on our value-added measures, which look at how well an institution helps its graduates exceed expectations, given the academic and economic profile of the student body.
The Winner: IT'S A TIE
The Match-Up: Florida vs. Georgia
These southern schools have been fighting hard on the football field for nearly 100 years, maybe more (there's disagreement over when the rivalry began). The Georgia Bulldogs have won more games but the Florida Gators top them on our financial measures. University of Florida, ranked No. 28 on Money's Best Colleges list and seventh among public schools, charges the typical student less to get a degree (around $87,000 vs. roughly $100,000 at Georgia), according to our calculations. That enables attendees to graduate with less debt (average amount owed: $7,000 vs. $10,000). And Florida students also tend to earn somewhat higher salaries, about $3,000 more a year, early in their careers. Take note, Bulldogs: Georgia's top 100 showing—the school came in at No. 62 overall and No. 17 on the best public colleges list—is still impressive, putting it among the best values in the country.
The Winner: FLORIDA
The Match-Up: Georgetown vs. Syracuse
To the delight of fans, the competition between these two basketball powerhouses, on hold since Syracuse left the Big East Conference for the ACC in 2013, resumes next year, with the recent announcement of annual games scheduled for four years starting in the 2015-16 season. The Orange holds the edge on the court ('Cuse has won 49 of the 90 meetings between the two teams), but in Money college rankings metrics, it's a slam-dunk for the Hoyas. Despite having one of the highest net price tags on our list at $204,480 (partly due to the high cost of living in the nation's capital, where the school is located), the average Georgetown student borrows just over $7,100 to get an undergraduate degree—that's a third of the amount the typical Syracuse student owes (average debt on graduation: $21,450). And Georgetown students tend to earn more after they graduate too—$53,000 on average vs. $47,700 for Syracuse alum. That helps explains why Georgetown landed at No. 37 in our rankings, while Syracuse, at No. 246, failed to crack the top third.
The Winner: GEORGETOWN
The Match-Up: Harvard vs. Yale
Harvard (ranked sixth overall in our rankings) and Yale (No. 15) cost nearly the same amount to attend on average, according to Money's estimated net price of a degree: $181,200 for Harvard, $182,800 for Yale. Yet alums from Cambridge earn about $55,300 within the first five years of graduations, or about $5,000 more than the New Haven crowd. That may help explain Harvard's special allure for prospective students. Some 84% of applicants admitted to Harvard enrolled in the university for the 2012-13 academic year (the most recent stats available from the Department of Education when we collected the data earlier this year), vs. 64% of admitted applicants who choose to attend Yale.
The Winner: HARVARD
The Match-Up: Michigan vs. Ohio State
Go Blue: At $94,500, the average net price of a degree from the University of Michigan (No. 22 overall and No. 5 among public colleges) is about $10,000 less than the roughly $105,000 cost of a BA from Ohio State University (No. 144), according to our estimates. Plus, Wolverines typically graduate with less debt and earn about $8,000 more a year over the course of their careers than Buckeyes. In this face-off, Michigan scores a touchdown.
The Winner: MICHIGAN
The Match-Up: Notre Dame vs. USC
Often called the greatest intersectional rivalry in college football, Notre Dame and the University of Southern California have combined to produce more national titles, Heisman trophy winners, All-Americans, and future NFL Hall of Famers than any other college football rivals. While the two schools are tied in the number of national titles each has won and Heisman trophy winners they've produced, the Fighting Irish lead their football series, with 45 wins in 85 meetings. And they beat the Trojans in many of Money's key measures as well, though not by a wide margin. Notre Dame is a little less expensive (estimated net price of a degree: around $184,500 vs. $192,000 for USC), grads earn a little more ($54,000 a year early in their careers vs. about $51,000 for USC alums) and come out with a lot less debt, on average (about $5,600 for Notre Dame, compared with $15,500 for USC). That helps explain why, although both schools are highly ranked, more than 100 spots separate Notre Dame (No. 20) and USC (No. 129) on our list.
The Winner: NOTRE DAME
The Match-Up: Oklahoma vs. Texas
The University of Texas at Austin holds the lead in the annual Red River Showdown between the Sooners and the Longhorns, and has an edge off the football field as well. The flagship school at Austin is ranked No. 53 on our list (and No. 17 among public colleges), while Oklahoma-Norman comes in at No. 122. That's still a high enough ranking for Sooners to brag about being one of the country's top college values but not quite good enough to beat their old rival, which despite a somewhat higher price tag, produces graduates who emerge with less debt ($11,200, on average for UT grads vs. $13,200 for Oklahoma students) and go on to earn slightly higher salaries ($50,400 a year on average in the first five years of their careers vs. $47,700 reported by Oklahoma alums).
The Winner: TEXAS
See more of Money's Best Colleges:
The 25 Most Affordable Colleges
The 25 Colleges That Add the Most Value
The 25 Best Colleges That You Can Actually Get Into