The 15 Colleges Where Studying Liberal Arts Pays Big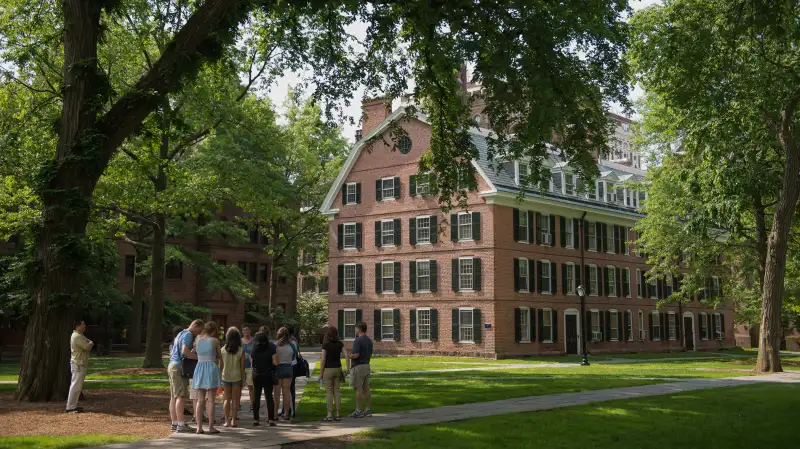 Craig Warga—Bloomberg via Getty Images
While very few people study poetry or classics to get rich, studying the humanities has a big financial payoff at a surprising array of colleges, a new analysis of college grads' earnings has found.
Of course, students who major in engineering, economics, business or computer science at the best schools tend to have the highest financial return on their tuition investments, according to new salary data collected by PayScale.com. But liberal arts and other humanities majors at 16 schools have, on average, earned at least $500,000 more than they paid for school and the typical earnings of someone who did not attend college, PayScale said.
Humanities majors at 245 colleges have typically earned at least $200,000 more than they spent on college within 20 years of graduation, PayScale found.
Leading the pack: Yale. PayScale estimates that Yalies who receive financial aid pay a total of only about $80,000 for their four-year degrees. And, on average, people whose education stopped at high school earn about $30,000 a year. Yale humanities majors report earning about $80,000 a year, on average. So 20 years out, Yalies have earned a total of about $1.6 million, which puts them a total of $812,000 ahead of high-school grads - even after subtracting the cost of school.
Making these numbers even more impressive: they're only for students who finished their education with a bachelor's. They don't count, for example, history majors who went on to earn law degrees or M.B.As.
Ivy League colleges, which offer generous aid and thus have low costs for middle class families, tend to have among the highest "return on investment" for humanities and many other majors, PayScale found. But many more accessible colleges also paid off well: Wabash College, a private men's college in Crawfordsville, Ind. that accepts 61% of applicants, ranked in the top 20 for financial return for a humanities degree. After 20 years, the typical Wabash humanities grad had earned a financial return of about $500,000. San Jose State University, had one of the highest returns for humanities majors at public colleges, with returns averaging more than $400,000 for in-state students.
The data also identify schools where humanities majors don't seem to get enough of an earnings boost to create a financial return on their college investment. Even if they get the typical amount of grants, students at Webster University, a private college in St. Louis, for example, are likely to spend more than $100,000 on their degree. But after 20 years in the workplace, those who ended their education with a bachelor's in humanities from Webster on average are typically earning only a little more than what someone who never went to college makes. The net result: PayScale calculates a humanities degree from Webster is a $100,000 money-loser over 20 years.
Other schools where Humanities majors appear to be a money-losing proposition: The University of Southern Indiana, Lycoming College of Williamsport, PA, and Ramapo College of New Jersey.
Webster officials objected to PayScale's analysis calling it "flawed." "Numerous other studies about a college education's ROI have reached the exact opposite conclusion about the value of a Webster University degree while using much of the same data," noted Webster spokesman Patrick Giblin.
Lydia Frank, a spokeswoman for PayScale, said their analysis "isn't designed to say that everybody should go to the top five schools or major in engineering. But if your passion is English or teaching, then you generally shouldn't take on $100,000 in debt. It's about how much you pay and how you pay," she said.
Here is PayScale's list of the 15 colleges with the highest financial return to a humanities degree:
| College | City | State | Est. 20-Year ROI for Humanities BAs who received financial aid |
| --- | --- | --- | --- |
| Yale University | New Haven | CT | $812,000 |
| Princeton University | Princeton | NJ | $804,000 |
| Duke University | Durham | NC | $761,000 |
| University of Pennsylvania | Philadelphia | PA | $697,000 |
| Washington and Lee University | Lexington | VA | $694,000 |
| Lehigh University | Bethlehem | PA | $686,000 |
| Dartmouth College | Hanover | NH | $675,000 |
| Harvard University | Cambridge | MA | $668,000 |
| Virginia Military Institute (in-state) | Lexington | VA | $649,000 |
| Union College | Schenectady | NY | $593,000 |
| Wabash College | Crawfordsville | IN | $582,000 |
| Virginia Military Institute (out of state) | Lexington | VA | $563,000 |
| Boston College | Chestnut Hill | MA | $560,000 |
| Colgate University | Hamilton | NY | $551,000 |
| University of California-Berkeley | Berkeley | CA | $542,000 |
And here are five colleges where humanities majors are not likely to see a financial return on their degrees.
| College | City | State | Est. 20-Year ROI for Humanities majors who received financial aid |
| --- | --- | --- | --- |
| Webster University | Saint Louis | MO | $(97,800) |
| University of Southern Indiana | Evansville | IN | $(66,400) |
| Lycoming College | Williamsport | PA | $(63,000) |
| Ramapo College of New Jersey | Mahwah | NJ | $(59,200) |
| SUNY College at Potsdam | Potsdam | NY | $(53,400) |