The Best Colleges for Your Money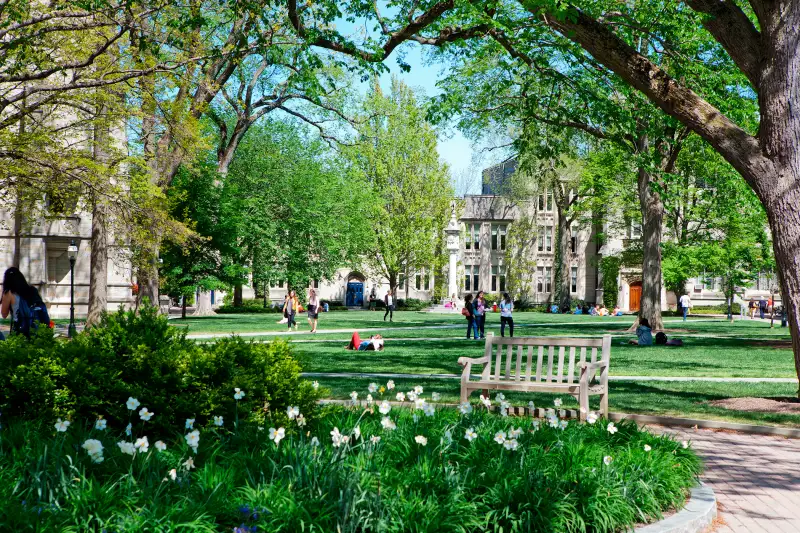 Denise Applewhite—Princeton University, Office of Communications
Thirty years ago, when the cost of sending a freshman to a public college averaged about 15% of a typical family's income, it didn't matter that much if you relied on fuzzy factors such as a school's reputation to select a university.
Things have changed.
Freshmen who receive financial aid will likely pay more than $18,000 at public universities this year—or about a third of today's typical household income. Private-college freshmen are likely to pay almost double that. And the 40% of undergraduates who drop out will pay an even bigger price: Their lifetime earnings power will drop by about $500,000, says the College Board.
As a result, for a growing number of students and parents, traditional concerns about a college's cachet are increasingly shifting to a focus on, well, just cash, says Ann Rossbach, president of the Independent Educational Consultants Association. "Families are really looking for return on investment. They want to know the real numbers," she says.
You've heard of the Ivy League? Nowadays, bragging rights are going to colleges in what we'll dub the "Paycheck League"—schools that the real numbers show provide a boost in the job market.
"You have to balance feelings with hard facts," says Larisa Munsch, the mother of a rising sophomore at Case Western Reserve University. Munsch helped her son find a good school by building a 25-column spreadsheet comparing factors such as net costs and alumni earnings.
We looked at similar metrics. Money ranks colleges based on 27 measures of educational quality, affordability, and alumni success. In each category, we used at least one "value-added" measure, which reveals a school's performance after subtracting the impact of its average student's test scores and percentage of low-income students.
This statistical technique also avoids simply rewarding schools for taking in students who'd likely succeed anywhere. And this year we gave weight to new data developed by Stanford economist Raj Chetty that shows how many low-income students schools propelled into the upper middle class over the past 20 years—pointing to colleges that help students achieve the American dream. (For a fuller explanation, see "How Money Ranked the Best Colleges.")
What did we find? More than 700 colleges offer at least a basic level of educational quality. And dozens of affordable schools have excellent track records of helping students attain opportunity and financial stability. In fact, the Gallup-Strada Education Consumer Pulse survey found that alums of our top 100 colleges this year are significantly less likely to regret their school choice than are typical college graduates.
All the Ivy League colleges belong to the Paycheck League in part because research shows schools that give students lots of individual attention and have influential alumni networks tend to produce more successful graduates. In fact, Princeton University is our No. 1 value school again this year because it has top professors teaching small classes, and it offers extremely generous financial aid (it's basically free for students from families earning less than $65,000 a year). Princeton grads are also highly valued by employers, reporting earnings in excess of $67,000 within five years of graduation.
But some other high-priced private schools scored poorly because their alumni aren't thriving in the job market. Instead, many affordable colleges, such as the City University of New York's Baruch College (our No. 2 college for 2017) and the University of Florida (No. 18), produce successful alumni with little debt.
That's something Ashley Hall, a 2016 Baruch graduate, appreciates. She turned down acceptances at New York University (No. 210) and Pace University (unranked) to attend Baruch, where she majored in management of musical enterprises. "Pace and NYU were so expensive! I would have owed over $100,000 in loans, and that didn't make any sense to me at all," says Hall, who is a coordinator of client services for the Orchard, a division of Sony Music.
Of course, no set of figures can fully capture everything a college can do for your kid, notes Mark Schneider, the former commissioner of the National Center for Education Statistics, who advises Money on its college data analysis. (Money editorial staffers are solely responsible for determining the weightings that create the rankings.)
So Schneider tells families to view schools within about 20 ranks of one another as roughly equivalent. If you get into, say, Brown University (No. 34) and the University of Chicago (No. 54), choose whichever one you like best. They both offer top-notch professors and tend to produce debt-free young alumni who command salaries north of $54,000.
Like any generalized list, Money's college rankings should serve only as a starting point. We've created a free web tool that allows you to build your own rankings. You can search for schools that offer your preferred majors, sports, and campus settings, then rerank them by issues such as affordability or alumni success.
And once your teen gets ready to apply to or select a college, make sure he or she understands these nuances:
1. It pays to look beyond the surface.
At Harvard, Money's No. 10 school, recent graduates earn $65,000 on average. Credit: Norman Eggert—Alamy
Schools that seem similar often have dramatic differences in quality, affordability, or outcomes. For example: An "A-plus" student from a family earning about $150,000 a year who gets into Harvard (No. 10) would likely get a grant of more than $50,000. That same student might get only about $30,000 from Cornell, another member of the Ivies, which we rank 59th this year in part because its financial aid appears to be less generous than that of its elite peers.
2. Don't confuse exclusivity with success.
Young alums of University of Notre Dame (No. 40) average salaries of more than $60,000. Credit: Matt Cashore—University of Notre Dame
Objective data on alumni success debunk the myth that the best schools are exclusive. Michigan State, Texas A&M, and the University of Washington accept more than 60% of their in-state applicants. But all three cracked our top 50, have unusually high graduation rates, and produce young alumni with average earnings of at least $50,000 a year.
Other experts are coming to similar conclusions about which kinds of colleges provide true value. Many employers analyzing their best-performing employees, for example, are shifting their recruiting to more affordable colleges. "The growing challenge of paying for college has pushed great talent to public schools," says Kathleen McCarthy, senior executive for global talent management and acquisition at GE Digital. As a result, her division has added affordable schools such as the University of Washington (No. 13) and San Jose State (No. 156) to its mix of elite recruiting targets.
Intuit has also added schools such as San Diego State (No. 135) and University of Texas at Dallas (No. 178) to the software maker's exclusive list of 22 "core" recruiting schools. "We've found the more you have a diverse population and diverse teams, the better the products. So we're casting a wider net," says Dawn Carter, director of early careers at Intuit and the immediate past president of the National Association of Colleges and Employers.
3. Think location, location, location.
There's growing evidence that attending a college in a city with a dynamic economy dramatically improves a student's earning power.
According to analysis by Stanford's Chetty and a coauthor, Brown University economist John Friedman, students who attend colleges in job markets like New York City; Los Angeles; Silicon Valley; Salt Lake City; Fayetteville, Ark.; or several Texas cities including El Paso and San Antonio, increase their chances of earning bigger salaries by as much as 15%.
"If all else is equal, going to college in a more vibrant city is going to be better for you," Friedman says. (You can find their research on their website.)
4. Focus on real value.
Alumni of University of Wisconsin (No. 45) have higher employment rates than graduates of more selective colleges. Credit: Bryce Richter—UW-Madison
Colleges with higher tuition tend to offer extra personal attention and added amenities. But after adjusting for various factors—for instance, subtracting the impact of the average student's test scores—Money found that among the 711 best colleges, there is no relationship between a school's price and its performance compared with other colleges that take in similar students.
A "B" student, for example, might consider North Carolina's High Point University (No. 701), which has a sticker price of about $51,000 a year and offers many amenities ranging from a food truck purveying free ice cream to lots of counseling. Meanwhile, a student who grew up in Virginia would pay less than half that at the public George Mason University (No. 127).
True, GMU students have to buy their own ice cream. But they graduate at a higher rate and tend to get better-paying jobs than do High Point grads. High Point alums typically land salaries averaging from $37,100 to $42,400 a year. At GMU, the average is more than $52,000. Not surprisingly, GMU grads also manage to pay off their student loans more quickly.
That's not an insignificant point. A recent Gallup survey found that graduates who leave with big student loans are much more likely to regret their college choices. And at the end of the day, that's what our rankings are designed to do— help you find the right school for the rest of your life.
With reporting by Kaitlin Mulhere.
Check out the full list of Money's best colleges here. And build your own ranking with Money's tool here.
This story was updated at 6:08 p.m. on 7/10/17 to correct information about the free ice cream trucks provided by High Point University. The college only has one free ice cream truck.