People Want to Taste the New Pecan Snickers Bar So Badly They're Paying $20 Apiece on eBay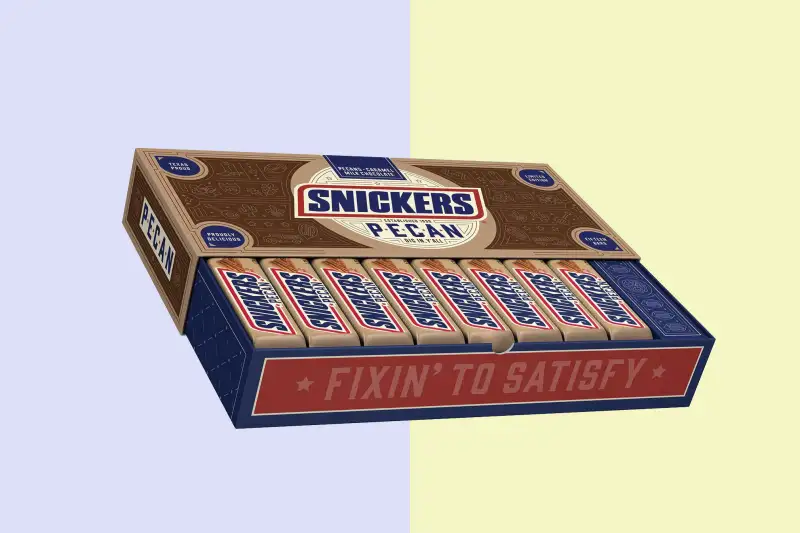 Snickers has a new candy bar that people are going nuts for — because it's packed with pecans instead of the standard peanuts. Getting your hands on the limited-edition Snickers Pecan bars is an entirely different matter: They sold out almost immediately, and it's unclear when if ever more will hit the market.
On Wednesday, candymaker Mars announced a limited-edition version of its classic Snickers chocolate bar. It's filled with pecans in place of its usual peanuts — a decision made by fans, that led to pecans winning out over cashews, pistachios, and macadamia nuts.
In a matter of hours, the Snickers Pecan bars sold out at $30 a 15-pack, with no real guarantee that they'll show up again.
"Unfortunately, we're all out of SNICKERS® Pecan right now," reads the website where the bars were being sold exclusively. "If we restock and you'd like to get notified when that happens, please enter you email below."
To paint a picture of the overall demand, there were 3,000 boxes available as of 8 a.m. on Wednesday morning, soon after sales opened up. Today, some of that supply can be found on eBay, selling at $20 ...for a single chocolate bar.
That's a 900% increase from the original Snickers Pecan price of $2 per bar. As of the writing of this article, that eBay page was being viewed at a rate of 12 times per hour, and two of the 10+ bars had already been bought at the $20 price point.
Snickers Pecan packs sold from the original landing page are set to ship on September 30, according to Mars, while the eBay pecan Snickers bars are estimated to deliver on or before October 3.
It's worth noting that this is one of only two nut-filled Snickers bars that doesn't contain peanuts, which is a huge benefit for the 0.6% of people in the U.S. with a peanut allergy. But for the rest, it's really just a matter of the love of Snickers.