Some Adults Have an Extra Retirement to Pay for: Their Parents'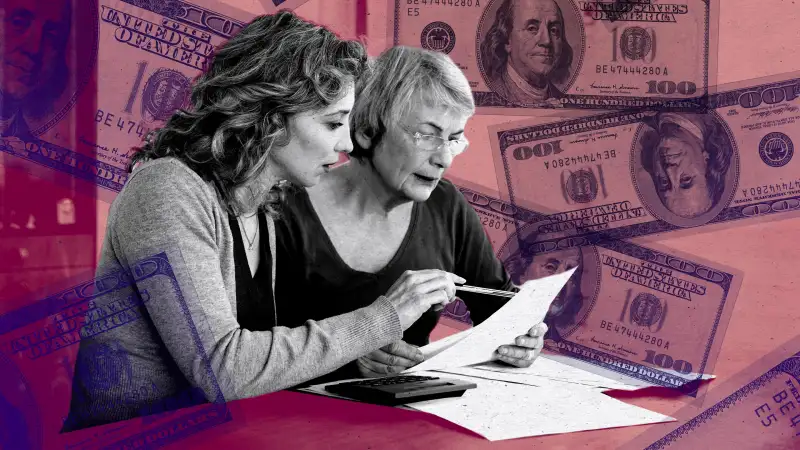 A growing number of Americans are finding themselves financially unprepared for retirement — and in many cases, it's their adult children who will become the fallback plan.
Shrinking Social Security benefits, disappearing pensions, longer lifespans and macroeconomic factors have created a brew of uncertainty for today's retirees and pre-retirees. Almost half of households nearing retirement say they don't have enough to retire securely as of 2022, according to research from consulting firm McKinsey.
By 2040, Americans' increasingly meager retirement savings could cost every state and the federal government more than $1.3 trillion, Pew Charitable Trusts found, threatening a taxpayer liability of $13,600 per household.
That's where people like Mario Robles II, 24, come in handy. A first-generation Cuban American who saw his single mom struggle when she lost their house in the 2008 financial crisis, he says he knew around age 10 that he would have to help with his mother's expenses when she retires.
"I was like, 'You're obviously doing a lot to raise me. I'll do what I can to help you in your old age,' " Robles tells Money.
As his mother, a 60-year-old dentist, approaches retirement age, Robles has set himself up to keep his word. The young engineer secured a middle-income salary straight out of college and now shares a home with his mom to help consolidate their cost of living. He turned personal finance into a hobby in subreddits like r/FIRE — an online discussion forum for followers of the financial independence, retire early movement — and devoured investing guides like JL Collins' The Simple Path to Wealth.
But like many adult children who financially support their aging parents, Robles' success in meeting the financial caretaking role may also come at a personal cost. Aspirations to marry his girlfriend of four years, buy his own house and build a family seem unattainable, and he feels torn between helping his mother and achieving his life goals.
"I'm kind of coming up blank, and I honestly don't have a plan for that," he says. "I think I'll just have to cross that bridge when I get there with my girlfriend."
The financial caregiving sandwich
Dubbed the "sandwich generation," many Americans support their own minor and/or adult children in addition to their aging parents. In a 2020 AARP survey, nearly a third of adults between 40 and 64 reported providing regular financial support to their parents within the last 12 months. Even more — 42% — said they expected to do so in the future.
At the same time, a little more than half of respondents said they were still helping adult children with basic expenses like groceries. AARP says this strains family finances and creates setbacks for members of the sandwich generation in saving for their own retirements.
Long, a 58-year-old IT professional who asked to be identified by his first name, is the filling of a financial caretaking sandwich.
The youngest of his three adult sons just graduated college, but Long and his siblings started supporting his father, now 91, and late mother nearly three decades ago.
"Even if I didn't have to, I would anyway," Long says. "For the first 18 years of my life and those of my siblings, they took care of us. Now it is our turn."
It's a responsibility the Vietnam War refugee, who immigrated to the U.S. as a child, understood he would assume as the eldest of six. Long says his parents scraped by on $25,000 to $40,000 a year when they were working, leaving no room for retirement savings. When his father was forced to retire at 63 after a job loss, Long's parents had only a small Social Security benefit and a $200 monthly pension.
Sophoan Prak, a financial advisor at Vanguard and first-generation American, tells Money that financial caretaking is especially prevalent for children of immigrants like Long and Robles.
"As refugees, my parents were not familiar with our financial system. Now that they have retired, my siblings and I recognize they may need some financial support," she says. "We have open conversations with them about their cash flow and budget, and at times, come together to contribute financially if they need support."
Plan for the future, cope with now
Meredith Stoddard, life events experience lead for the financial services firm Fidelity, says it's no longer realistic for multi-generational households to live on one income. Factors like lagging wage growth, increased medical and student debt, and inflation make supporting retired parents a much bigger ask today.
The best way to minimize financial hardship from caretaking is to anticipate aging parents' needs in retirement, and plan ahead for the variables. If you have siblings or other family members, cooperation and shared responsibility can maximize resources.
It's easier said than done in a lot of families, but it's an essential step in warding off future financial catastrophe.
"It's certainly not an easy conversation to have," Stoddard tells Money. "Make sure that you understand their wishes, fears, and situations so that you know what you're dealing with when the time comes to step in."
Whether your parents are approaching or already are in retirement, many children of aging parents don't realize they need financial support until there are multiple missed mortgage payments or a medical bill. Explicit conversations about funding gaps can help prevent additional costs from late fees and interest, as well as the pitfalls of making major decisions in an emergency.
"Set expectations about what financial assistance may look like, and what (and when) adult children may need to contribute," Prak says. "In this scenario, an adult child should become educated on understanding their parents' cash flow, budget, and importantly, how any contributions to their parents will impact their own long-term financial plan."
The average person underestimates life expectancy in their retirement planning, according to Stoddard. She recommends defaulting to age 94 for women and 92 for men.
Optimize benefit programs
When it comes to protecting the assets your parents do have, looking into Medicare and Medicaid far in advance can be crucial. If your parents are receiving or plan to enroll in Medicaid before moving into a nursing facility, under certain circumstances the state can file a lien on or seize their home to recoup costs in estate recovery.
Some Medicaid recipients may choose to put their house in the name of their children or other heirs to keep it from being seized. Stoddard advises consulting an elder care lawyer to map out a strategy that works for you and your parents.
Most importantly, help your parents within your own means. Regardless of your parents' needs or expectations, understanding your own financial situation should be your first step before committing to supporting others.
"It doesn't mean that you owe them your financial future," Stoddard says.
More from Money:
Meager Social Security Benefits Are a Drain on America's Retirees, Research Shows
Social Security Funds Will Run Dry Even Sooner Than Expected: Report
Social Security Quiz Shows Just How Little People Know About Retirement Benefits