Sports Bras Are the New T-Shirt — And It's Killing the Lingerie Market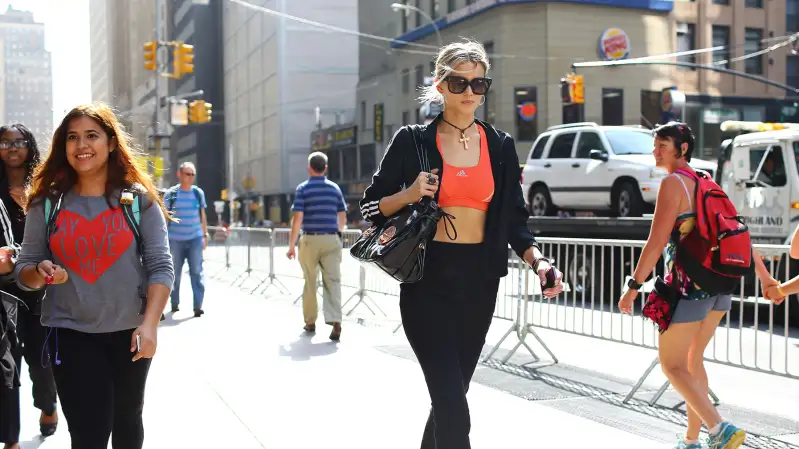 A sports bra renaissance is upon us.
Once damned to the life of innocuously practical workout wear, the ol' cost-effective gym standby has swiftly become a high-fashion favorite. It's on runways and red carpets. It's on Pinterest boards and streetwear blogs. Selena Gomez, Bella Hadid and countless Kardashians have incorporated it into their "looks."
Even more telling of the sports bra's rapid rise, though, is its rank in the average woman's lingerie drawer. Over the last two or so years, a quiet cultural shift has signaled a widespread undergarment revolution. More women are choosing to buy comfort over cleavage, and, to the chagrin of bra behemoths like Victoria's Secret, more women are making the sports bra their everyday bra.
Victoria's Secret's parent company L Brands saw profits dip about 25% from the third quarter of 2015 to the third quarter of 2016, due to declining sales and the discontinuation of the company's swimwear line. During the same reporting period, Lululemon's sports bra revenue climbed 20%. Young women are also flocking to Aerie, the intimates label from American Eagle, and bra collections from activewear startups like Outdoor Voices. Market research firm Statista predicts "sports intimate wear," which includes sports bras, leggings and socks will generate $41 billion by 2019 -- up from $23 billion in 2014.
Why the sudden shift?
"Our lifestyles are becoming more multi-dimensional, we need bras that are multi-dimensional as well," says Courtney Brunson, a product development intern and fashion writer in New York.
Brunson goes to the gym or yoga almost every afternoon and sports bras make for an easy transition from sport to street wear. They're more versatile than regular bras, and they're easier to clean — unlike many styles, sports bras don't have to be dry cleaned or hand washed. And they're typically less expensive. "I can't remember the last time I bought an underwire bra," she says. "If I'm going shopping and I spend $70 on a bra that I don't particularly feel comfortable or capable in it, I'm going to be really mad at myself."
Sports bras, in a way, are an extension of athleisure, a fashion movement that melds workout gear with regular life, and has become a favorite of comfort-seeking millennials. But it's the garment's price point that's particularly attractive. A survey from the consumer research group NPD Group found that of 41% of millennials polled in 2015 say they wore a sports bra in the past seven days, compared to 21% of non-millennials.
"Price points are coming down," NPD chief industry analyst Marshal Cohen says. "It's become the go-to bra."
Today, retailers are ramping up production of sports bras to meet increasing demands, according to Cora Harrington, a California-based lingerie blogger. Some of the new designs are meant to be seen, she says, with straps designed to poke out of a sundress or a silhouette that, with a blazer, can be worn as a cohesive outfit. (To her point, Lululemon has an entire line of "sports bras for streetwear"). It's cost effective for companies to offer sports bras over other types of lingerie, she says, because they only need a handful of sizes and don't have to worry about the different cup sizes of traditional bras.
"There's a related cultural and economic shift," she says. "People are more comfortable with lingerie as outerwear. And sports bras and bralettes allow retailers to make lingerie without investing much time researching and designing the product."
Some of the buzz around sports bras has trickled up, too. Luxury brands like Gwyneth Paltrow's GOOP and Hilary Swank's Mission Statement are peddling high fashion sports bras that top out at $97 and $185, respectively. Victoria's Secret is also playing catch up, with a new line sports bras that can be worn "from the gym to brunch to everyday."
For many women, though, the sports bra trend is less about being seen, and more about being heard.
Alysse Dalessandro, a designer and plus size fashion blogger who wears sports bras to the gym and out as a crop top, says the market once offered few options for big-chested women. Now, women of all sizes can embrace the style.
"I don't feel the need to wear a push up bra to be seen as acceptable anymore," she says. "I think that mindset is driving fashion. And a lot of brands are listening."