These Are the 5 States Where Students Graduate With the Least College Debt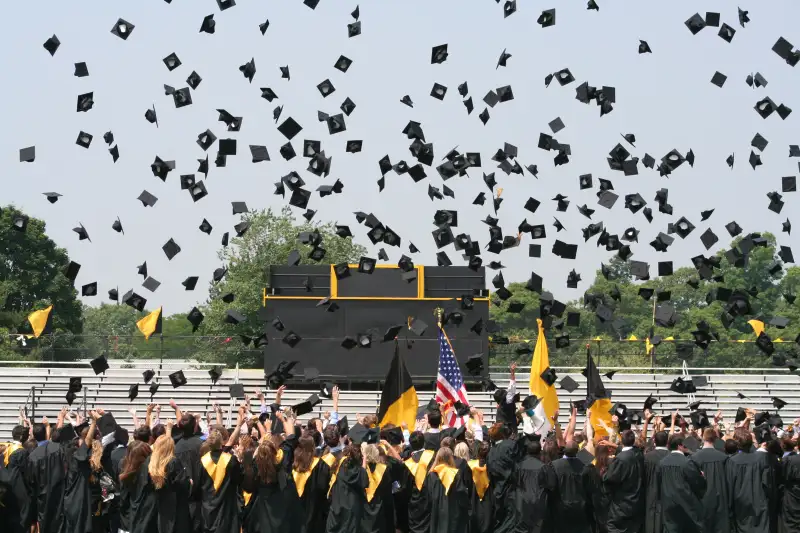 No one wants to enter the workforce weighed down by student debt. Where you live -- and go to school -- can make a big difference.
Just how big? Last year, students in Utah -- the U.S. state that did the best job keeping debt levels down -- graduated with less than $20,000 in debt on average, according to an annual study by the Institute for College Access and Success. By contrast graduates in New Hampshire, at the bottom of the list, finished more than $36,000 in the hole.
Students in Utah were also far more likely to receive their diplomas debt-free. Just 43% were saddled with loans on graduation day, compared to roughly three-fourths of New Hampshire students.
The study, which looked at four-year public and private nonprofit colleges, found 17 states in which students graduated with average debt of more than $30,000. Students in Northeastern and Midwestern states tended to have the highest debt levels, while those in the South and West, where more students attend in-state public colleges, had lighter average loads.
The institute recommended several steps that states could take to ease the debt burden for new graduates -- including a greater focus on need-based instead of merit aid, and promotion of income-driven repayment plans.
"College is one of the biggest investments Americans make, yet many are making choices without basic information," said report author Debbie Cochrane. "We need to make college more affordable."
Here are the top five and bottom five states, ranked by the average graduate's debt load. To see where your state falls on the list, click here.
Top 5 - Lowest Debt Loads
1. Utah, $19,975
2. New Mexico, $21,373
3. California, $22,744
4. Arizona, $23,447
5. Nevada, $24,128
Bottom 5 - Highest Debt Loads
46. Minnesota, $31,915
47. Delaware, $33,838
48. Connecticut, $35,494
49. Pennsylvania, $35,759
50. New Hampshire, $36,367