Trump Aide Steve Bannon Apparently Wants to Impose a 44% Tax Bracket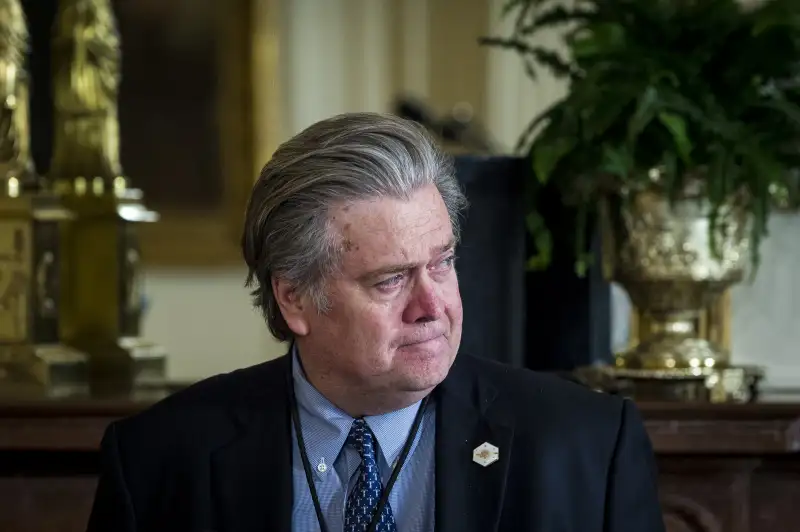 Pete Marovich—Bloomberg via Getty Images
On Wednesday afternoon, news broke that top Trump White House advisor Steve Bannon is reportedly calling for a top marginal tax rate of 44% on the wealthiest Americans -- specifically, those earning more than $5 million a year.
While at this point, the idea is merely what Washington insiders term a "trial balloon," it provoked some confusion online.
Here's why: Right now the top marginal rate, which kicks in at $418,400 for singles, is only 39.6%. (That doesn't reflect payroll taxes, although it appears that Bannon's proposal doesn't either.) So Bannon's proposed top rate would represent a hefty increase for at least a tiny sliver of multimillionaire top earners.
And if you know anything about Republicans, it's probably that they are the party of cutting taxes -- not raising them.
Indeed, the tax plan Trump has already proposed includes a top marginal income tax rate of 35% -- significantly lower than the current one. It also includes a number of other goodies aimed at the wealthy, such as lower rates for business income and the complete elimination of the estate tax.
That said, President Trump has promised to be a different kind of Republican, at various time hinting that, like Bannon, he thinks the very wealthy aren't being taxed enough. At one point during last year's campaign, he even told reporters that his own tax plan was "going to cost me a fortune."
So what does Bannon's latest move actually mean? Given congressional Republicans' long-standing dedication to lowering taxes across the board -- including for the very rich -- it's hard to envision the proposal actually becoming law. Indeed, given the difficulty of passing healthcare legislation, some commentators have been suggesting that cutting taxes may be one of the few things that still really unites all -- or nearly all -- Republicans.
It's more likely that Bannon is trying to send an encouraging signal to the voters he sees as making up Trump's real base -- onetime Democrats in states like Michigan and Pennsylvania who were attracted by Trump's promise of manufacturing jobs, rather than conventional Republican economic policies.
That said, the tweet sowed some online buzz. TV star Debra Messing, for instance, whose Twitter personality can safely be described "coastal liberal," lashed out at Bannon Wednesday -- seeming to reflexively assume his proposal was to cut, rather than raise, rates on top earners.