Why It Hardly Matters If New York Stock Exchange Traders Get to Work in a Snowstorm
Money is not a client of any investment adviser featured on this page. The information provided on this page is for educational purposes only and is not intended as investment advice. Money does not offer advisory services.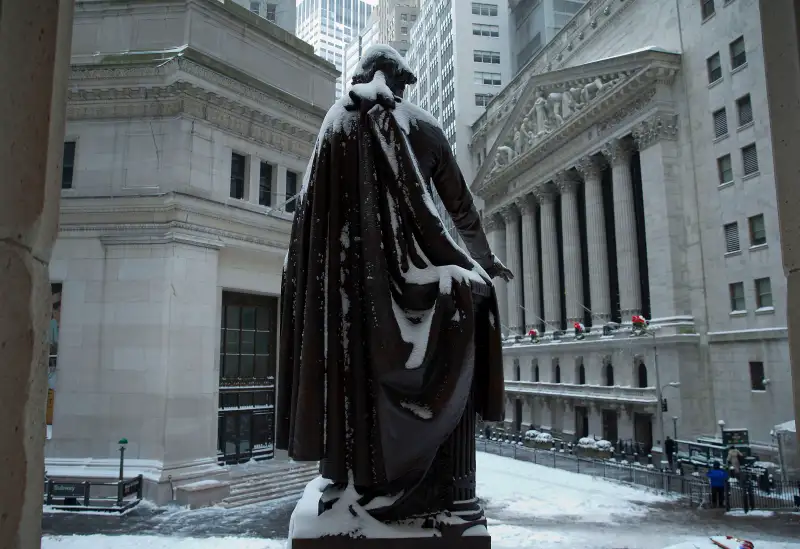 Jin Lee—Bloomberg via Getty Images
While much of New York and the Northeast remains closed Tuesday, the stock market opened at 9:30 a.m. its regular time.
The snow storm appears to have caused some trading hitches: The Dow is down more than 350 points, amid reportedly thin trading and the New York Stock Exchange's parent has invoked a special rule that gives market makers extra leeway in difficult conditions.
But considering you can barely get a cup of coffee in midtown, things are not as bad as they easily might have been. During a similar blizzard in 1996, the market actually had to shut down. While stock traders may be having as hard a time getting to work as anyone else, most of them no longer need to trudge to lower Manhattan to buy and sell. Like so many other things, trading has moved online.
It's true the floor of the stock exchange was once the hub of the stock trading world, and cable television and other media often give the impression that is still the case. In fact, the New York Stock Exchange handles only about 20% of trading in NYSE-listed stocks, and only a fraction of that is carried on by brokers the floor, according to Crain's. Meanwhile, there are fewer than 1,000 NYSE floor traders, down from a peak of about 5,000 in the early 2000s, according the Wall Street Journal.
Why do the media still hover at the NYSE? Well, let's face it, floor traders make more dramatic pictures than rows of people staring at computer screens. And as FORTUNE recently reported, the quiet on the floor actually makes for a better backdrop for live television commentary than the chaotic scenes of yore.
Even the media be starting to change, however. Last year, online news site MarketWatch, announced it would no longer use pictures of floor traders, saying it was giving readers the wrong impression.
So while today may not be the best day to catch a flight out of La Guardia, you can hop on your computer and trade. Of course, given the Dow's recent tumble you're probably better off going outside to build a snowman.