5 Ways This Year's Super Bowl Ads Will Be Like No Other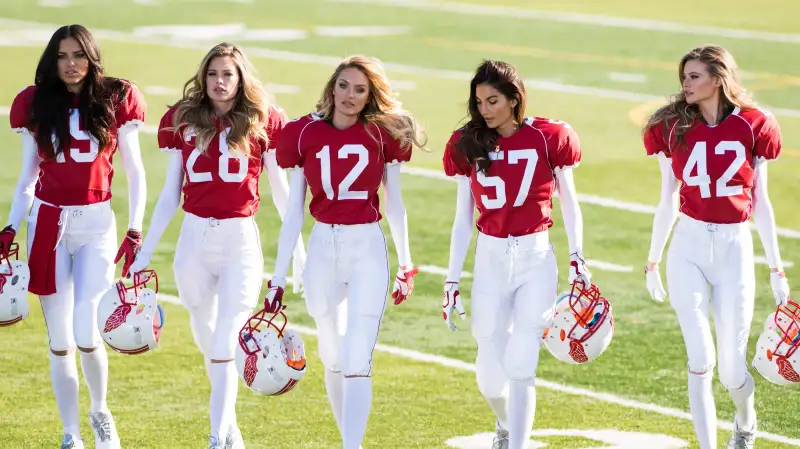 In a few ways, come Sunday, February 1, Super Bowl viewers can expect some of the same-old, same-old during breaks in the game. Unsurprisingly, there will be ads selling beer and tearjerkers featuring lost puppies (one does both at the same time), and there will be at least one commercial flashing a nearly naked woman walking in public, thanks to perennial provocateur Carl's Jr. Still, in a few interesting ways this year's Super Bowl commercials make a break from the past.
There won't be many car ads.
Auto brands are usually big players in the Super Bowl ad games. Not so much this year. As the Detroit News pointed out, 11 automakers aired commercials during the 2014 Super Bowl. This year, only a handful will be paying up for Super Bowl ad time, with Ford, Lincoln, Hyundai, Honda, Acura, General Motors, and Volkswagen among the regular Super Bowl advertisers who aren't bothering this year.
The latter is known for some of the best and most shared Super Bowl ads ever (everybody remembers the kid Darth Vader from 2011), yet the automaker released a statement explaining, "For 2015, we have opted to not participate due to other priorities and initiatives across all platforms. We hope to rejoin the Super Bowl when we feel it is appropriate for our brand."
Analysts have also theorized that automakers are skipping Super Bowl ads this year because the timing doesn't match up with new vehicle launches, and simply because they've blown so much money on these commercials in the past. Over the last decade, automakers have dropped $514.6 million on Super Bowl commercials, nearly 25% of the grand total.
Some other big advertisers are passing too.
Like Dannon, which isn't advertising even though it's the Official Yogurt Sponsor of the NFL, and even though it's developed a reputation for memorable Super Bowl ads like last year's "Full House" reunion spot. Even for brands that seek close ties with the NFL, the thinking can be that advertising in the Super Bowl simply costs too much, and might not provide enough bang for the buck over the long haul.
"The Super Bowl has a huge audience—but with a huge price tag," Dannon senior director of public relations Michael Neuwirth said in an interview. "We looked at the most efficient way to build awareness and interest in the product across a longer period of time."
There will be a bunch of brands you never heard of.
Chances are you've never heard of Wix.com (a website building company), Loctite (super glue), or Mophie (smartphone cases), and if you are familiar with the likes of Buzzfeed and The Verge, you probably don't think of them as Super Bowl advertisers. Nonetheless, all of the above have commercials airing during the Super Bowl, the latter two with regional rather than national ads, but impressive and expensive nonetheless.
When a commercial featuring a fairly obscure brand is shown during the most expensive, most watched TV event of the year, it's going to cause some puzzlement on the behalf of viewers. And that's why this strategy might be effective and help a brand make an extra big splash.
In a Wall Street Journal article about the roughly 15 companies advertising for the first time in the Super Bowl this year, Chris Lawrence, director of account management at Fallon, the agency that created the Loctite Super Bowl ad, said, "The fact that there is scrutiny and people paying attention is exactly the point … It's a chance to make a lot of friends very quickly."
On the other hand, it's also a chance to alienate and anger millions of viewers. See the ill-conceived effort by first-time Super Bowl advertiser Groupon in 2011, when the coupon site thought it would be funny to mock environmental and political tragedies around the globe.
The ads won't only be limited to TV screens.
Five years ago, Pepsi skipped the Super Bowl even though ad time started then at $2.5 million—cheap compared with the $4+ million a 30-second slot runs this year. And the reason Pepsi gave in 2010 for not advertising was a decision to focus instead on a social media campaign.
Was the campaign successful? Well, let's just say that Pepsi is not only advertising in the 2015 Super Bowl, it's the official sponsor of the halftime show featuring Katy Perry and Lenny Kravitz.
Nonetheless, big brands commit so much time and energy to social media during the game that it's tantamount to its own parallel category of Super Bowl advertising. Remember Oreo's memorable Tweet during the 2013 Super Bowl at the New Orleans Super Dome, when the masses were reminded, "You can still dunk in the dark"? That extremely timely and effective message kicked up social media efforts to the next level.
This year, the off-TV battle for eyeballs includes a special live-streamed halftime show on YouTube, in addition to YouTube hosting Ad Blitz, where people can view and vote for their favorite ads that actually did air during the Super Bowl. (Last year's Ad Blitz resulted in 379 million views on YouTube, according to Businessweek.)
Then there's Facebook, which is "trying to get Super Bowl money even without the Super Bowl," Horizon Media vice president Brad Adgate said to AdAge, by selling ads to companies that would be shown to Facebook users who post game-related material. "I think it's part of their strategy to siphon off as many dollars from television as possible."
Oh, and the network broadcasting the game on TV, NBC, is also allowing everyone to stream the entire Super Bowl online for free, which will perhaps keep some web surfers away from YouTube and Facebook.
Women will (mostly) keep their clothes on.
Super Bowl commercials have a long history of offending women and being declared downright sexist. And yes, the planned Carl's Jr. ad featuring a seemingly naked Charlotte McKinney is perhaps one of the raciest and most juvenile Super Bowl ads ever.
But the Carl's Jr. "all natural" commercial, which will only air in the western U.S. during the Super Bowl, is already getting bashed in certain circles. "It's like porn meets American Pastime," branding consultant Erika Napoletano said to USA Today. "It makes NFL cheerleaders—underpaid and underclothed—look like nuns in comparison."
What's more, in light of nearly half of Super Bowl viewers being women, it seems to be growing more apparent that advertisers should try to appeal to (rather than offend) the ladies. That's part of why we'll see ads featuring Mindy Kaling and paralympian Amy Purdy during the game. Heck, even in the Victoria's Secret Super Bowl commercial encouraging men to buy lingerie for Valentine's Day, the models are fully clothed (in football uniforms) rather than showing off skin in bikinis or underwear. Have a look here: