8 Truly Thoughtful Teacher Appreciation Day Gifts, According to Teachers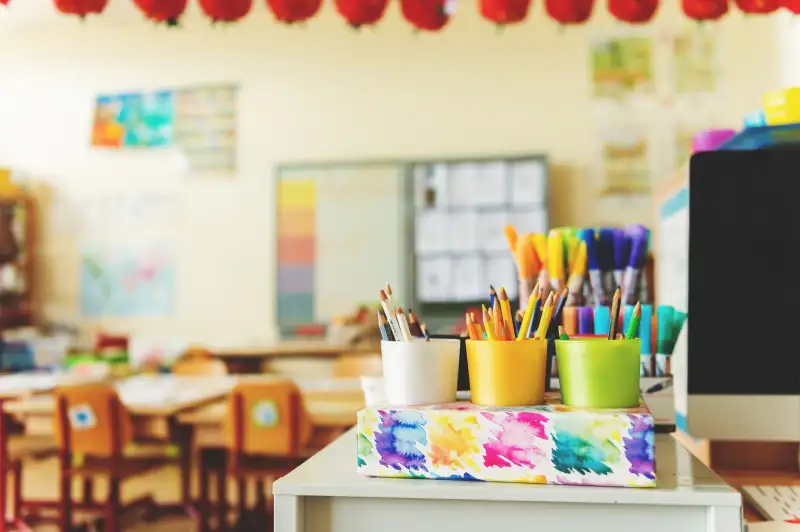 Anna Nahabed—Shutterstock
Tuesday, May 8, is Teacher Appreciation Day, and while all the educators we know do their jobs out of a genuine love for knowledge and helping kids learn, it's nice to give them some extra kudos. After all, the people you're surrounded by all day at work might sometimes act like children, but having a roomful of actual kids is another thing entirely.
Very often, all of that time and effort expended by teachers is rewarded with yet another mug. This year, you can do better, and Money wants to help.
We asked teachers to name the gifts they'd most appreciate this Teacher Appreciation Day, so parents could go shopping with some ideas other than more coffee mugs cluttering teachers' desks. (We will qualify that by saying that some teachers assured us they like getting mugs, but they were in the minority.)
Lots of teachers told us they really don't want anything, or that a heartfelt letter from a student or parent is truly the best sign of appreciation they can get. Beyond that, in what reveals something sad about the state of school funding, many teachers said they really want specific kinds of school supplies, classroom items, and tools that help them do their jobs. Teachers often spend hundreds of dollars out of their own pockets to outfit their classrooms, so anything you can do to minimize their expenses will be appreciated.
Now, prepare to get schooled: Here are the top teacher gifts to give on Teacher Appreciation Day 2018, according to teachers themselves.
Arts and Crafts Supplies
"I love Michael's craft store and I use anything I can get my hands on: different colored card stock, stamps, glitter, sequins," says Andrea Decker, a kindergarten teacher in New York state. (In other words, she goes through a lot of glitter and sequins.)
Caiaimage/Robert Daly—Getty Images
Other teachers said gift cards for arts and craft stores, or for general-merchandise retailers like Amazon, can help them augment the supplies they often have to purchase themselves for their classrooms.
"For me, it's also sewing supplies. When thread or socks for puppets have been used, they're gone. And the needles love to disappear," says Sarah Mattie, a middle school theater teacher in the Kansas City suburbs.
Gift Certificates to Local Businesses
Some teachers suggested gifts that won't contribute to clutter and will help a harried teacher unwind, like a gift certificate for a manicure, spa visit, or dinner at a local restaurant. Ask other parents, or other teachers or administrators at the school, to see if your child's teacher has a favorite local business, or is a fan of any particular kind of food.
Westend61—Getty Images/Westend61
Skills-Building Games
"I am a school counselor and also appreciate items that I can use with my students," says Alison Vreeland, who works at an intermediate school in New York state. For example, she says social skills games and stress balls are useful to help her engage students.
Chocolate
Like many of us, some teachers said the love receiving chocolate as a gift. But the caveat here is that food gifts are very polarizing. You should know your kid's teacher really well if you're going to go this route, since nearly as many said they hate getting food as those who are overjoyed to be showered with chocolates and other treats. (Note below, however, that caffeine is another story.)
Other Classroom Supplies
"Teachers are notorious pragmatists," says Mary Hines, a first-grade teacher in the Fort Wayne, Indiana area. "Statues, trinkets, etc., are thoughtful but not useful." Things that are on Hines' list of wished-for items are classroom supplies like markers, sticky notes and other everyday items that kids can use up faster than parents and administrators can replace them.
Writing Instruments
Lots of teachers told Money that pens, crayons and pencils are one category of supplies they can always use. "I really like Ink Joy pens," says Josephine Salvatore, a seventh-grade language arts teacher in Pennsylvania. "I like the rainbow pack—I'm a visual-slash-artist learner [and] I like color-coding my to-do lists," she says. "And the pens write smoothly too." Another brand name that gets shoutouts from teachers is Crayola crayons.
Gym Equipment
Hines says one of the most memorably wonderful gifts she got was some new kickballs and jump ropes. Although these are the type of supplies many schools do have, Hines points out that they often need to be replaced frequently. "Balls get lost, pop, develop leaks. Jump ropes wear out," she says.
DreamPictures—Getty Images
Coffee
This was probably the most commonly appreciated gift of all the ones mentioned. Some suggested gift cards to local coffee shops or big chains that have locations nearby, Others suggested K-cups, although you should probably check to make sure your kid's teacher has access to a coffee maker that takes K-cups.
And while regular mugs are kind of a cliche, a few suggested an insulated travel mug, so their coffee is still warm when they get to drink it — hours later.
We've included affiliate links into this article. Click here to learn what those are.