This High School Teacher Quit His Job to Deliver Groceries. Now He's Making $100,000 a Year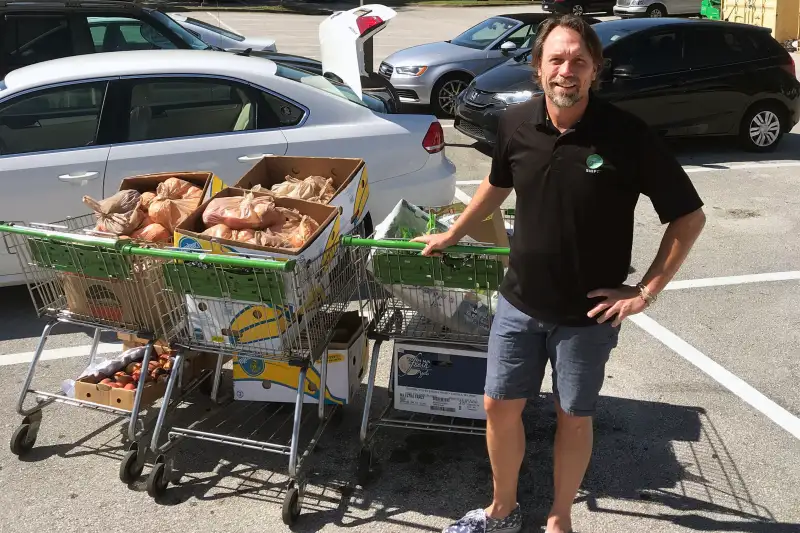 Courtesy of Edward Hennessey
For the past two decades, Ed Hennessey has spent his days teaching high school and his nights picking up shifts at Blockbuster, Steak 'n Shake and Target — "you name it, I've done it," he jokes.
But as of this summer, Hennessey is retired from education. He's found a much more lucrative job delivering groceries.
Hennessey, a 45-year-old living in Orlando, Florida, now works full-time as a shopper for Shipt, a membership-based grocery delivery service owned by Target (think Uber, but for fresh food). For 60 hours a week, he's cruising store aisles, throwing items into his cart and driving them to people in the community. Shipt didn't respond to Money's requests for comments, but its website says shoppers pocket an average of $22/hour. Hennessey says he's on track to earn as much as $100,000 — about twice his teacher salary.
"I started doing it, and I was like, 'God, this is so awesome,'" he tells Money.
Hennessey joined Shipt as a part-time shopper after its launch in 2015, and in 2017 he took a break from teaching to work for the service full time, according to WESH 2. He says he retired this past May.
Here's how it works: Shipt members shell out $99 a year to unlock unlimited deliveries from shoppers, who operate as independent contractors paid per order and keep 100% of their tips. For Hennessey, the flexibility is key, as is the fact that the gig gives him opportunities to help people. (He delivers to a couple of firefighters, for example, who can use their precious hours off to spend time with their kids instead of waiting in line at Target.)
Customers like him because he keeps track of what ingredients they need replaced and communicates whenever there's an issue, putting their satisfaction above profit.
"People trust me because I pick out [good items]," Hennessey says. "If I were to see nasty fruit, I would reach out to the member and say, 'Hey, look, I'm not going to buy this for you, because the strawberries are looking bad. You don't want them.'"
Though he makes his own schedule, he keeps busy: Hennessey has completed as many as 22 deliveries in one day. And because he's in stores so often, he's befriended the staffers. A nearby Publix even made him honorary employee of the month once.
However, make no mistake: If he could afford to go back to teaching, he would.
Teacher strikes in states like Oklahoma and West Virginia indicate he's not alone in struggling financially. According to the National Education Association, the average public school teacher earns a salary of $60,483. A 2016 survey in Texas found that a third of teachers said they had outside jobs during the academic year; even more take on extra work during the summer.
Hennessey says education is his passion — he frequently hears from former students who said he changed their lives. But he has kids and loans, and "there comes a point when my car's being repossessed or I'm having to run around cashing check after check to survive" where he has to make sacrifices for his bottom line.
That's where Shipt comes in.
"Yeah, it's making me happy, and yeah, I do make quite a bit of money right now," he says. "But it's a sad state of affairs that I have my degree and I'm delivering groceries and making more money than I was teaching after 20 years."