Apple and Tesla Are Taking Off (Again) After Stock Splits
Money is not a client of any investment adviser featured on this page. The information provided on this page is for educational purposes only and is not intended as investment advice. Money does not offer advisory services.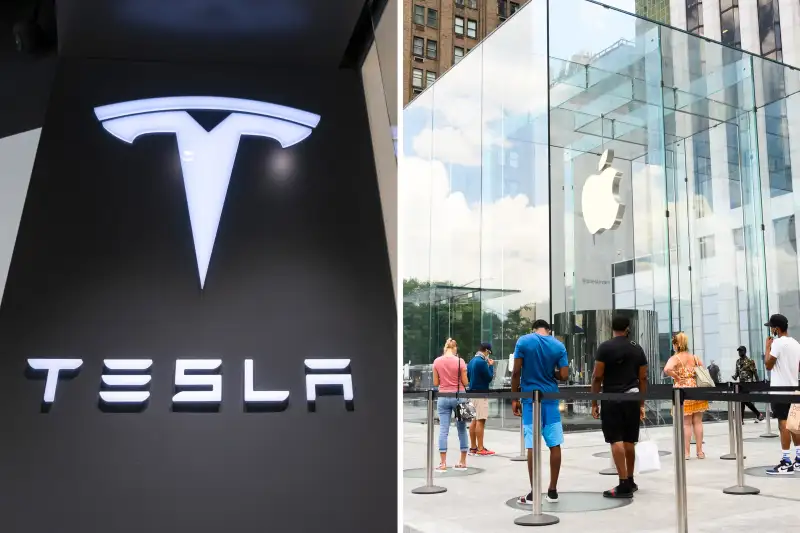 Since Apple and Tesla announced their stock splits earlier this summer, investors and analysts have been scrambling to figure out what the move could mean for the companies which both recently hit record highs. Now, the day of the stock splits is here.
Apple's stock closed Friday at $124.81 — the price adjusted for the split — and immediately rose as the market opened this morning, reaching $129.95 in early afternoon trading. Meanwhile Tesla closed Friday at $442.68, and also began rising, as high as $481.04.
The jumps aren't representative of the overall market as the Dow Jones Industrial Average fell 200 points.
What the stock split will look like for you
A stock split is when a company divides its shares so the number of shares an investor owns increases (or falls in a reverse-split), without affecting the stockholder's actual ownership stake in the company. A 2-for-1 split would turn a share of stock that trades at $100 into two shares that trade $50, while a 4-for-1 split would turn it into four shares of $25.
If you held shares of Apple stock by August 24 or Tesla by August 21, these stock splits will happen automatically — there's nothing you have to do.
Apple's split is four-for-one, so if you owned 100 shares trading at around $400, you now owe 400 shares with a valuation of $100 per share. And Tesla's was five-for-one, meaning if before the split you held 100 shares trading at roughly $1,500 each, you now own 500 which are valued at about $300 each.
And don't worry about paying extra taxes — you won't need to pay any taxes on the additional shares you get after the splits.
So, what's next?
Companies don't tend to do a split like this if they think there's a possibility its shares price is going to fall. And Apple and Tesla have had a booming 2020 despite the market volatility and pandemic-induced recession. Apple also has a new product it may be banking on: the iPhone 12, expected to be released this fall. This comes after the news on August 19 that it had become the first U.S. company to be worth $2 trillion.
Tesla, meanwhile, is looking to boost sales with its business in China.
And the stock split may mean more interest from retail investors as the new prices are far more accessible. (Tesla's stock closed at $2,213.40 Friday — likely out of the realm of a buying possibility for a lot of everyday investors).
While the splits make the companies' stocks more affordable, both Apple and Tesla's stocks are a lot more expensive than they were at the beginning of 2020 — Apple up 70% and Tesla up 440% before the split. That's good news for those who rode the gains, but it also makes both stocks a lot riskier for investors now.
More from Money:
Congratulations! You Won Big Betting on Tech Stocks. Now Start Selling Them
Warren Buffett Just Bet Big On Gold Miners. Should You?
High-Yield Savings Rates Have Tanked, but These Overlooked Accounts Still Pay 2% or More