Two Dozen Retailers Won't Open on Thanksgiving--And They're Shaming the Ones That Will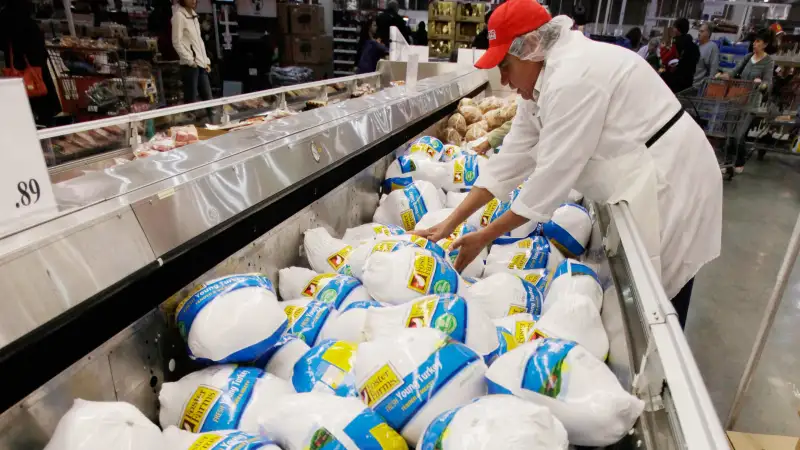 In one of the most noticeable trends thus far in the holiday shopping season, several mall mainstays are engaged in an aggressive game of Thanksgiving store hour one-upmanship.
The skirmishes began with Macy's announcement it would open for "Black Friday" sales starting at 6 p.m. on Thanksgiving night, two hours earlier than last year's 8 p.m. opening time. Kohl's and Sears, among others, are matching Macy's by opening the doors to shoppers at 6 p.m. on Thanksgiving, while J.C. Penney is trying to trump the competition with a 5 p.m. opening. (Just two years ago, mind you, JCP was closed on Thanksgiving, and didn't even bother with typical Black Friday sales.)
Best Buy, Walmart, and Toys R Us have a history of opening earlier and earlier each year for Thanksgiving/Black Friday, and by the time they announce sale launch times for this year, it's likely they'll be welcoming deal-seeking shoppers sometime in the early afternoon of Thanksgiving, before the day's first NFL game has even ended—and before the turkey is on the table in many American households. For that matter, many Walmarts are open 24/7 every day of the year including Thanksgiving (but not Christmas). Another contender for the title of biggest Thanksgiving Grinch is Kmart, which is opening at the depressingly early hour of 6 a.m. on Thanksgiving Day and will stay open for 42 hours in a row.
At the same time, however, there are some notable national retailers that are refusing to open on Thanksgiving. Forbes, ThinkProgress, and Mental Floss are among the resources that have rounded up two dozen or so stores that have confirmed they will remain closed on Thanksgiving. The list includes warehouse membership stores Coscto, BJ's, and Sam's Club, home improvement giants Home Depot and Lowe's, department stores Dillard's and Nordstrom, specialty retailers like GameStop, DSW, and PetCo, and discount chains such as Burlington Coat Factory, Marshall's, and T.J. Maxx. There are a few others not cited on these lists, including Cabela's (which is expected to be closed on Thanksgiving but is hosting special shopper events outside stores as early as 9 p.m. on Thanksgiving night, in anticipation of midnight openings), Menards, a home improvement mega-center chain based in Wisconsin, and Von Maur, an Iowa-based department store chain with 29 locations in 13 states.
Clearly, some consumers will go shopping whenever retailers say their doors will open for Black Friday sales, no matter if it's a national holiday. A survey from Accenture indicates that 45% of consumers plan on shopping in some capacity on Thanksgiving Day or evening, nearly half of whom will physically go to stores between 6 p.m. on Thanksgiving and 5 a.m. on Black Friday. (Presumably, the majority of the rest will focus solely on online shopping.) Yet a much larger percentage of Americans aren't fans of stores having Thanksgiving Day hours. Roughly six in ten Americans say they "hate" or "dislike" the fact that stores open on Thanksgiving, according to a recent RichRelevance consumer poll, while only a combined 12% claim they "like" or "love" the practice.
To play up to the legions of Americans who want to keep Thanksgiving as sacred and shopping-free as possible, it makes sense for retailers that aren't opening on Thanksgiving to promote the fact that they're staying closed on the holiday. As a side benefit, these retailers get to indirectly take pot shots at competitor stores that are opening—stealthily shaming them without overtly blaming them for "ruining Thanksgiving."
For example, a spokesperson for TJX, which runs retail brands such as Marshall's and T.J. Maxx, recently told ThinkProgress:
Read between the lines and you'll see that any retailer forcing employees to work on Thanksgiving must be an "unfriendly" company.
Similarly, an announcement from Von Maur last year included the following statements, which strongly hint that any store opening on Thanksgiving isn't family-oriented and perhaps is overseen by people who don't know how to run a business:
Likewise, Menards took out a full-page newspaper ad last year explaining that it was remaining closed on Thanksgiving because the day "should be celebrated with all those we hold dear," while a recent Costco statement described its reasons for not opening on Thanksgiving:
The Boycott Black Thursday page, which encourages consumers to avoid retailers opening on Thanksgiving and give their holiday shopping dollars to those that stay closed, and which now has roughly 60,000 Likes, has been rounding up similar comments from DSW, GameStop, Dillard's, Nordstrom, and others. The gist of them all is: We're the good guys that care about keeping American holidays sacred, and we're giving our workers Thanksgiving off to spend with their families to prove it. As for stores that are insisting on opening on Thanksgiving … you can draw your own conclusions.
Read next: J.C. Penney Tries to One-Up Rivals With Even Earlier Thanksgiving Opening