How Opening on Thanksgiving Day Can Actually Hurt Store Sales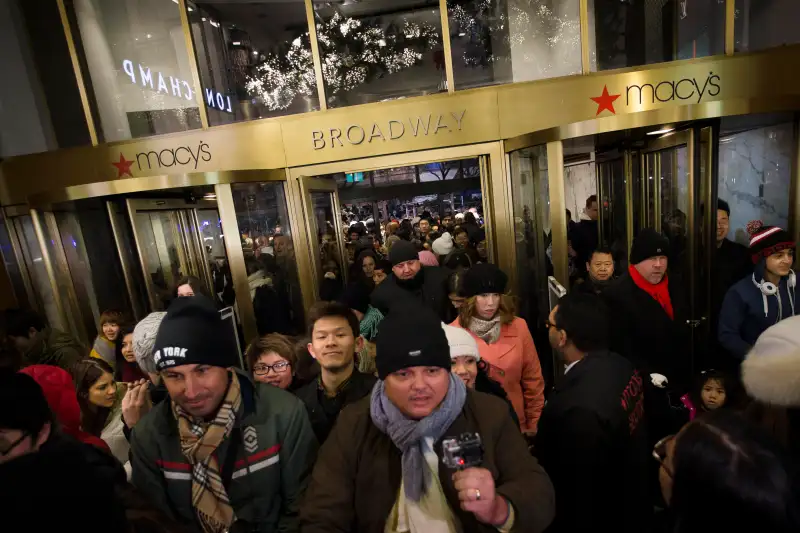 Macy's was blamed for the death of Thanksgiving when the retailer announced last year that it was opening up for shopping on the holiday—at 8 p.m. If Thanksgiving's obituary was written in 2013 because Macy's opened at 8 p.m., what does the retailer's decision to open at 6 p.m. on Thanksgiving 2014 mean about how we as a culture value the holiday? Perhaps it's the equivalent of spitting on Thanksgiving's gravestone.
Of course, it's not just Macy's that's opening on Thanksgiving, and doing so earlier and earlier each year. Entire malls in Maryland, Pennsylvania, and elsewhere have announced 6 p.m. Thanksgiving openings, and it seems like the majority of stores that aren't opening at 6 p.m. plan on opening a mere two hours later. Surely more retailers will match Macy's 6 p.m. start; last year Toys R Us and Walmart launched "Black Friday" sales in stores at 5 p.m. and 6 p.m., respectively. (Best Buy went with 6 p.m. too.)
Macy's confirmed its 6 p.m. opening begrudgingly, almost apologetically, this week after a letter from company executives to employees was leaked to the media. A Macy's spokesperson explained via statement to the (Minneapolis) Star-Tribune that the move was based on "significant, sustained customer interest," and that last year's Thanksgiving hours were supposedly a big hit with Macy's workers. "We also heard last year from many associates who appreciated the opportunity to work on Thanksgiving so they could have time off on Black Friday."
Retailers essentially gave the same explanation last year for why they were opening on Thanksgiving Day. Macy's 2013 press release stated that its 8 p.m. Thanksgiving opening came as a "response to interest from customers who prefer to start their shopping early." It also noted that stores would only open "after families across the country have finished their holiday meals and celebrations." Presumably, those meals and celebrations will have to end earlier this Thanksgiving for anyone wanting to start their shopping when the doors open. Likewise, a J.C. Penney spokesperson told the Dallas Morning News last year that it was only opening on Thanksgiving (at 8 p.m.) because "our stores saw a lot of frustrated customers tap our doors wanting to shop," the year before, when locations opened a few hours after many competitors.
Everyone Else Is Doing It
The overall message retailers are trying to send is: We're not opening on Thanksgiving to be greedy or anything. We're doing it simply to make our customers happy. Another way to translate the message: Don't blame the stores for ruining Thanksgiving, blame the shoppers who want to go to the stores on a national holiday.
The reality is that these retailers are opening on Thanksgiving mainly for the same reason that kids often cite as the excuse for why they did something stupid: Everyone else is doing it. Macy's and the rest of the mall stalwarts feel forced to open earlier and earlier on Thanksgiving because that's what the competition is doing—and by not opening on Thanksgiving, a store is essentially conceding some chunk of sales to the competition. The battle for holiday sales and when stores should open is even more muddled by the fact that consumers can shop to their heart's content no matter what the day, 24/7/365, because e-retail never closes.
What's interesting is that there's a good argument to be made that Thanksgiving store hours don't actually boost a retailer's overall holiday sales. Rather, sales on the holiday simply displace sales that would otherwise have been rung up on Black Friday or later in the season. After an underwhelming back-to-school period for retailers, Craig Johnson, president of the retail consulting firm Custom Growth Partners, predicted to the Wall Street Journal in late September, "With the soft sales outlook, we do anticipate a few earlier openings" on Thanksgiving. "However, there is a law of diminishing returns," he warned, and stores that open on Thanksgiving "risk cannibalizing" sales that they would have made at another time.
The End of Black Friday?
In light of that, it shouldn't come as a surprise that Black Friday sales flopped last year when more stores expanded or introduced Thanksgiving hours, and that some say the Black Friday phenomenon is facing extinction. After all, when stores are open at 6 p.m. or even earlier on Thanksgiving Day, the idea of getting excited by the prospect of shopping at the ungodly hour of 4 a.m. on Friday seems more absurd than ever.
Let's also not forget that Thanksgiving store hours turn off many would-be customers. Last year, countless petitions were launched pleading with retailers to pull back on Thanksgiving hours, which critics say ruin the holiday for more than just the retail employees being forced to work.
For what's is worth, Lehigh Valley Live recently asked readers to vote on how early stores should open on Thanksgiving. At last check, around 4% responded "as early as they can." On the other hand, 82% voted "They shouldn't. It's a holiday."