The Military Is Revamping Its Retirement System to Attract Millennials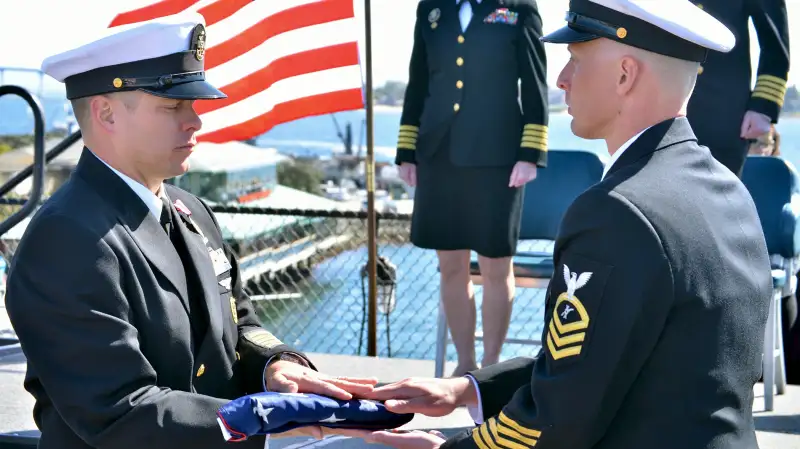 Natalie Morehouse—U.S. Navy JAG Corps
In a bid to lure millennials, the U.S. military is making the most sweeping changes to its retirement program since World War II. Gone are the days when only a 20-year veteran leaves the service with a nest egg. Going forward, those who serve as little as two years will return to civilian life with retirement savings.
The new system introduces 401(k)-type savings for military personnel while downsizing the traditional pension benefit—a trade the corporate world has been making for 35 years. The new design also comes with a stepped-up effort to provide service members with the education they will need to make the most of a system that demands more individual involvement.
The new Blended Retirement System, authorized through the National Defense Act of 2016, goes into effect on Jan. 1, 2018. Those who enroll in the military after that date will be put into the new blended plan. Anyone with less than 12 years of service on that date will have one year to choose between the old system and the new one. Those with more than 12 years of service will remain under the old plan.
Under the new plan, 85% of those serving in future years will leave with a portable retirement benefit, the military says. That compares to less than 19% that leave with a benefit under a system that has been in force since the days of MacArthur and Patton.
The switch highlights some of the tradeoffs between defined-benefit pensions and defined-contribution 401(k)s that workers in private industry have been grappling with for decades. Pension plans can provide worry-free income for life, but the benefits go mostly to long-tenured workers. With savings plans, far more people get a retirement nest egg. But much of the responsibility for diligently saving and for making reasonable investment choices rests with the workers themselves.
The military employs 1.4 million men and women, many of whom struggle with the demands of serving and managing their financial affairs at the same time. Veterans of all the armed services are twice as likely as civilians to carry debt from month to month, according to a recent financial literacy survey conducted by Harris Poll for the National Foundation for Credit Counseling. More than half say they are unprepared for a financial emergency.
Such figures prompted the federal government to order all branches of the military to take steps to improve the financial capability of service members. "When I was battery commander in Germany, soldiers were purchasing encyclopedias and $2,000 washer-dryers," Michael Meese, chief operating officer of the American Armed Forces Mutual Aid Association, a nonprofit helping service members with financial issues, has said. "Then they return home to a pile of debt."
The military now provides financial counseling at most bases on such things as managing bank accounts, living on a budget and avoiding debt. Before deployment, all service members now must attend a financial preparedness class, which includes explanations on how to access bank accounts from overseas, ways to pay bills remotely, powers of attorney, wills, and death benefits.
All current and future service members remain eligible for a lifetime annuity after 20 years of service. For those in the new blended plan, that annuity benefit will be 20% less than under the old pension plan. But those service members will have the benefit of also being enrolled in the government's giant Thrift Savings Plan, where they will receive a contribution of 1% of base pay beginning almost immediately. They fully vest in the TSP in two years, meaning they can take all those dollars with them if they leave the service at that point. They will also receive a matching contribution of up to another 4%, depending on their own contributions and length of service.
Most importantly, the new plan ensures that most service members get a retirement benefit, an incentive to help recruit millennials who are less likely to want long-term military careers. Military officials concede that cutting pensions for those with 20-plus years of service might lead to more service members not sticking around. But attracting millennials is the main objective.
For the government, the savings don't hurt either, says Meese. The U.S. will save about $2 billion annually under this system and may be using it as a trial balloon. "This is the first time since the 1983 reforms to Social Security that the federal government has actually cut entitlements," he told me in an email. "I wonder if the military taking the lead in entitlement reform will lead to similar reforms in Social Security or Medicare." Change might be coming on a broader scale than just for those who serve.