'The Pay Is Just Not Enough.' EMTs Are Working Multiple Jobs Just to Make Ends Meet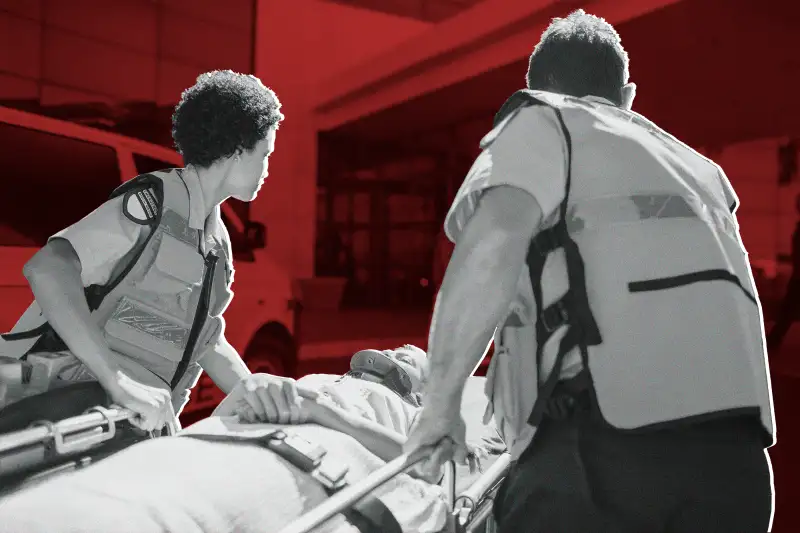 Photo illustration by Money; Caiaimage/Paul Bradbury—Getty Images
If the thought of being rushed to the hospital in a speeding ambulance gives you goosebumps, here's something that will really make your skin crawl.
Chances are, the person behind the wheel — and the one administering life-saving care in the back — are both tired, overworked, and underpaid.
Paramedics and Emergency Medical Technicians (EMTs) make an average of $16.05 an hour, according to the Bureau of Labor Statistics. That's about 40% less than the average employed American earns, and one of the worst-paying medical jobs out there. And thanks to grassroots organizing efforts like the "Fight For $15," some service industry jobs nearly match that pay now.
Wages vary by state and municipality, but in many parts of the country, the going rate for an EMT or paramedic job is well below the threshold needed to meet the cost of living. As a result, many have to work multiple gigs; often hopping off one ambulance, only to start another route immediately after.
"These are the people assigned to the front lines, whether someone has a heart attack in their living room or there's a terrorist attack," says David Fifer, a paramedic and educator. "And they're having to keep a lot of balls in the air."
Moonlighting to make ends meet is a burden facing much of the U.S. workforce — the plight of teachers, who sometimes work side jobs on nights and weekends to provide for their families, have dominated news cycles this year. But the challenges facing Emergency Medical Services (EMS)—the umbrella term for EMTs and paramedics—are rarely discussed outside of hospital break rooms. And the implications are dire.
"You get what you pay for," Fifer says. "If you're only willing to fund EMS agencies to a level that results in a minimum wage, you're unlikely to get the type of EMTs you would like to have."
Undervalued and Overworked
One of the most stable jobs Amy Eisenhauer ever took as an EMT paid about $450 a week, after taxes.
It wasn't a lot — barely enough to cover her bills, groceries, and car payments. But it came with benefits, and a set schedule: Wake up, work a 14 hour shift, fall into bed, repeat.
At previous EMT jobs, Eisenhauer had been hired on a per-diem basis, so she took whatever hours she could get, even if it meant working overnights, weekends, and back to back shifts. For awhile, she worked a part-time job at Starbucks, too. Eisenhauer drinks a lot of coffee, and if she picked up enough hours, she qualified for the chain's health insurance plan.
It's never been an easy job: The EMT profession is threaded with hazards that range from injury to infectious disease to a host of mental health issues (the suicide rate of EMS personnel is 5 times greater than the general population, according to research from Eastern Kentucky University).
For some, it's a stepping stone to a more lucrative medical career; an entry-level job you can put on a med school resume. Others fall into the occupation, and end up making decades-long careers out of it.
Eisenhauer, for her part, started on a volunteer squad in high school, and has worked in a variety of paid EMT jobs throughout New Jersey in the years since. Today, she's an EMS consultant and educator, and picks up about 5 to 6 EMT shifts a month to keep her skills relevant.
There's a certain vigilantism baked into the profession — nobody becomes an EMT to make money. But while compassionate, community-minded employees flock to this field in droves, the turnover rate—about 20%—is higher than most industries.
"You have to work two or more jobs to be able to live, and each comes with a multitude of regular workplace stressors," Eisenhauer says. "[The pay] is just not enough."
Why There's No Money (and Why That's a Big Problem)
The complexities of EMS roles are largely misunderstood, experts say.
These are jobs that require employees to be clear-headed in high-stress environments, and have core competencies in everything from CPR to mental health training. But most people don't have a clue as to what goes on in the back of an ambulance. And neither do regulators.
"The average person thinks that, in an emergency situation, we come running, we take them to the hospital, and then something is done," says Dennis Rowe, president of the National Association of Emergency Medical Technicians (NAEMT). "We're not defined as an 'essential service.'"
You can look to your local government's budget to see how this plays out in the policy world — EMS departments usually get a fraction of the funds earmarked for police and fire squads. New York City, which employs more than 3,000 EMTs and paramedics, and has allotted $321.1 million to its EMS department for the coming year. "Fire Extinguishment/Emergency Response," gets four times that amount. Smaller cities, like Austin and Seattle, also tend to allocate at least twice as much to their fire departments as they do to EMS.
Insurance is another pain point. Medicaid and Medicare cap reimbursement rates for ambulance rides; in many cases, experts say, it's lower than the actual cost of service. Patients sometimes stiff the bill, too. In cities like North Lauderdale, Florida, unpaid ambulance bills have cost taxpayers millions in debt. And since ambulance services, like the rest of the healthcare industry, operate like a business, salaries suffer when bills go unpaid.
There are other reasons EMS pay is so low.
Certification is minimal — it only takes 120 to 150 hours of training to become an EMT (paramedics require significantly more). Ambulances in rural communities are often staffed by volunteers, which depresses wages for those who do pursue the role as a career. And there's little opportunity for advancement.
"In a police department, you can be a patrol officer, and be promoted to a shift supervisor, and then captain, and then division chief, and then assistant chief, and then, chief," says Greg Friese, an industry veteran and editor of EMS1.com. "EMS agencies don't have that promotion pathway. You're either an EMT or you're running the agency, with very little in between."
'A Pillar of Public Safety'
The world is changing in ways that impact every facet of healthcare. Our population is aging — the number of Americans ages 65 and older is expected to more than double by 2060. And the opioid crisis, now responsible for more than 40,000 overdoses a year — is complicating patient care even further.
EMS workers, often the first line of defense in keeping these populations alive, will be even more important in the coming years. But unlike most medical professions—including those that don't require a college degree, like medical health technicians and Licensed Practical Nurses (LPNs), EMS pay remains stagnant.
Advocates have floated several solutions, though most require insurance reform, a redistribution of taxpayer money, and a level of advocacy that is unlikely to catch hold anytime soon.
Looking towards academia, one solution is gaining steam.
As of now, communities have an uneasy (and unbalanced) relationship with the EMS departments that serve them. The low barrier to entry makes it difficult to value those professions the same way we do nurses, firefighters, and police officers. More extensive schooling, and degree programs for advancement, could change that. And it would probably drive up wages, too.
Already, schools like the University of South Alabama and George Washington University in D.C. have added bachelor's degrees in EMS studies to their rosters.
So has Eastern Kentucky University, where David Fifer teaches.
Fifer says he hopes this becomes a national trend — and soon.
"These are individuals tasked with administering critical healthcare across the nation," he says. "They're a pillar of public safety, and they're not making livable wages."