The Pinterest IPO Is Imminent. Here's Who Is Making Money From Recipes, Weddings, and Your Cousin's Digital Vision Board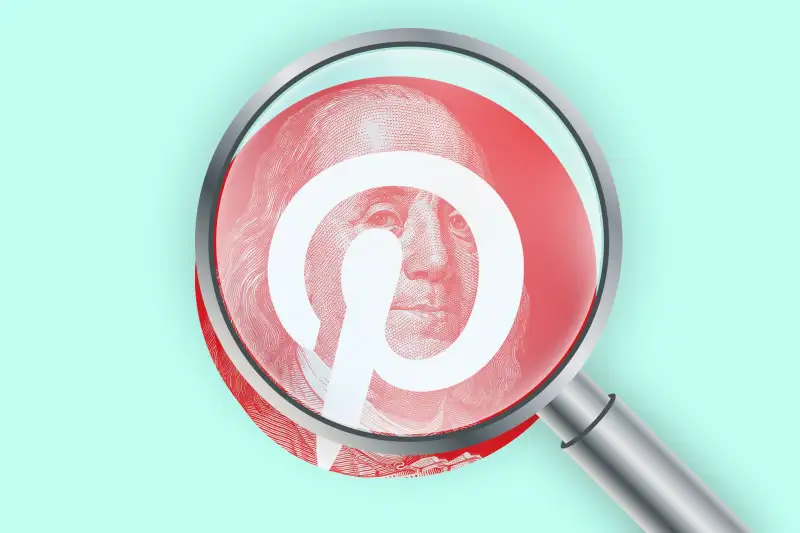 Get your wedding inspo photos and cheap recipe ideas ready, because Pinterest is about to go public.
The social media site used by more than 250 million people every month is in the final stages of preparing for its initial public offering, or IPO. In a Monday filing with the U.S. Securities and Exchange Commission, the company said it intends to offer 75 million shares for between $15 and $17.
Pinterest's finances have been a hot topic in the tech startup space for years, and its IPO seems to be no exception. According to the Wall Street Journal, those newly announced share prices would value Pinterest below recent estimates. (To be more specific: In 2017, it was valued at $12.3 billion. Now, Bloomberg estimates its valuation could be $9 billion.)
Like most other startups going public, Pinterest isn't profitable yet, but it is growing. With over 175 billion pins and 2 billion monthly searches, the platform generated nearly $756 million in revenue in 2018. That's up from $473 million the year before, which translates into a whole lot of motivational quotes in that ubiquitous bridesmaid font.
Here's what you need to know about Pinterest's money.
How Does Pinterest Make Money?
Pinterest CEO Ben Silbermann told the Associated Press in 2017 that most of the company's cash comes from advertising.
"The reason that advertising has always made sense to us as the right model is that people come to Pinterest to get ideas — ideas for their home or ideas for clothes," he said. "And what they really want eventually, after they get inspiration, is to figure out, 'Where can I buy that?' or 'Where can I make that part of my life?'"
It's working: As Pinterest mentioned in its SEC filing, almost 70 percent of users surveyed say they've found a new brand or item on the social media site. Looking forward, the company said it plans to "make Pinterest more shoppable" (mimicking Instagram's recent changes) and "bring additional high-quality commercial content onto the platform by deepening our partnerships with brands, retailers and content creators."
Cha-ching.
Who Makes Money From Pinterest?
Pinterest detailed its executives' pay in the filing — and the figures may surprise you. For example, 36-year-old Silbermann, who worked at Google before launching Pinterest in 2010, earned a salary of just $197,100 in 2018.
Pinterest's chief financial officer, Todd Morgenfeld, and senior vice president of product, Lawrence Ripsher, took home salaries of $360,500 and $325,833, respectively. But they each had stock awards that exceeded $22 million.
Predictably, Pinterest employees who are lower in the hierarchy make less. On Glassdoor, Pinterest software engineers say they earn an average of $130,000 a year.
Many Pinterest employees landed at the startup in an interesting way. In the early days, Silbermann used to host barbecues at his apartment — and then hire the attendees.
"There were these people that were at great jobs, and I would almost feel guilty pulling them out of this great job," Silbermann told Business Insider last year. "We didn't have a cool office. It was bring your own computer. They were going to take these massive salary cuts. I would almost feel guilty about saying you should leave this amazing job at a Google or a Facebook and come work for us."
Clearly, things have turned around.
How Can You Make Money from Pinterest?
It's possible to profit from Pinterest even if you're not a big brand. For example, a blogger named Michelle Schroeder-Gardner built a side hustle as a Pinterest consultant, charging between $18 to $25 an hour to help businesses with traffic, engagement, and brand awareness. She earned as much as $1,500 a month.
Pinterest briefly banned affiliate marketing a couple of years ago, but now it's back. As a result, scores of bloggers have published posts about how they monetize their profiles using networks like ShareASale.
It can be easy and lucrative: People simply post sponsored pins and receive commission if their followers purchase via those links. (If you do choose to go this route, be careful: There is some conflict surrounding the disclosure of these affiliate posts.)
Finally, as The Penny Hoarder points out, you can also monetize your Pinterest expertise by landing a job that calls upon your social media skills. For example, there's a current opening for a $10-an-hour temporary worker for an upcoming Pinners Conference in Minnesota, and this Fiverr user designs pins for $5 apiece.
The possibilities are Pindless.