These Are the Richest Investors Playing In the 2018 NBA Finals
Money is not a client of any investment adviser featured on this page. The information provided on this page is for educational purposes only and is not intended as investment advice. Money does not offer advisory services.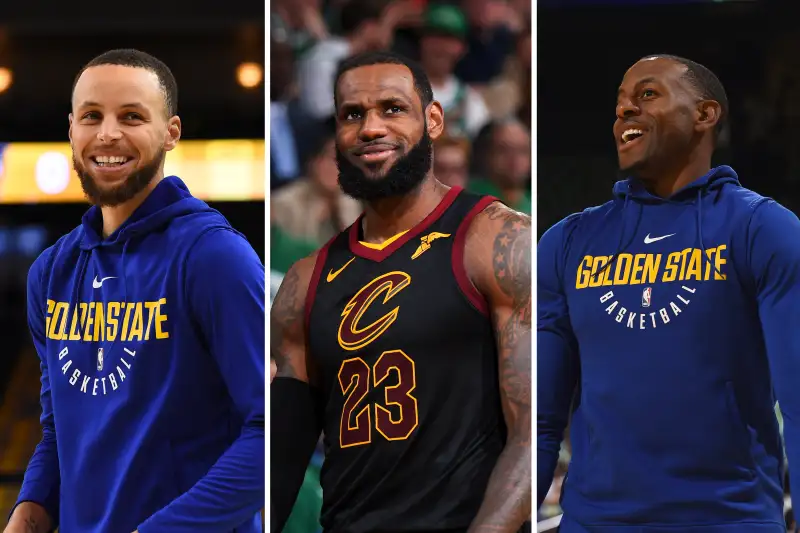 When the Golden State Warriors take on the Cleveland Cavaliers for the fourth straight time in the NBA Finals — starting tonight — there's going to be plenty of analysis.
Like can LeBron James, the best player in the sport, find a way to beat the best team in the league?
Or will anyone taking the court tonight be able to supplant Michael Jordan — as both the greatest basketball player of all time, but also the richest? Thanks to his endorsement deals and majority ownership of the Charlotte Hornets, Jordan is worth $1.5 billion, according to Celebrity Net Worth.
Because of salary caps imposed by the NBA, annual compensation for the league's biggest stars is actually pretty comparable. In fact, there are eight players tonight (four on each team) who earn more than $15 million a year.
But it's what they do with their annual pay, endorsement deals, and business ventures that separates the all-stars from the also-rans.
The Most Successful Investors Playing in the NBA Finals
1. LeBron James
Net Worth: $400 Million
Sources: Salary, endorsements, and investments
David Liam Kyle—NBAE/Getty Images
The King earned his moniker for his relentless and unparalleled play on the court, but James has earned similar accolades for his off-the court ventures as well. Having advisors like Warren Buffett to turn to certainly helps.
His marketing arm remains the biggest draw as he represents a number of companies, including Coca-Cola and Verizon. Nike has signed James to a lifetime shoe deal that reportedly could reach over $1 billion in value.
With that success comes the opportunity to invest. And some of the companies he's bought into have remarkable returns. He owned 1% of Beats by Dre, which garnered a $30 million payday when Apple purchased the audio headset maker.
He also has a 10% stake in the fast casual chain Blaze Pizza, which has over 250 locations. And his production company Springhill Entertainment, has created network television shows, like NBC's "The Wall."
That doesn't even touch on the $230 million in salary, before taxes, he has made during his 15-year career.
---
2. Kevin Durant
Net Worth: $150 Million
Sources: Salary, endorsements, and venture capital
Andrew D. Bernstein—NBAE/Getty Images
When Durant left the Oklahoma City Thunder to join the Golden State Warriors, the on-the-court reasons were obvious — like the chance to win his second straight title in as many years.
But don't discount the off-court reasons. Oakland's proximity to Silicon Valley and the tech startup scene that has become Durant's side-hustle might have played some role as well.
The Durant Company is essentially a venture capital firm that has invested in about 30 startups in technology and other industries. His most famous bet came in the investment of courier service Postmates, which he placed in 2016. Last year, Postmates had a funding round valuing it at $800 million. He's also invested in the savings app Acorns.
But he's careful with it, saying at TechCrunch Disrupt last year that he "isn't putting 50 percent of his net worth" in startups.
---
3. Stephen Curry
Net Worth: $60 Million
Sources: Salary, endorsements, and software business
Noah Graham—NBAE/Getty Images
One half of the so-called Splash Brothers, Golden State's sharpshooter Curry hasn't taken as large a leap, yet, when compared with James and Durant. But his focus is on growing his own business, rather than investing in other people's dreams.
Curry and a former teammate at Davidson College launched Slyce, a software firm that helps brands track and manage their endorsements on social media. Curry has reportedly taken on a management role, trying to understand every level of the process.
It doesn't hurt that Slyce's biggest client, Under Armour, also signed Curry to a shoe deal that runs through 2024.
---
4. Andre Iguodala
Net Worth: $50 Million
Sources: Salary, endorsements, and technology investments
Noah Graham—NBAE/Getty Images
The wily veteran among the bunch, Iguodala, 34, is the only one on this list who made less than $15 million in base NBA pay in the 2017-2018 season (for the record, he earned $14.8 million).
Yet he has been an ardent investor in both publicly traded tech stocks and private enterprises. Iguodala and his investing partner Rudy Cline-Thomas recently said in an interview with Wealthsimple that they held investments in roughly 25 startups. And according to news reports, those investments include a stake in the personal finance site Nerdwallet and The Players' Tribune.
The small forward has said he grew interested in the idea of investing as soon as he entered the league. This early curiosity transformed into a technology specialty (it's a running theme among the Warriors), earning him the moniker as the "NBA's ambassador to Silicon Valley."
Iguodala launched the Players Technology Summit, creating an event that allows NBA players the opportunity to listen to famous investors and business founders explain various investing strategies. It also connects the companies to their next potential investor.
---
5. Draymond Green
Net Worth: $20 Million
Sources: Salary, endorsements, and investments
Ronald Martinez—Getty Images
The youngest player on the list at 28 years old, Green has declared he wants to become a billionaire before he turns 40. It's a feat, he admits, that won't come easy and his accumulation has only begun to start.
As the only second-round draft-pick on the list, he's also made the least amount of money from playing ball. His first contract was three years for $2.6 million, a steal for an All-Star producing forward.
But he used those first paychecks to understand the basics to balancing his budget and paying bills, Green said in an interview with Uninterrupted's Kneading Dough.
In 2015, he signed a five-year, $82 million contract, under which he earned $16.4 million this year, according to Spotrac. This gives him more wiggle room to find that blockbuster investment. And earlier this year, he made an investment in 20 Blink Fitness gyms in Michigan and Illinois.
(All net worth figures in this article are based on calculations by Celebrity Net Worth.)