These Hurricane Victims Were Supposed to Get Financial Aid. They Haven't Yet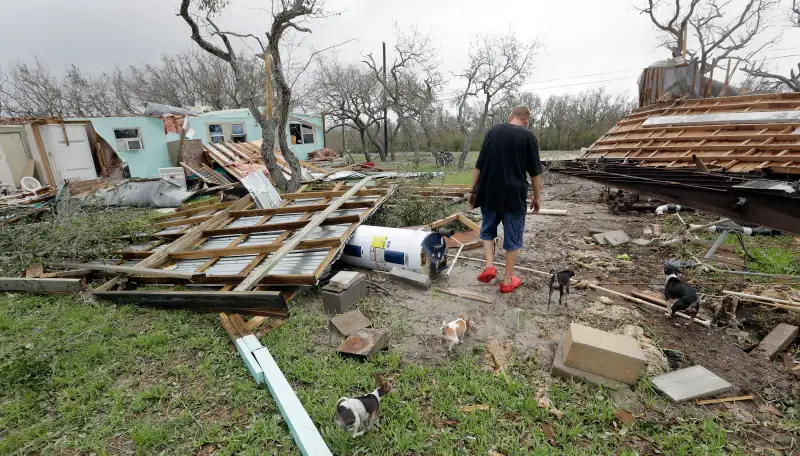 When Crystal Urbina and her family returned to their Houston home after evacuating on August 28, they found it flooded in 10 inches of water and the surrounding neighborhood devastated.
"We were shocked as to how much damage the storm caused," says Urbina. The family applied for financial assistance from FEMA as soon as they evacuated five weeks ago, and have since waited for an inspector from the federal agency tasked with helping Americans in the wake of a disaster to visit their home, a requirement before money can be dispersed. Despite persistent calls and inquiries over the ensuing weeks, no one has shown up.
"Our neighborhood experienced flooding we had never seen," she says. "We are still unable to live comfortably at home."
It's a struggle shared by many Houstonians as they try to rebuild lives upended by Hurricane Harvey: Dealing with confusing bureaucratic systems and waiting weeks for aid that was promised but never comes, with no explanation given.
Erich Schlegel—Getty Images
Scott, a Houston resident who did not want to share his last name, says because the storm put his job on hold, funds for basic life necessities are rapidly depleting.
"My life's falling apart, and while I'm working again, unless someone comes through, I may not have a home long enough to get the paycheck I need to pay my rent," he says, adding that he lost his car and most of his personal possessions in the storm.
FEMA has pledged to allocate more than $885 million in assistance and has already approved around 309,000 households for assistance; 3,000 inspectors are on the ground. "While the wait may be frustrating, we ask for continued patience while we work through the pending registrations," a representative for the organization told Money.
Much of the outrage has been directed at the Red Cross, which was providing eligible residents $400 in immediate emergency relief (people can apply through October 10). Almost immediately after the organization announced it would do this, however, people affected by Harvey began complaining that they were denied with no justification, or never heard back after sending in their request for assistance.
While residents wait for this relief assistance, they have been turning to social media to crowd source suggestions on how to receive the aid, and solicit suggestions for applying again. Threads on Facebook and Reddit are filled with people looking for advice on how to secure the $400 from the Red Cross—and, in their frustration encouraging people to donate money elsewhere.
A spokeswoman for the Red Cross tells Money that as of September 28 the organization had "authorized more than $148 million in direct financial assistance" to more than 370,000 households in Texas. The funds went to "qualified households most severely affected" by the storm, per the spokeswoman, and are being paid out electronically via Zelle, MoneyGram, or PayPal, or in cash at local Walmart stores. The organization also released a one-month progress report detailing all the work they've done.
After its reputation took a hit when ProPublica and NPR released a damning report about its response to the 2010 earthquake in Haiti and the 2012 Hurricane Sandy in New York, the Red Cross has come under fire for its handling of emergency response in the wake of Hurricane Harvey, with reports alleging the organization did not bring enough food or other supplies to shelters and was MIA for days after the storm hit. The issue was only exacerbated after Red Cross executive Brad Kieserman told NPR he didn't know what portion of donations go to relief.
For those still recovering from the storm, the Texas Workforce Commission is allowing people in the 39 counties in the presidential disaster declaration to apply for disaster unemployment assistance. People who lost wages due to the storm have until Oct. 31 to apply, according to the Houston Business Journal (more information on how to apply and the 39 counties can be found here). Local charities are also still doing work on the ground.
Here's how to help people in Houston and how to spot scammers.